INDIANAPOLIS — Purdue and Indiana may have their trip to the Final Four cut short, but there are plenty of Indiana connections to keep an eye on during March Madness.
Arkansas assistant coach Keith Smart is no stranger to the bright lights of the NCAA Tournament. Smart hit possibly the biggest shot in Indiana history - and one of the most memorable ever in the tournament - when his jumper with four seconds left lifted the Hoosiers to the 1987 national championship with a 74-73 win over Syracuse.
Johnell Davis scored 29 points to lead Florida Atlantic into the Sweet 16 last weekend. Davis was a member of the Indiana All-Star team after starring at 21st Century Charter School in his hometown of Gary.
Davis' coach also has Indiana roots. Dusty May was a student manager under Bob Knight at Indiana University after attending Eastern Greene High School. He later worked in an administrative role with the Hoosiers from 2002 until 2005.
Speaking of IU, Jerome Hunter played two seasons with the Hoosiers before transferring to Xavier. Hunter averaged 6.3 points per game in 55 contests at Indiana. Hunter's teammates, Jack and Bob Nunge, grew up in Newburgh, Indiana and played at Castle High School.
Miami guard Nijel Pack was a four-year letter winner at Lawrence Central High School. He scored 12 points in 31 minutes as Miami defeated Indiana, 85-69, in the NCAA Tournament last Sunday.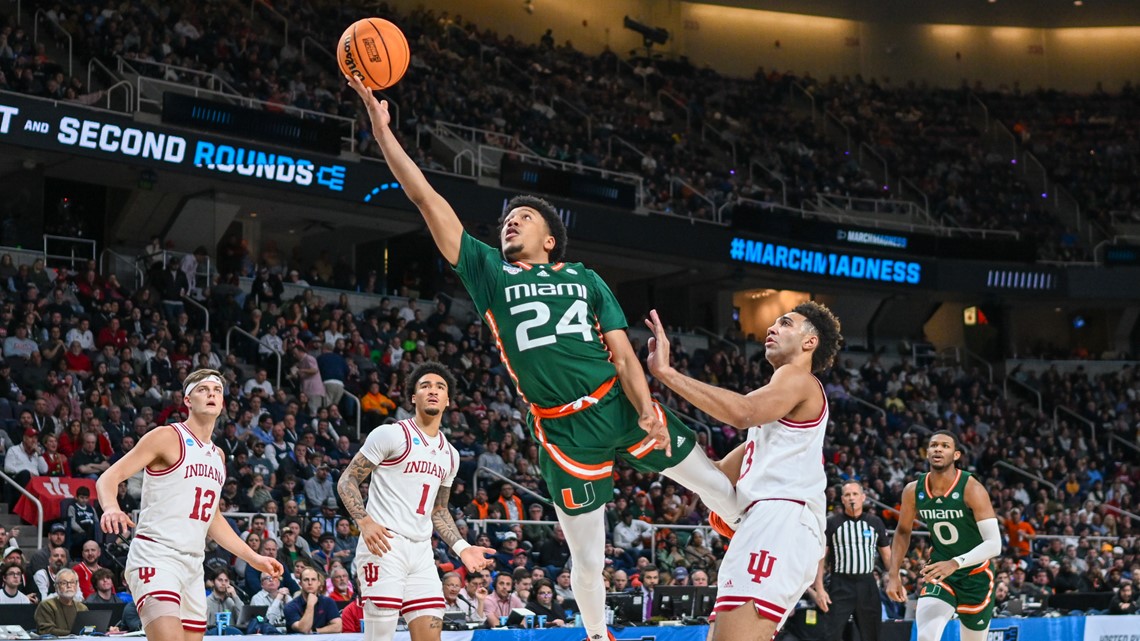 Several other coaches and assistants still alive in the tournament also have history in the Hoosier State.
Houston head coach Kelvin Sampson led IU during a period many fans would rather forget, coaching in Bloomington for two seasons before the school bought out his contract in February 2008 amid an NCAA investigation into improper recruiting activities. The men's basketball program was given three years probation by the NCAA, while Sampson received a five-year show-cause penalty for his role in more than 100 impermissible phone calls to recruits made while he was still on probation for a similar phone-call scandal at Oklahoma.
Texas assistant coach Bob Donewald was born in South Bend, while Creighton assistant Alan Huss was a high school head coach at La Lumiere School in La Porte and at Culver Military Academy in Indiana.
Princeton head coach Mitch Henderson, who grew up in Vincennes, is a Culver Military Academy graduate. His freshman forward, Caden Pierce, is the younger brother of Indianapolis Colts' wide receiver Alec Pierce.
Pierce has scored 22 points and grabbed 24 rebounds in two NCAA Tournament games for the 15th seed Tigers, who have upset No. 2 seed Arizona and No. 7 Missouri to reach the Sweet 16.
Off the court
The Hoosier connections haven't been limited to those playing and coaching in this year's NCAA Tournament.
Indiana Fever legend Tamika Catchings shows off her legendary defensive skills, stealing a soft drink from Lil Dicky and Travis "Taco" Bennett in a Coke Zero Sugar ad.
While Indiana Pacers icon Reggie Miller turned down his usual role as analyst for this year's tournament, he's gotten air time during most timeouts during the broadcasts continuing his series of commercials for Wendy's.
It takes a bit of a keener eye to spot two other Hoosiers grabbing their part of the commercial spotlight, though.
And there's another Indiana legend in that AT&T spot. Lawrence North graduate Greg Oden is among the beach crowd and even gets a speaking role.
The Sweet 16 tips off Thursday evening with a national champion being crowned April 3 in Houston.