SOUTH DAKOTA (WTHR) — A South Dakota woman is recovering after a mowing accident nearly took her life.
Kendra Jenson's husband was out mowing the lawn July 11. She had gone out onto the deck to pick up toys left there by their kids who had been playing in the pool earlier. She had walked out the front door and started to pick up a few of the toys when something hit her neck.
"It took me a moment to realize I had actually been seriously hurt because I thought maybe I got hit by a rock, but I didn't think it had seriously hurt me," Kendra said. "I just thought wow that hurt and grabbed my neck."
When she realized she was bleeding and the cut was bad she began waving at her husband, Andy.
When he saw Kendra was hurt, he rushed to help.
Andy grabbed a towel on the deck, applied pressure and called 911.
He told Kendra to keep applying pressure to the towel on her neck and then ran to his car to grab a trauma kit. Andy is a police officer and a combat veteran and knows the importance of a trauma kit.
"I always make fun of him and say we're never going to need that. But he brings it any time we are going somewhere," Kendra said.
He ran back and told her he had to remove the towel for a moment.
"I was like, 'no I'm scared, I'm so scared' and he said, 'look at me, you've got to trust me,'" Kendra said.
Andy removed the towel and looked in the wound to make sure he couldn't see her carotid artery. He then started stuffing the wound with quick clot gauze and then wrapped a pressure dressing around Kendra's neck and under her armpit.
An ambulance arrived and rushed her to the hospital where x-rays showed nothing was lodged in her neck.
Doctors told Kendra she was very lucky because the wound was between her carotid artery and her trachea.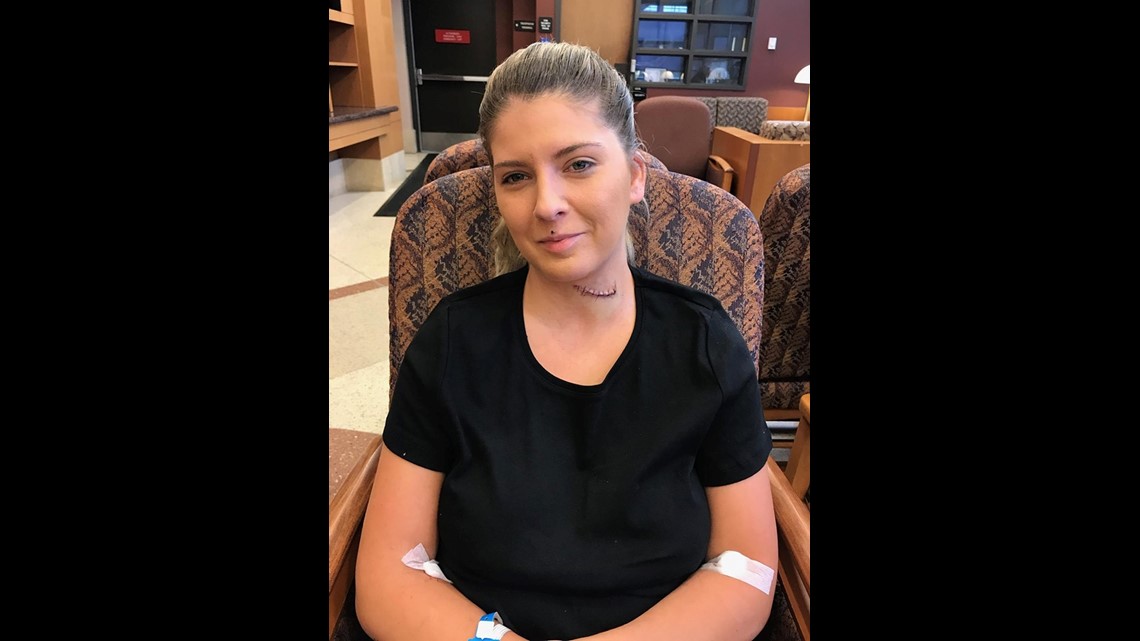 Doctors got the bleeding under control and stitched her up.
Since then she has been recovering at home and the stitches are already out.
Now Kendra has a message for others when someone is out mowing.
"I want if anything my accident to show that no distance is a safe distance. We may think we're far away but even what we think is a reasonable distance away still isn't safe," Kendra said. "Stay inside when someone mows because my story could have been way worse of an outcome than it was."