INDIANAPOLIS — Election Day is still weeks away, but decision time is already here for thousands of Hoosiers who registered to vote by absentee ballot.
Monday afternoon, a courier arrived at the Marion County Election Board headquarters in Indianapolis to pick up 2,000 absentee ballots that are now at the United States Post Office.
They are the first ballots for the 2020 General Election that will hit mailboxes in Indianapolis, and there are plenty more to come.
"We expect between today and Saturday that we'll mail out roughly 40,000 ballots," said Marion County Deputy Clerk Russell Hollis.
Saturday, Sept. 19, is the state-mandated deadline for clerk's offices in Indiana to mail out absentee ballots that have already been requested.
Hendricks County started sending out the first of its absentee ballots late last week.
Monday afternoon in Noblesville, more than two dozen volunteer workers processed absentee applications and stuffed absentee ballot envelopes. Hamilton County Election Administrator Beth Sheller said about 5,000 of the ballots would be delivered to the post office by 4 p.m. and would start hitting Hamilton County mailboxes within a couple of days. With so many ballots requested and so many more requests expected, the job will be non-stop for weeks.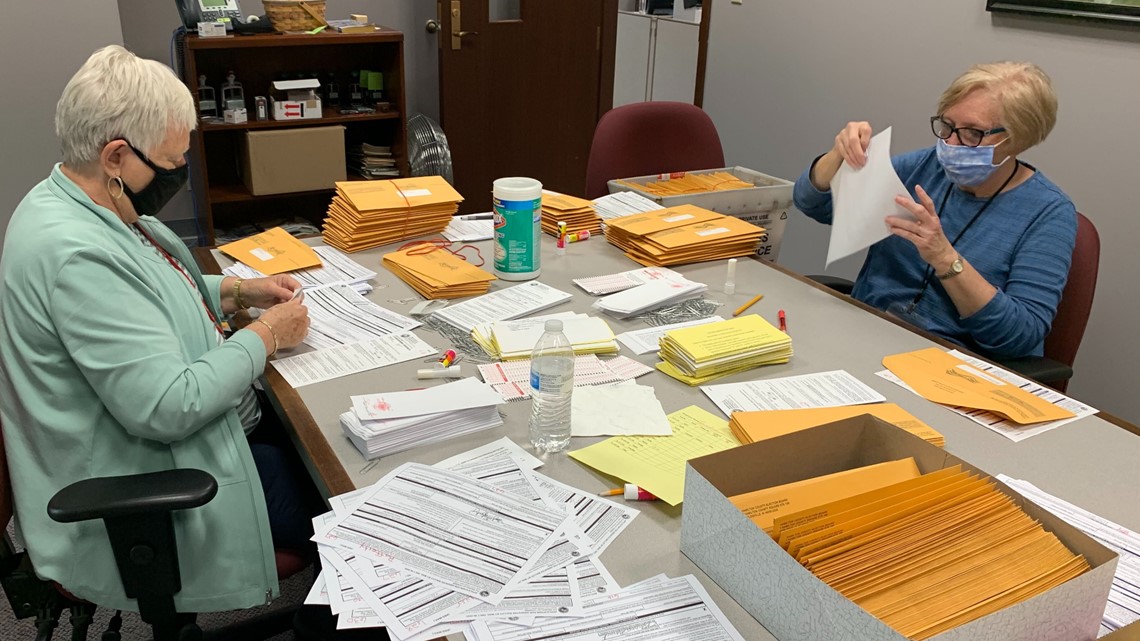 "We've got about 25,000 right now, and this is just the beginning," Sheller told 13News.
Tracking your ballot
So when will your absentee ballot arrive? Many Indiana voters don't realize you can actually track your ballot every step of the way. Here's how to do it...
Go to indianavoters.in.gov
At the bottom of the screen, click on "Vote by mail." Then "Visit my voter portal."
Once you provide your name, birth date and county, the statewide voter registration system verifies whether you are registered. If you are, you can find all of your absentee ballot information, including the date the clerk's office received your application for an absentee ballot, the date your ballot was mailed to you, and (once you send it back) the date the clerk's office received it.
"It's really to provide voter reassurance and voter confidence," Hollis said. "It's very important for the voter to be able to know that we received their ballot. And it means that a voter can check the website to make sure their ballot was received so there is no need to vote by absentee ballot and then show up at a polling place on Election Day."
If you want to vote absentee and haven't registered yet for a ballot, you have until Oct. 22. But election officials strongly advise that you do not wait until the last minute.