GATLINBURG, Tenn. (NBC NEWS) - Three people are confirmed dead and thousands are evacuated from their homes after fast moving wildfires swept into the Tennessee resort communities of Gatlinburg and Pigeon Forge overnight.

At least 12 people have been hospitalized.
Hardest hit is Gatlinburg where hundreds of structures were damaged or destroyed. The mayor says half the town is impacted.
The Smoky Mountains area of Eastern Tennessee has been plagued by drought for months and forest fires for several weeks, but when a storm front blew through last night, things went from bad to nightmarish.
The scene in and around Gatlinburg, Tennessee is utter devastation. Hundreds of homes and businesses were damaged or destroyed by a fast moving wildfire that erupted overnight into an inferno.
"This is a fire for the history books, because it is like anything most have ever seen," said Gatlinburg Fire Dept. Chief Greg Miller.
Several wildfires in East Tennessee fueled by high winds and dry brush raged out of control and quickly spread. Wind gusts reached 87 miles an hour.
"That is hurricane force. That is nowhere to be when fighting a fire," said Miller.
Flames came dangerously to a Hilton Hotel, temporarily trapping terrified guests.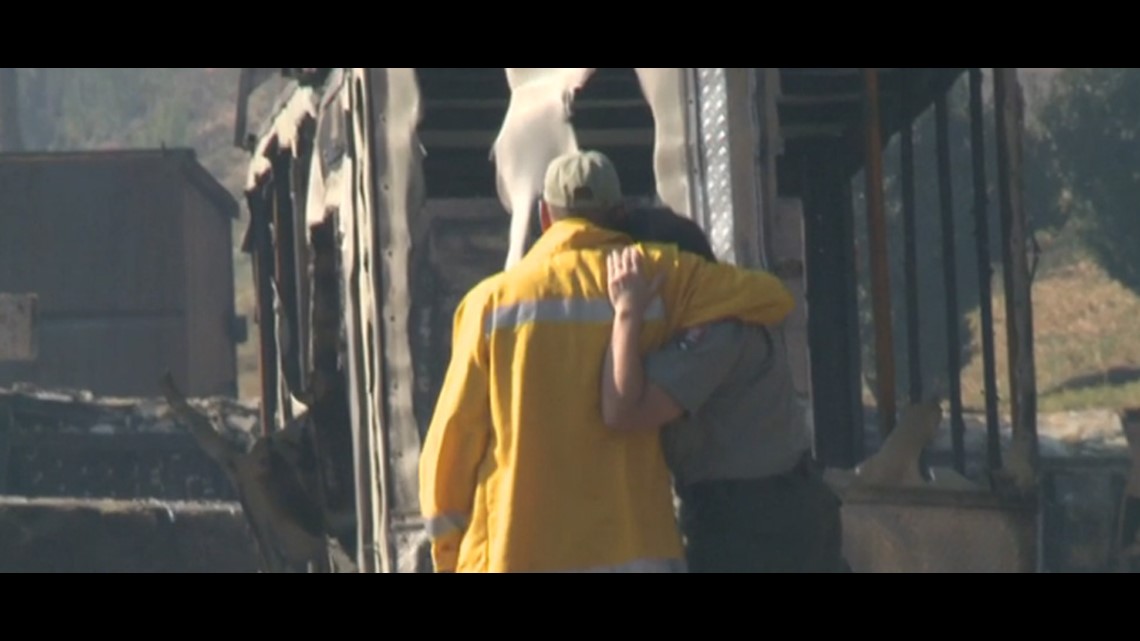 Overall, 14,000 people were evacuated in Gatlinburg.
"I'm glad they did when they did because them flames were right up on us and we didn't even know it," said Matt Lyons, witness. "Couldn't even see them. If it wasn't for them we wouldn't have gotten out at all," said Heather Bowen.
Some evacuees made it out on their own, driving through roads choked by smoke and flames. Others were escorted out on foot by Tennessee state troopers after downed trees blocked roads.
Homes and businesses were lost and lives forever altered.
"To see that disappear in what may appear to be in the blink of any eye it does tug at your heart," said Cassius Cash, Smoky Mountains National Park superintendent.
Gatlinburg and surrounding Sevier County suddenly changed overnight but residents are vowing to rebuild.