BLOOMINGTON, Ind. (WTHR) - America is still coping with the tragedy in Parkland, Florida.
Friday, two people - one a teacher and the other a student - stepped forward to share their stories.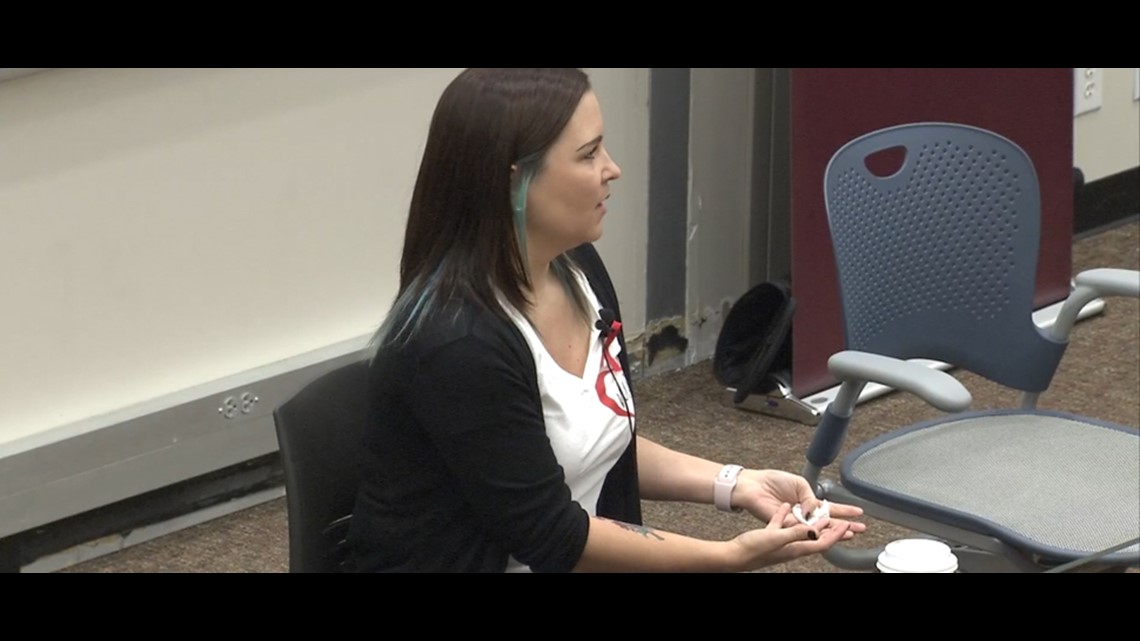 So much has changed. Nine days ago, Katherine Posada was reading Macbeth with 23 of her students at Marjory Stoneman Douglas High School. Now she's sitting here at Indiana University talking about what happened next.
"It was terrifying, but I did make an effort to keep it together for my students," Posada admitted.
A gunman was on the loose. So the 2003 IU graduate locked down her room and waited, worried about her husband, who was also a teacher at the school, and everyone else.
"I took a shower and got ready to do some homework," Morgan Schreiber described what she was doing when the alarm at her old school sounded.
Now a freshman education student at IU, Schreiber wasn't too concerned about the texts from her mom, after all, there were always drills of some kind going on at her old high school until she looked again.
"I had 12 missed calls from my mom and a bunch of texts from my brother, who was in the school during the shooting. He was in the building, so I got this text that said there is a shooter in the school. If you don't hear from me, I love you. That was one of the scariest things I ever heard," tearing up as she said it.
Then she waited for word.
"Then I got a text. 'In a closet. I'm safe.' So I waited and then my mom called and said she picked him up and I heard his voice. That is when I started to feel relief," she said.
"As far as giving teachers guns, I think that is a terrible idea. Many reasons for that. Teaching is about relationships and it's about respect and if I am armed, my students no longer respect me. They respect my weapon. Fear my weapon," Posada told a capacity crowd of education students at the Ed Building on the IU campus.
Nine days after the shooting, Posada visited her alma mater to encourage future teachers like Morgan Schrieber to follow their passion.
"If you see something in the world that needs changing. Change it. This generation that is here now they apparently like it this way. They haven't changed it so far. So if it's going to change it needs to be the kids. It needs to be you," Posada told them.
Elizabeth Ahlbrand, a junior Education major from Jasper, was sitting in the back row.
"Now is more important than ever to go in and turn things around. To be here for the kids who need it. More important now than ever for people with full hearts to go into it and be ready to turn things around," she said.
"It's really important for we as teachers that no matter how bad it gets we are there for the students. It's really important because we will be teaching the next generation. That we are ready to make change and we are ready to stop school violence and make that difference," said Kasandra Rieckers, a junior from Brownstown, who is just as determined.
"I think that is what we need. People who are willing to listen and more willing to consider that even though you might not agree with me maybe you have a point and maybe we can find something we agree upon to work together and move forward. It think we are lacking that, so that is why we need teachers now more than ever," Posada said.
Afterward, Posada said that was the reaction she hoped she would get and it's why she came.