PITTSBURGH (NBC NEWS) — Synagogue shooting victims in Pittsburgh ranged in age from 54 to 97 and included brothers and a husband, wife.
The 11 people killed in the synagogue shooting in Pittsburgh Saturday included a married couple, Bernice and Sylvan Simon, and two brothers, Cecil and David Rosenthal.
The Allegheny County medical examiners' office released the victims' names Sunday. David Rosenthal was the youngest at 54. The eldest was 97-year-old Rose Mallinger.
The dead also included Joyce Fienberg, Richard Gottfried, Jerry Rabinowitz, Daniel Stein, Melvin Wax and Irving Younger.
Fellow members of the New Light Congregation say Wax was a pillar of the congregation, filling many roles there. Friend Myron Snider says Wax was a retired accountant who was unfailingly generous.
Police said the suspect in the deadly mass shooting told officers that Jews were committing genocide and that he wanted them all to die.
Pittsburgh police said in an arrest affidavit made public early Sunday that Robert Gregory Bowers killed eight men and three women Saturday in the Tree of Life Synagogue before a tactical police team tracked him down and shot him.
A Pittsburgh police officer says in the warrant that Bowers was being treated for his injuries when he said Jews were "committing genocide to his people."
Bowers is charged with 11 counts of criminal homicide, six counts of aggravated assault and 13 counts of ethnic intimidation.
The police affidavit says calls began coming in to 911 just before 10 a.m. Saturday, reporting "they were being attacked."
Authorities said two others suffered injuries that are "critical and serious in nature" and four police officers, three of whom were shot, had non-life-threatening injuries, according to Pittsburgh Public Safety Director Wendell Hissrich. Also among the injured was a 61-year-old woman who had tissue injuries and a 70-year-old man who had multiple gunshot wounds to his torso.
"It's a very horrific crime scene. One of the worst I've seen," Hissrich said. "It's very bad."
The shootings are being investigated as a hate crime.
[view:swiper_image_slideshow=panel_pane_swiper_image_slideshow=1958151/showcaptions/loopslides]
Hissrich said he believed a service was occurring at the time of the attack.
Bowers, 46, of Pittsburgh, was armed with an AR-15-style rifle and multiple handguns. Police say he acted alone.
Federal prosecutors say Bowers was charged Saturday night in a 29-count criminal complaint. It wasn't immediately known if he has an attorney.
The charges also include 11 counts of using a firearm to commit murder, weapons offenses and charges alleging Bowers seriously injured police officers while obstructing the exercise of religious beliefs.
A man with the same name posted on a social media site before the shooting that "HIAS likes to bring invaders in that kill our people. I can't sit by and watch my people get slaughtered. Screw your optics, I'm going in."
HIAS is a nonprofit group that helps refugees around the world find safety and freedom. The organization says it is guided by Jewish values and history.
The Federal Bureau of Investigations is leading the investigation.
Congregants told MSNBC that a circumcision celebration, known as a bris, was taking place in the synagogue this morning.
Pittsburgh Public Safety tweeted on Saturday morning that there was an active shooter in the area around the synagogue and said to avoid the area. Pittsburgh Police Commander Jason Lando said there were multiple casualties.
Jeff Finkelstein, CEO of Jewish Federation of Greater Pittsburgh since 2004, told NBC News affiliate WPXI that he rushed to the area when he heard about the shooting.
"I just feel horrible for all those people inside," Finkelstein said. "You know, everyone thinks about Israel in situations like this. It's just shocking to come back to Squirrel Hill and see something like this."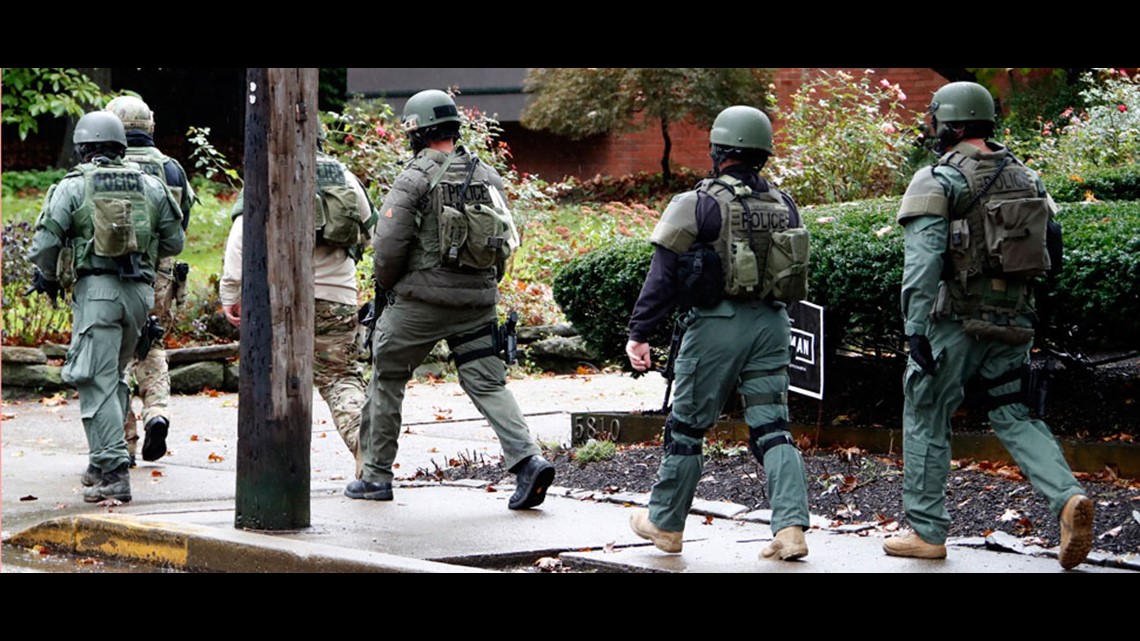 Rabbi Chuck Diamond, a former spiritual leader of Tree of Life, told reporters that he never spoke to his congregation about what to do during a shooting, but it's something he thought about.
"There's a lot of anti-Semitism out there and a lot of hate out there," Diamond said. "Sobering that it's touched our community."
Jonathan Greenblatt, CEO of the Anti-Defamation League, tweeted that the organization was working with law enforcement to "push back on prejudice."
"We are devastated. Jews targeted on Shabbat morning at synagogue, a holy place of worship, is unconscionable," Greenblatt wrote. "Our hearts break for the victims, their families, and the entire Jewish community."
Following the attack, social media platform Gab said in a statement that the site verified an account as matching the alleged shooter's identity.
"Gab took swift and proactive action to contact law enforcement immediately. We first backed up all user data from the account and then proceeded to suspend the account. We then contacted the FBI and made them aware of this account and the user data in our possession," the statement read.
Agents from the Bureau of Alcohol, Tobacco, Firearms and Explosives' Pittsburgh field office were also responding to the shooting incident.
President Donald Trump spoke briefly before leaving for Indianapolis to speak at the FFA convention. The president said, "If they had an armed guard, maybe things would have been different." He went on to say, "It's a terrible thing what's going on with hate in our country."
Vice President Mike Pence also tweeted his prayers to the victims and said he was also monitoring the situation.
"Monitoring reports of shooting at Tree of Life Synagogue in Pittsburgh. Praying for the fallen, the injured, all the families impacted, and our courageous first responders," Pence wrote. "God bless them all."
Pennsylvania Gov. Tom Wolf tweeted that Pennsylvania State Police were also assisting with the shooting.
"We are still learning details about the shooting at the Tree of Life Synagogue in Pittsburgh but it is a serious situation ... keep the congregants and law enforcement in your prayers," Wolf wrote.
In New York City and Baltimore, police said they were stepping up security at synagogues and houses of worship. In Los Angeles, Mayor Eric Garcetti said police were stepping up patrols around places of worship.
Shabbat morning services began at 9:45 a.m. at Tree of Life Congregation, which is in close proximity to Carnegie Mellon University, according to its website. The Conservative congregation was founded more than 150 years ago and is led by Rabbi Hazan Jeffrey Myers, who came to the synagogue in August 2017.
Saturday mornings are when Shabbat is observed in the Jewish faith and is typically a busy time at synagogues.
Squirrel Hill is considered a historic Jewish enclave and center for Jewish life in Pittsburgh, and it is considered home to more than a quarter of Jewish households in the Pittsburgh-area, according to a Brandeis University study of the Greater Pittsburgh Jewish community. More than 80 percent of Squirrel Hill residents said they had some concern or were very concerned about the rise of anti-Semitism. Many also reported incidents of anti-Semitic experiences in the past year, from insults and stereotypes to physical threats or attacks, according to the study.
The Indianapolis Jewish Community Relations Council released a statement on social media saying it is "shocked and appalled to learn of the fatal shooting unfolding in a Pittsburgh synagogue."
The Jewish Community Center in Indianapolis shared this message with the community:
As you may have heard, there was a mass shooting in Pittsburgh targeting a synagogue. There are multiple fatalities. The suspect is in custody. We hope you share with us your thoughts and prayers for the community as they deal with this tragedy.

The Jewish Community Relations Council and the Jewish Federation of Greater Indianapolis is in communication with Indianapolis and Carmel police for increased protection for synagogues and agencies, including the JCC.

The safety and security of our members and guests is the JCC's top priority and staff regularly receive emergency training. Our response will be different depending on the type of emergency. We have well-established and open lines of communication with the Office of Homeland Security, IMPD, the Marion County Sheriff and the Indianapolis Fire Department.

Please know that we remain vigilant and ask your cooperation in keeping our facility safe. If you ever see something that seems out of the ordinary, please say something to the closest JCC staff member or security guard.
Lawmakers from Indiana also reacted to the synagogue shooting: