PHOENIX — A mistaken text about Thanksgiving back in 2016 led to a new tradition for two unlikely friends and now, the grandma who sent that text is battling COVID-19.
Wanda Dench thought she was texting her grandson to invite him to Thanksgiving dinner in 2016, but she mistakenly texted Jamal Hinton's phone instead. At the time, he was 17 years old.
Hinton replied, "You not my grandma," and asked for a selfie for visual proof. He eventually asked if he could still try out her Thanksgiving cooking, so Dench invited him over saying, "of course you can."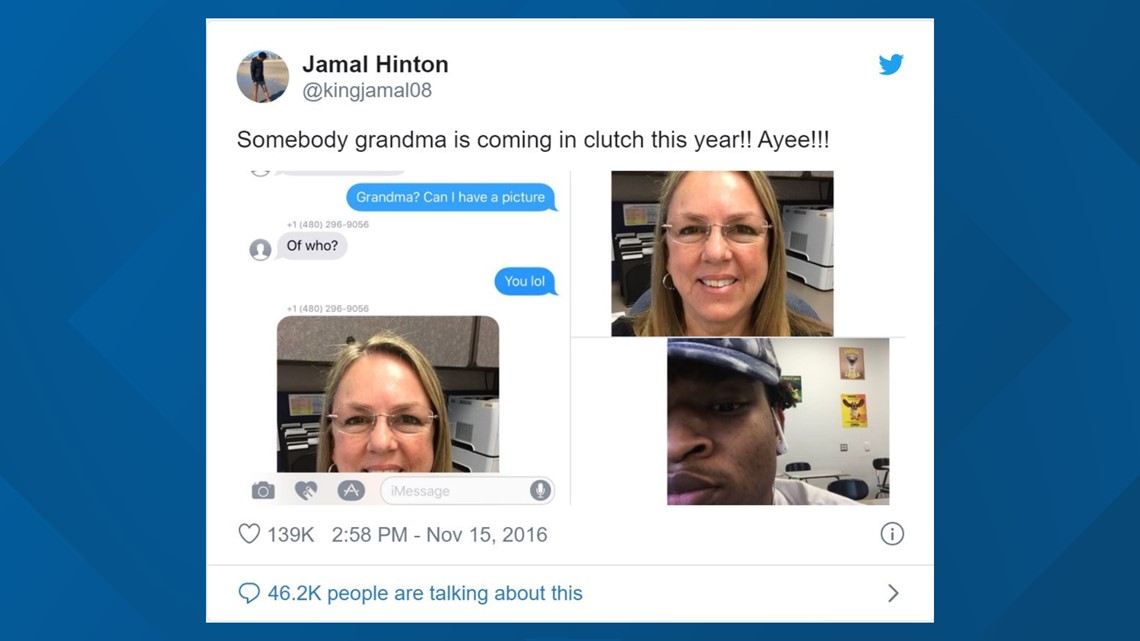 The unlikely duo developed a friendship that comes naturally. Hinton has shared Thanksgiving meals with the couple since 2016.
And it's not just Thanksgiving. In an interview with the New York Post, Hinton says that the two meet up every couple of months. Their friendship has captured the attention of the media and the public for years now.
Both live in Arizona. Hinton lives in Phoenix and Dench in Mesa. The two find it challenging sometimes to meet up with their busy schedules but frequently keep in touch.
Hinton tweeted that both Wanda and her husband, Lonnie are in the fighting COVID-19 and pneumonia. He asked people to send words of love and encouragement to the couple. That tweet had been shared more than 50,000 times as of Friday morning with many tweeting thoughts to the couple as the battle the virus.
Hinton released a video on YouTube with an update Friday afternoon. He said Lonnie is in the hospital and Wanda is at home.
Hinton promised to keep people updated about the Hinton's health on Twitter.