INDIANAPOLIS (WTHR) — Actor Tom Hanks is in Indianapolis to honor "Hidden Heroes" before Sunday's Indianapolis 500.
"Who volunteers? There you go. We all do," Hanks said as he took a selfie of the crowd at Bankers Life Fieldhouse before Wednesday's Hidden Heroes event.
Jennie Beller knew this was going to be a big day. She would be one of the featured speakers at the Hidden Heroes banquet.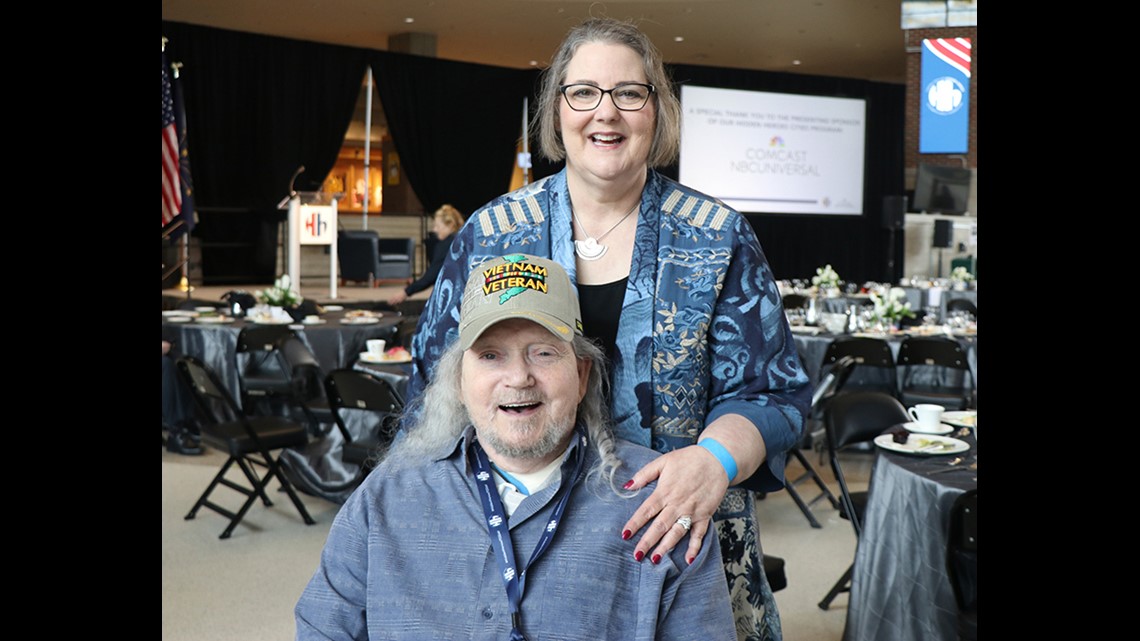 "Before I got involved in the Elizabeth Dole Foundation, I thought my life was over," Beller shared from the podium.
She would talk about the anguish of taking care of her husband Chuck, a Vietnam veteran suffering from the effects of Agent Orange.
"He had a stroke eight years ago as a result of Agent Orange exposure and diabetes," she said later.
So Beller quit her job as Assistant Attorney General of Indiana to take care of Chuck and the Hidden Heroes campaign helped her connect. Today she connected with Hanks who was speaking about the 5.5 million caregivers like her who need to transition from isolation to connection.
"Do you have time on your hands? Do you have services you can render. Expertise you can offer up to families who really need a break taking care of service members at home," Hanks said.
"Do you like me taking care of you?" she asked her husband Chuck who has difficulty speaking.
"We do a pretty good job there. Yes. Lot of love there," she continued.
[view:swiper_image_slideshow=panel_pane_swiper_image_slideshow=2000217/showcaptions/loopslides]
The actor was awarded an Indiana Fever basketball, a racing helmet and also took a moment to kid the crowd.
"I have asked friends of mine for the definitive information for the origin of the word Hoosier. I've never gotten one," he queried.
We may not have the definitive answer, but we sure know one when we see Jennie pushing her husband's wheelchair out the door. They are headed for the Children's Museum.
At the Children's Museum, Tom Hanks and Savannah Guthrie got to chat and meet with military families and their caregivers over a BBQ with food and drinks.
[view:swiper_image_slideshow=panel_pane_swiper_image_slideshow=2000253/showcaptions/loopslides]
Hanks will join Savannah Guthrie and Al Roker for a special 8 a.m. hour of the TODAY Show Thursday morning. Sheryl Crow will be the musical guest on the show, which is broadcasting from the Indianapolis Motor Speedway.
Live coverage from the track starts on Eyewitness News Sunrise starting at 4 a.m.