INDIANAPOLIS — A blown tire led to a crash and tanker fire that bottled up traffic on State Road 37 on the south side of Indianapolis Friday morning.
The driver, Dane Meadows, 47, was able to escape unhurt.
The tanker was heading south from Indianapolis when one of the right rear tires failed and the truck hit the right guardrail, then swerved back left into the concrete dividers that separated northbound and southbound traffic in the construction zone between Wicker and Stop 11 roads. The cab's diesel tank caught fire just after 6:20 a.m.
The tanker had been carrying liquid asphalt, according to police, but was empty except for some residual tar, according to an incident report from the Indianapolis Fire Department.
Both directions of traffic were shut down much of Friday morning. Around 9:30 a.m., INDOT said two northbound lanes and one soundbound lane of State Road 37 had reopened.
INDOT said to expect night and weekend lane closures in the coming days for ongoing cleanup and repairs.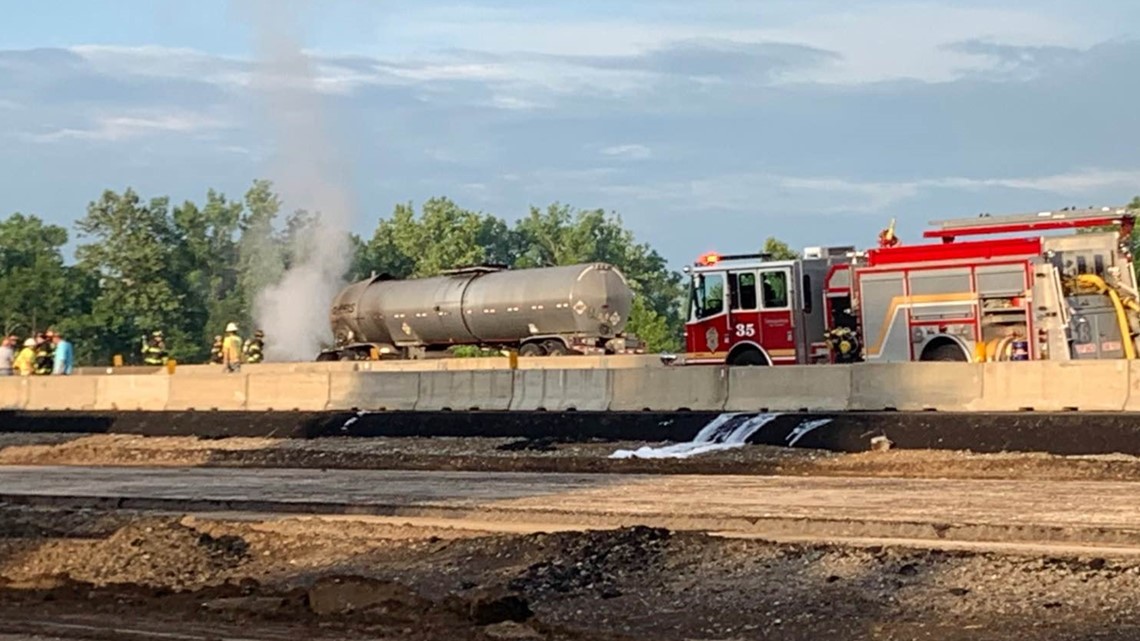 Fire departments from surrounding areas including Indianapolis, Decatur Township, White River Township, Madison Township and the Indianapolis International Airport, responded with water tankers and cold fire foam to help extinguish the fire.
They finished their work just after 8:30 a.m. but road crews were still making repairs to the guardrail and pavement at 10:30 a.m.
A small amount of diesel fuel spilled into a nearby ditch that required IFD's hazmat unit to mitigate.
The clean-up process was expected to last several hours.
The truck's cab was completely destroyed, but Meadows told investigators that he was able to save the Teddy bear his daughter had given him for Father's Day last year.