WESTFIELD, Ind. (WTHR) — Youth sports organizations across the country are having conversations about how to return to play and keep players, parents, coaches and organizers safe from COVID-19. Several weeks ago, Grand Park in Westfield announced plans to release a questionnaire for all involved in youth sports about how safe they feel in certain situations and what precautions need to be taken.
Those results are now in. Dr. David Pierce, the director of the institute, said they heard back from about 10,000 officials, coaches, administrators and athletes. The bulk of respondents were parents.
Pierce said respondents came from people in 45 different states, and all states are encouraged to use these results to improve safety at games and sports venues.
"People were very open and supportive and actually really are expecting to see some sort of a health screening," Pierce said. Results also showed a concern for those over the age of 65, who may be deemed high risk for the virus, to not attend games in person.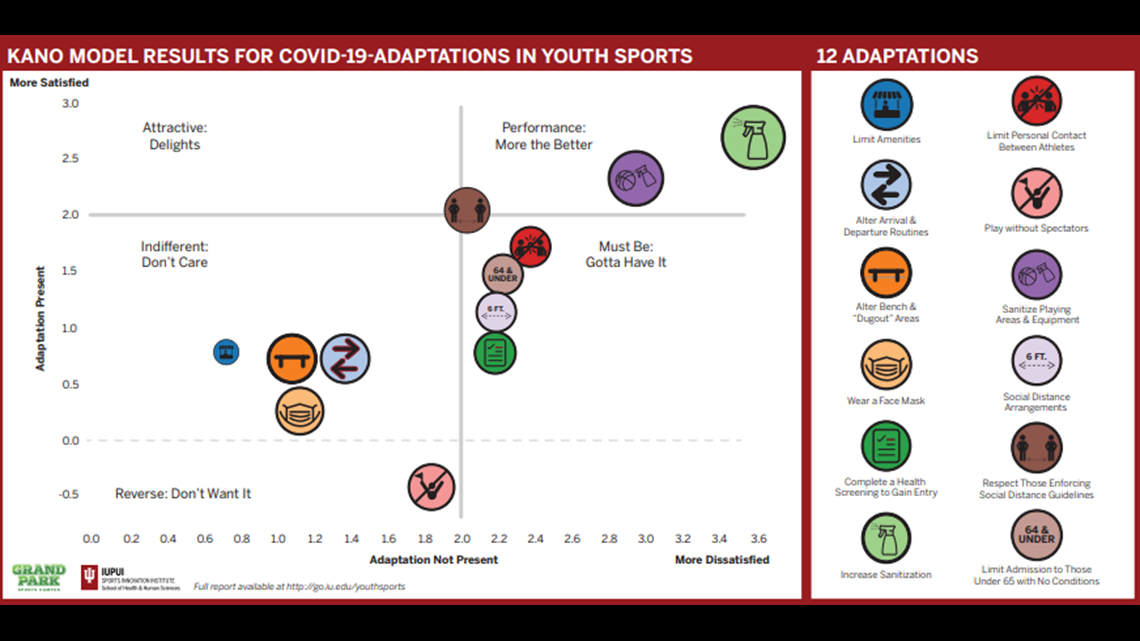 "The only thing that really received widespread disapproval across the data set was completely eliminating spectators."
William Knox, the director of Grand Park, said they'll likely ask guests some pre-screening questions and will ask them to stay home if they have any COVID-19 symptoms. As for not allowing people over 65 — who might be higher risk into the park — Knox said they won't be checking identification at the entrance, but they're asking visitors to use discretion. Grand Park is also working on technology to let older parents and grandparents watch the games virtually.
Knox said Grand Park staff will wear face coverings, and they're encouraging both visitors and athletes who aren't playing to wear them. The goal is to teach kids, spectators and organizers the new normal for sports.
"People want the facility to be cleaned at a very deep level. There is a lot of thought about the sanitation practice and also distancing of athletes and spectators that came out of our initial results," Knox said.
Grand Park is allowing practice right now and they're planning to launch some leagues and games by June 14. Knox said they hope to be back to full operations with these changes by July 4.