MOORESVILLE, Ind. (WTHR) — A retired marine from Mooresville is about to be reunited with a part of his life he never thought he'd see again.
"I just thought, 'I can't believe, on eBay of all things, and it's in some trading post in northern Georgia!," Craig Haggard said. "What are the odds?"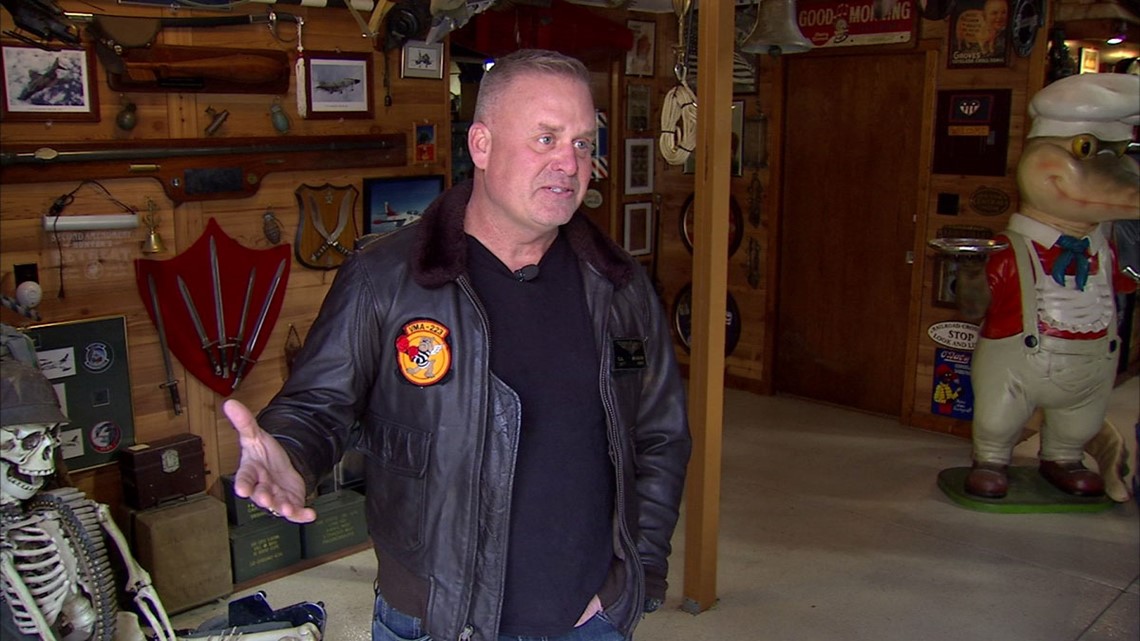 Haggard served as a Marine Corps combat fighter pilot in the 1990s. Of all the aircraft he flew, the AV-8B Harrier was special. It was the first time he saw his name painted on the side of the cockpit.
"I always wanted to be a fighter pilot as a little kid from high school on, that's what I wanted to do," he said.
Haggard eventually retired and moved back home to Indiana where over the last 20 years he has become quite the collector of all things military.
But he never dreamed he'd be reunited with something so close to his heart and so far in his past.
He got a message from a friend on Facebook asking if the plane on eBay was mine.
"... It came up C.A. Haggard, "Merle", which is my call sign," Haggard said. "... that's my plane!"
It was his AV-8B Harrier cockpit with his name still on it. And it was for sale.
Friends and even his wife urged him to buy it.
Haggard started a GoFundMe page to help raise enough money to get it.
He also contacted the seller – a fellow veteran.
"We talked about a lot of stuff and ended up making a deal," Haggard said.
But this isn't for his collection. This one is for something more special.
"I lost eight friends during my career," he said.
This cockpit, restored and displayed, can be a way to honor his brothers who didn't make it home.
"There isn't a moment or time that you don't think of those guys one way or another and honoring their memory is important," he said.
Haggard is hoping to raise additional support to restore the cockpit once he picks it up and brings it home.
He said its value is priceless.
"People say thank you, and we're heroes," he said. "I don't think of it that way. I think of those guys that didn't get home to see their families and their children. They're the heroes."