WEST LAFAYETTE, Ind. (WTHR) – The national impact of Tyler Trent's battle with bone cancer exploded after he inspired Purdue to an upset win over Ohio State at Ross Ade Stadium back in October. Even after the death of the Purdue student, Trent's impact on the student body is now seen with a journey from West Lafayette to Bloomington later this month.

Purdue junior Aaron Lai will leave his Delta Chi fraternity house on Sunday, February 17 at 7 a.m. for a long walk. Lai is walking to the men's basketball game, which will be played at Assembly Hall in Bloomington, 100 miles and two days away.
Lai is the philanthropy chair at his fraternity and got to thinking one day. He checked the Purdue basketball schedule and looked up the distance to the Boilermakers' in-state rival campus.
"I thought to myself, 'It would be pretty crazy if I walked this, right?' I guess it just came out of nowhere."
Lai never met Trent but was inspired by the way he lived with the osteosarcoma that took his life January 1. Trent was just 20 years old.
"I connected with him because my grandfather also had a type of cancer," said Lai. "He had lung cancer. How they both lived their lives really similar to each other, because they wouldn't let the cancer define who they were and what they wanted to do. You should live every day like it's your last day and be thankful for every day that you're here."
Lai plans to walk alone along U.S. Highway 231 most of the way. Friends will meet him with snacks and supplies at multiple checkpoints.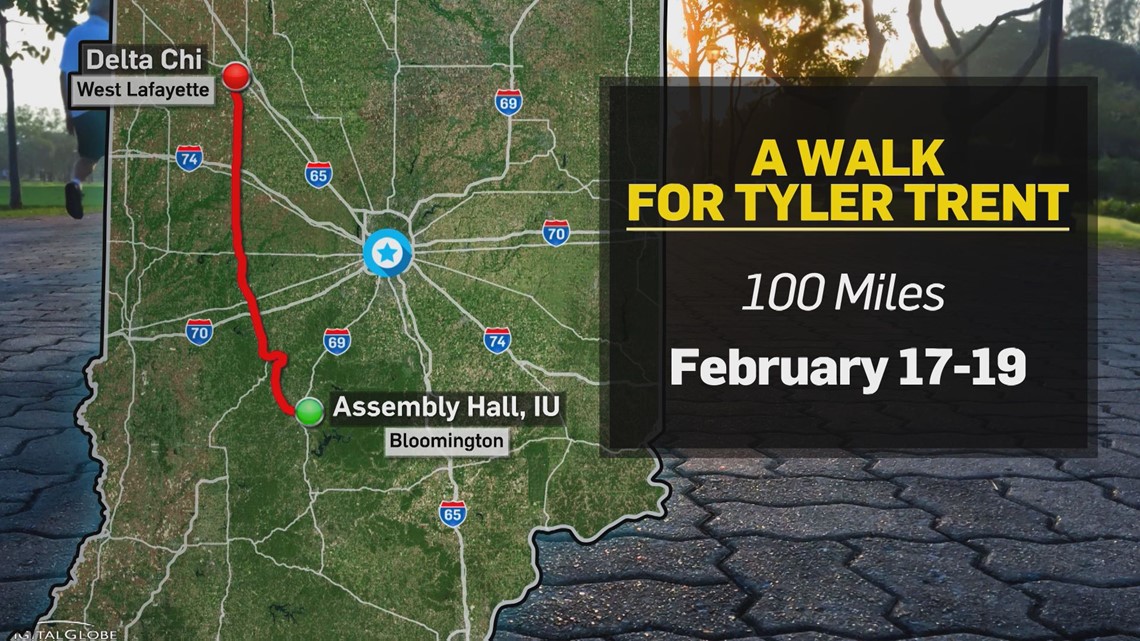 "I'm really worried about the weather because I remember training in the rain a week ago. I remember it being really miserable because I was hours in the pouring rain. It was not fun."

The Athletic Annex in Indianapolis donated a couple pairs of sneakers. You can support A Walk for Tyler Trent through the GoFundMe page here.
Lai believes he has allowed plenty of time for his walk to the Boilermakers vs. Hoosiers game on February 19 at 7 p.m. The social studies education major from Troy, Michigan plans to attend the game but doesn't have a ticket yet.