INDIANAPOLIS — Purdue Polytechnic High School's basketball teams came together to remember one of their own Tuesday night.
Johnson was a star player for the junior varsity team and even played a few games on varsity this year. He was expected to move up next season as a senior.
"He was one of the most athletic kids I have ever seen. It didn't matter, anytime we were in the gym, he would be up above the rim, and he could be wearing his dress shoes or his sandals, it didn't matter," said Josh Bowling, the school's athletic director.
Tuesday night's game was the first without Johnson on the court. Bowling said his teammates came together and decided not to cancel the game but instead play in his honor.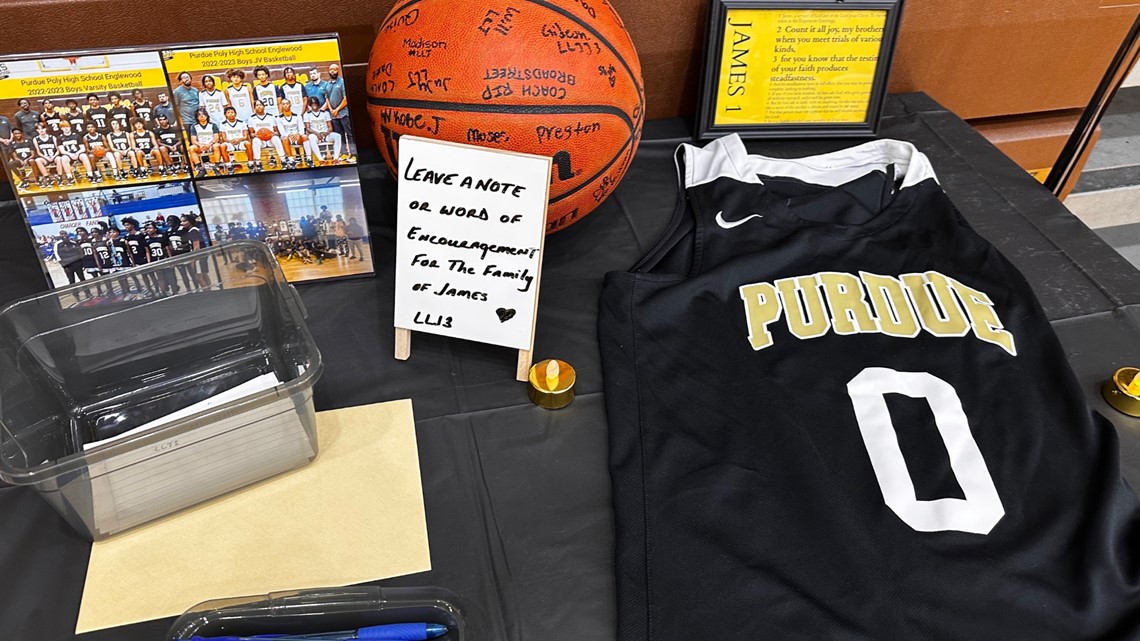 "His team is playing tonight and these are his guys. It's obvious that they are playing for him," Bowling said. "When the game started, the first six or seven minutes we were nervous because you could tell they were just throwing the ball around, but then it just took one shot, and I haven't seen any of these guys shoot like this all season."
Before the varsity team took the court, the school held a moment of silence for Johnson.
His mom carried his basketball jersey onto the court for the last time as they read the starting lineup.
"I'm hurting because when I come, I come to see my son on the court and not being able to walk in and sit down and see my son is difficult," said La'Toya Martin, Johnson's mother. "I'm looking around and I feel my son here, but I know he is not here, and I know I will never see him on this floor again ever."
Martin said the team and school are helping her family push through.
"If you love James, then let his light show through you in everything that you do, on the court and off the court. Keep his memory alive," Martin said.
Johnson's sister, Jasmine, said she learned a lot from her older brother. The two were born just 11 months apart.
"He said to be tough and when things are hard, stay strong," she said.
Like her brother, Jasmine is also a star basketball player.
"He couldn't beat me. I taught him most of the stuff he knows," she laughed.
Johnson was college-bound and on a trajectory to attend Purdue University.
Johnson's visitation and funeral service will be Saturday, Feb. 18 beginning at 11 a.m. at Stuart Mortuary, located at 2201 N. Illinois St.