INDIANAPOLIS — An IMPD officer is on a long road to recovery after being shot in Fountain Square Sunday night.
On Friday, IMPD announced the wounded officer is Thomas Mangan, a patrol officer. Officer Daniel Majors, a seven-year veteran, was the one that shot the suspect.
People can send get well cards and well wishes to Officer Mangan at:
IMPD Southeast District
Attn: Officer Thomas Mangan
1150 Shelby Street
Indianapolis, Indiana
46203
IMPD, on behalf of the officer's family, released information Thursday afternoon on the officer's progress following the shooting.
According to IMPD, the gunshot caused significant damage to the officer's laryngeal cartilage — commonly known as the "Adam's apple" — and voice box.
Police said Officer Mangan is now fully awake, communicating by writing and using a feeding tube to eat and drink.
"There is, consequently, uncertainty regarding the return to normal breathing, speaking, and swallowing. This uncertainty will not be resolved quickly. The road to recovery will be long. It will require the input of a voice box specialist and much more fervent and persistent prayer," IMPD said in a news release.
According to IMPD, Mangan underwent another surgery Thursday to learn more about the extent of the injury to his voice box. This will help determine the treatment options in the officer's recovery.
Police identified the suspect in the case as 31-year-old Mylik Hill and said he is under arrest in connection with warrants for theft and resisting law enforcement and parole violation. On Monday, an IMPD spokesperson said Hill is receiving medical treatment and was last listed in "serious" condition.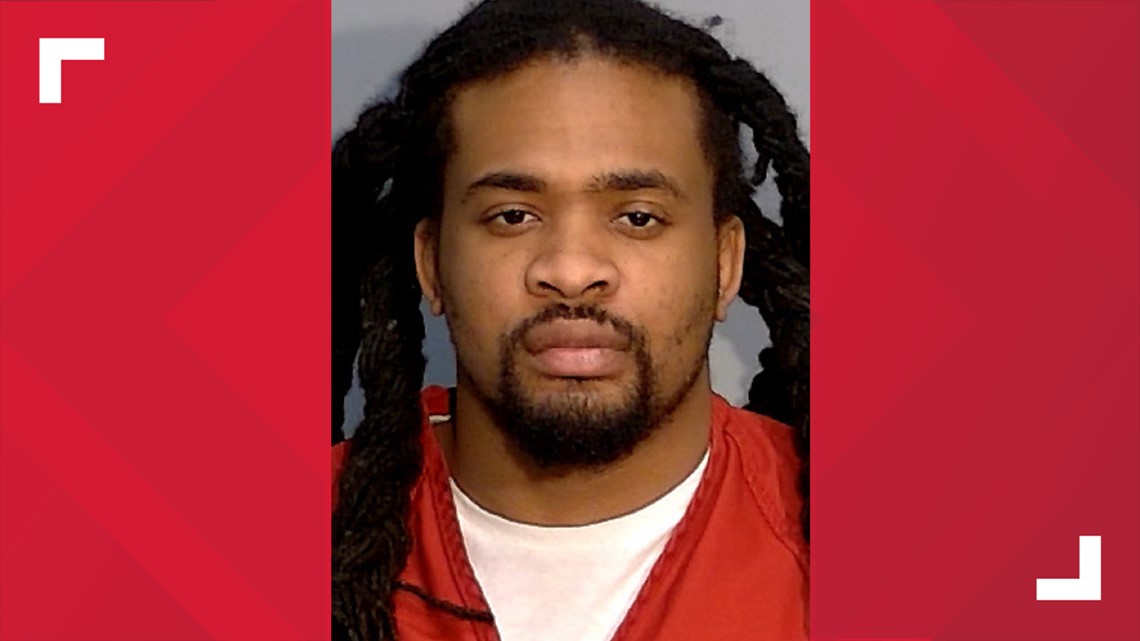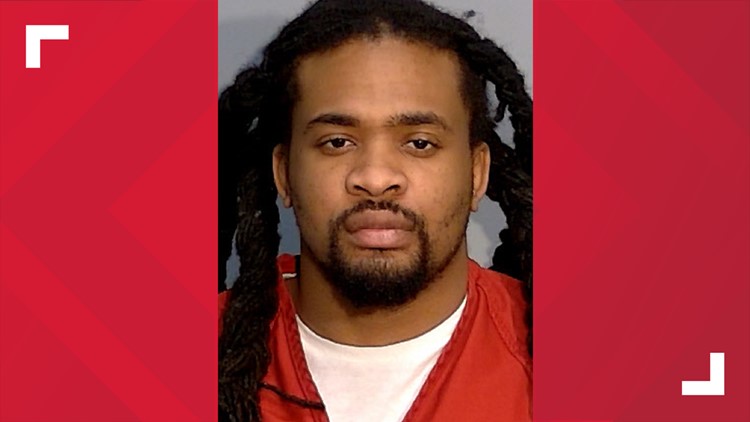 According to a spokesperson with the Indiana Department of Correction, Hill was released from the Putnamville Correctional Facility on Feb. 15, 2021, on parole. The IDOC spokesperson said Hill was a delinquent as of Jan. 19, 2022.
Hill spent about eight and a half years behind bars after pleading guilty to a 2011 armed robbery in Indianapolis.
During his time at the Putnamville Correctional Facility, he tried to get into a work-release program.
In a letter to the judge in March 2018, he wrote:
I'm no longer involved in misconduct in any way, shape, form, or fashion. I know what is truly right. I know the price of crime doesn't pay at all.
Hill was denied admission to a community corrections program in 2020, in part due to misconduct while in prison. He was eventually released on parole last year.
On Jan. 31, 2022, a man allegedly walked out of a Walmart near Keystone Avenue and 71st Street with two TVs, electronics and some clothes without paying for them. Hill was the alleged getaway driver. They were eventually caught near the Butler University campus. Hill was out of jail on $500 bail when he allegedly shot the IMPD officer Sunday night.
Hill's newlywed wife paid the bail on Feb. 1 and Hill was released.
"I'm sorry for the injuries to both people," Terrie Breedlove-Hill told 13News' Rich Nye.
According to the FOP, a repeat violent offender was allowed to be out on parole. They are asking for a release of the suspect's criminal history, latest arrest information for which he was out on bond, and reasons for allowing his release on an automatic $500 cash bond and not held on his parole violation.
Feb. 27 shooting
Shortly after 10 p.m. Feb. 27, 2022, officers were called to a traffic accident in the 1600 block of Lexington Avenue, near Shelby and Prospect streets in Fountain Square. It came shortly after someone called about a person with the same description exposing himself in the area.
While responding to the accident, two officers came across a car matching the description of that in the 1600 block of Woodlawn Avenue, which is four blocks south from where the traffic accident happened. Police said the driver also matched the description of the person exposing himself.
The officers got out of their police car but said the suspect ran from them. Officers ran after him and, in an alley north of Woodlawn Avenue, the suspect and one of the officers shot at each other. A one-year officer who was in field training was shot.
An Indianapolis fire truck took the officer to Eskenazi Hospital, where soon after their arrival, a large police presence could be seen lining the road outside the hospital.
Police later confirmed the officer was in "serious but stable condition." The officer's identity is also being withheld at this time.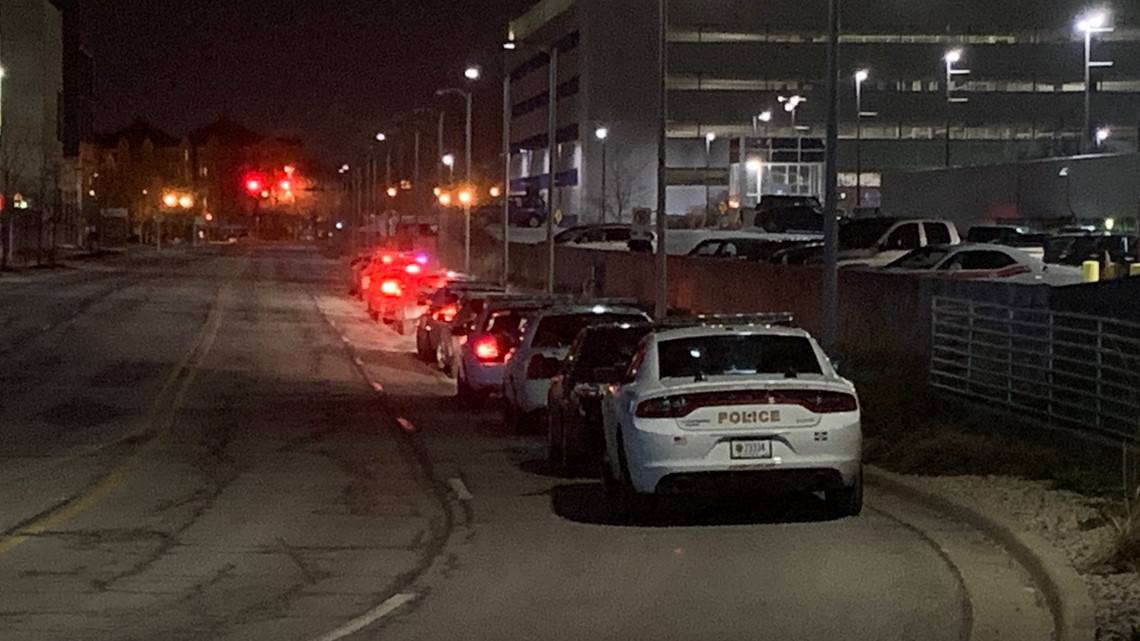 Police secured a perimeter search for the suspect and got several calls from residents reporting having seen a possible suspect.
Using a drone, officers located the suspect shortly after 11:00 pm in the area of 900 Dawson Street. He had injuries "consistent with gunshot wounds."
Officers found a handgun "adjacent to where the suspect was located."
Police said calls received from the public proved helpful and said without the assistance of a resident and the use of the drone, it may have taken much longer to find the suspect.
Several streets were blocked off for while IMPD's critical incident response team investigated.
Foley explained officers are trained to be prepared for rapidly evolving situations like Sunday night's.
"I think what we saw with Aaron Allan, whose killer was convicted last week, something as simple as a traffic accident can result in shots fired and officers being killed," Foley said. "We never know what's going to happen, show up to a report of an accident and at some point, there's an exchange of gunfire."
Despite the fear that many officers faced Sunday night, Foley said to look around and to notice all the officers who continue showing up to serve the city.
"I think what we've seen is that all of our officers, one officer was shot, possibly multiple officers were shot at and everybody else is here," Foley said. "They're still taking [calls] ... They're still serving the community of Indianapolis and, despite the adversity that our officers in this community have faced in the last year or more, our officers are still showing up every day, serving the community and putting their lives at risk, just like what happened tonight to make the community safe."
The officers involved in the chase and shooting were wearing bodycams, and IMPD is promising a full investigation into the shooting.
The officer involved in the shooting will be placed on administrative leave, which is standard protocol following an officer-involved shooting.
An outpouring of support
After news of the shooting broke, Indianapolis Mayor Joe Hogsett took to social media to offer his prayers to the officer, the officer's loved ones and the entire IMPD family.
"In the face of danger, the officers of [IMPD] put their lives on the line to keep our community safe. Tonight we bear witness to that selfless action. Our prayers are with the officer shot, his loved ones, and the entire IMPD family," the tweet read.
Fraternal Order of Police President Rick Snyder also joined in to show his support to the officer.
IMPD Assistant Chief Chris Bailey tweeted a statement of appreciation for IMPD officers, the Indianapolis Fire Department and staff at Eskenazi Hospital.
Police in Columbus, Indiana also are offering words of support for the officer.
IMPD asks for public's help
IMPD is asking anyone in the area with surveillance or doorbell cameras to check their footage. If you see anything suspicious or have any information about this incident, IMPD is asking you to contact Detective Sergeant Leslie Vanbuskirk at 317-327-3475 or by email at Leslie.Vanbuskirk@indy.gov. Alternatively, anyone with information can call Crime Stoppers anonymously at 317-262-TIPS.