INDIANAPOLIS (WTHR) — A new accelerated apprenticeship program in Indianapolis is trying to fix a problem that affects anyone who owns a home, rents an apartment or drives a car.
There's a serious shortage of electricians, so there aren't enough workers to do those highly-skilled jobs.
Now, there's a push from the Central Indiana Independent Electrical Contractors organization to attract more young people to the trade with fast-track training.
It's a powerful industry in need of a serious spark.
"It's a really cool trade to be in. You get to use your brain. You get to use your hands. You get to use problem solving," said Blake Behr, IEC Indy instructor and owner of Ridgeline Electrical.
The issue
The IEC said a shortage of electricians is now reaching critical levels in Indiana and nationwide.
"There aren't people entering the workforce like it used to be," Behr explained. "People just are not entering the trades as much anymore."
The U.S. Bureau of Labor Statistics projects a 10 percent growth in the next nine years for electricians' occupational outlook.
So there are jobs out there and demand is only going to increase.
But according to the Associated General Contractors of America, 80 percent of contractors said they can't find enough qualified workers right now, even with the construction industry booming.
Behr said there are too many retirees and not enough young people replacing them.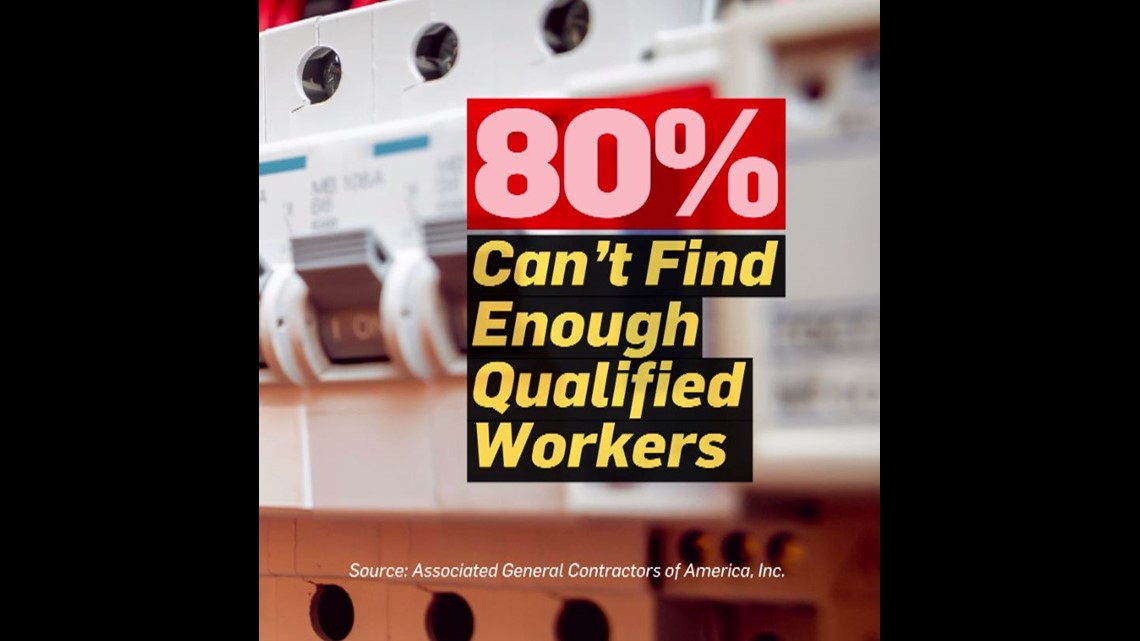 "I think they said 20 percent of the workforce is going to be retiring in like five to ten years. So one in five people who are skilled trade - out the door," Behr said.
That's tough on the job site and it's costing consumers too.
An electrical problem with your car?
Even an emergency electrical issue?
Good luck getting someone out quickly.
"The waiting list has gotten a lot longer," Behr said. "Now we're starting to even see problematic issues like, 'hey my receptacle's sparking. How quick can you get here?' And you would hope something like that would be hours, not weeks and it's starting to become weeks and as things continue to grow over the next five years, maybe that's months."
It's also making projects more expensive.
"In the residential side, where a receptacle maybe was $150 to add new somewhere is now up to $225 to $230," Behr said.
This isn't just a problem with electricians, but also plumbers, carpenters and HVAC technicians.
They're all facing a labor shortage.
Behr said there are 5.4 million jobs sitting waiting to be taken in the skilled trades nationwide.
The solution
Ryan Martin, a recent high school graduate in Indianapolis, is part of the solution.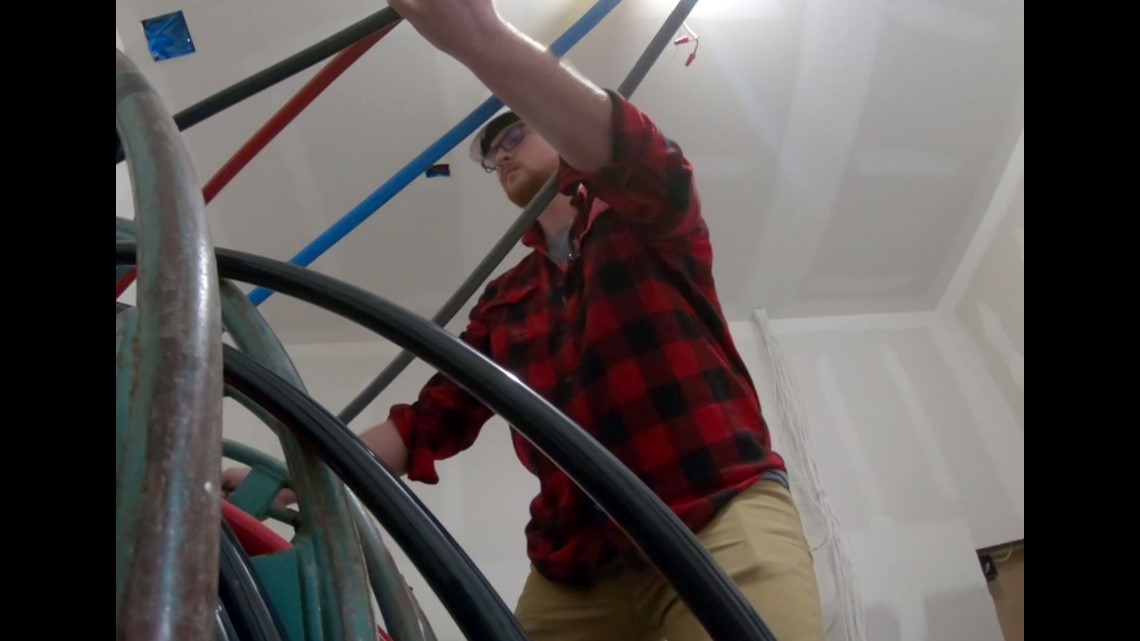 He signed up for a new accelerated apprenticeship program through Indy's Independent Electrical Contractors.
An electrician apprenticeship is normally a year-long program that starts in August.
This fast-track program is meant to encourage young people to pursue a career in the trades and get them started sooner.
"This accelerated program is to help people not miss that August deadline and still get a lot of training and growth," Behr said. "It's two days a week. You come in. You learn a ton. Yes, it's hard, but it's worth it."
"I didn't really know what I wanted to do," Martin said of his career plans after high school. "I like working with my hands. I like using my head to figure things out. I was like OK, this is really, this is a good field to be in and I should try to advance. It's a career that's going to be around for awhile and I could grow."
Martin met Behr at church and that's how he learned about the apprenticeship program. Behr hired him at Ridgeline Electrical, so he's already working, learning basics alongside second and third year apprentices.
He starts classes at IEC in January.
Behr is an instructor at IEC Indy.
He wants skilled trades to be talked about more as a viable alternative to college and a way to avoid student loans.
A four-year electrician apprenticeship is $8,000, less than one year of tuition at most colleges.
Plus, the pay for an electrician?
"After an apprenticeship, you could be easily making...$75,000."
"After an apprenticeship, you could be easily making...gosh, $65 (thousand), $75,000 with no debt for that to go to," Behr said.
The skills and the salary sold Ryan Martin.
"Right now be an electrician. Yeah, that's what I want to do right now," he said.
And he's part of what the industry hopes is a positive trend to bring more young workers on the job.
The accelerated apprenticeship program starts in January.
Classes are two evenings a week from 4:30 to 8:30 and you don't have to have any previous electrical background or training.