NEW CASTLE, Ind. (WTHR) — More than 80 years before the nation demanded to know who killed JonBonet Ramsey and almost 20 years before the world was stunned by the kidnapping and death of the Lindburgh baby, America was asking where is 9-year-old Catherine Winters.
104 years after the 4th grader vanished, Eyewitness News reporter Rich Van Wyk reveals a new clue that is deepening this Hoosier mystery.
"You can't write these things," journalist Eldon Pitts said. "You can't make this up it has every thing. "
Local reporter Eldon Pitts thought he'd seen everything. After 40 years of digging for clues in old files and newspapers, he caught a break.
"I thought what is this? Where did it come from; I couldn't believe it."
It was a message from a time when New Castle was a bustling factory town: automobiles shared streets with horses and wagons.
"I thought, I've never seen this before, how did it get here, who put it here," Pitts said.
The main characters in this mystery lived in a middle class home.
Father, William Winters, a hard drinking dentist. Byrd, his apparently unfaithful wife. Boarder, William Cooper, a one-armed railroad worker. 9-year-old Catherine and younger brother, Frank.
Catherine may have walked in on Cooper and her step mom's affair, and then killed to keep her silent.
"Everyone thinks the evil stepmother did it, but I kind of don't think she did," author Coleen Steffen said.
Steffen spent years pouring through old newspapers and historical records. And she's not done.
"You think the case is over, but there is something new. There is always something new."
On March 20th 1913, just a block from the Henry county court house, Catherine Winters was last seen alive.
The whole city left work to search for her. There were even national head lines and big rewards.
"The longer this went on, the more people were sort of flabbergasted that all these resources and all this effort couldn't make any progress," Steffen said.
Theories abounded. Maybe a band of gypsies took the girl? Perhaps distant relatives kidnapped her for a ransom?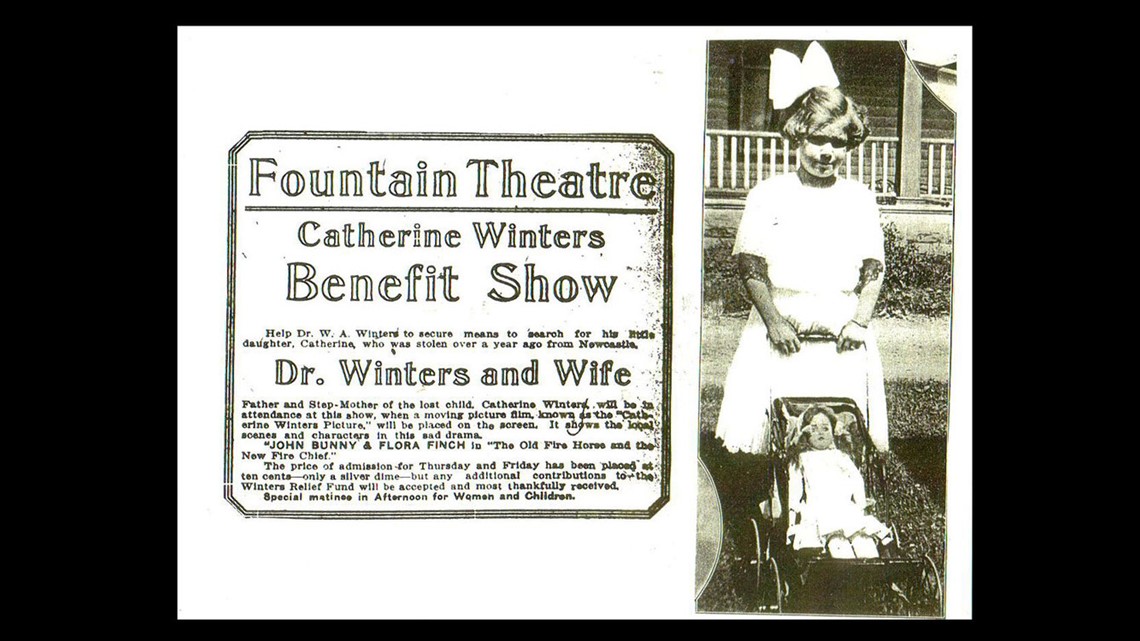 "One of the prosecutors said in the newspapers that he knew the Winter's home life was not happy," Pitts said.
Eventually detective's attention focused on the father, the step mother and the boarder.
Hidden in the home's basement, investigators found a child's sweater, a hair ribbon and a blood stained undershirt.
The three were arrested. Then 14 months after Catherine vanished, Judge Edward Jackson called off the trail citing not enough evidence.

More than a century later, at the Henry County Historical Society, Pitts discovered a document he and Steffen had never seen.

It is a copy of a handwritten document, 10 pages long, unsigned and undated.
The writer recounts a story told by Cooper's boss, 40 years after the Catherine's disappearance.
Al Sherry ran a now long gone rail road depot. He remembered Cooper shipping boxes out of state, to himself. He suspected they held Catherine's remains.
"From everything we've learned he was a very mean person, intimidating person," Pitts said. "He scared people."
Pitts thinks he's discovered the writer's identity. The account matches evidence and stories told at the time.
"I've always believed that Catherine made it home that day and something happened to her after she got home."
But Steffen believes Catherine was taken by child predator. New Castle Newspapers reported 2 girls taken from the streets about the time Catherine vanished.
Several unanswered questions.

Why didn't police connect the dots? Why was all the evidence, court and police records destroyed or lost? Who put the document in the historical society's file and when?
Questions adding to the intrigue of a century old crime.