INDIANAPOLIS (WTHR) — Family, friends and community leaders spent part of Memorial Day remembering three teenagers who lost their lives after being struck by a vehicle.
Kashonna Brown attended a memorial dedicated to her daughter Kierra Brown.
"Her life, her precious life, was taken away from us," Kashonna said.
Her daughter was one of three children who did not survive getting hit while walking just after 1 a.m. Saturday. It happened on Kessler Boulevard North Drive just south of I-65.
Officers told 13News that cars were driving next to each other when they collided, and one of the vehicles struck the teens walking off the side of the road.
The grieving mother wears a button with Kierra's photo on it and said she loved posing for the camera.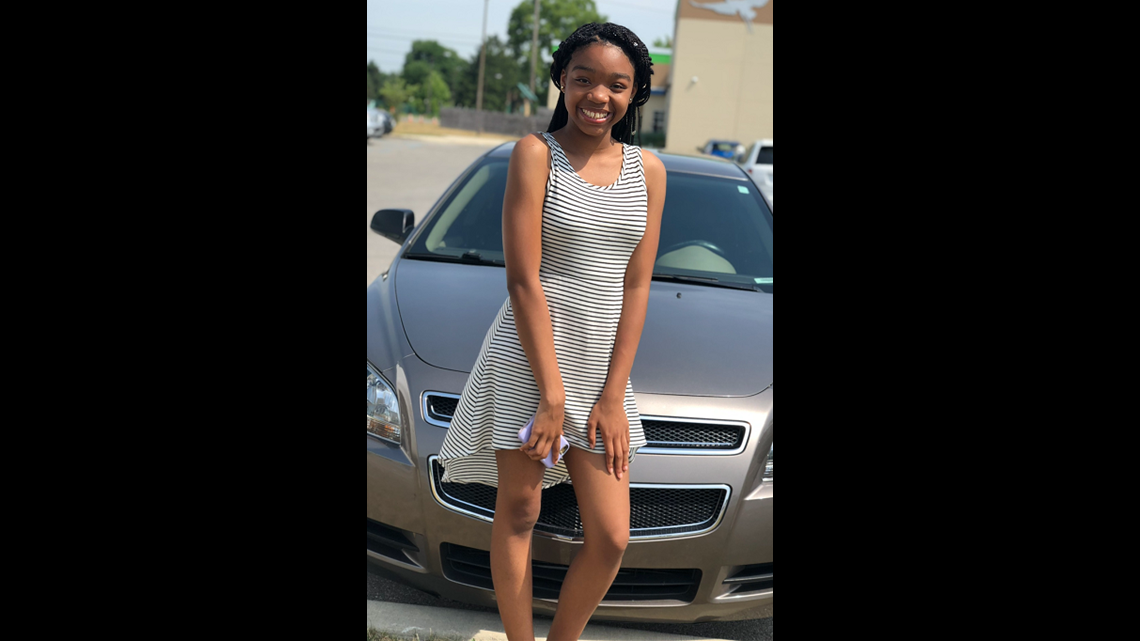 "This picture right here is from her 8th Grade graduation. She was so happy and she had on a dress. Yes, she could be a little tomboy," Kashonna said.
Senior Pastor David Greene hosted the balloon launch for family and friends of the victims at The Purpose of Life Church on Kessler Boulevard.
The mother of 13-year-old Tyjiana Velez pushed past grief to speak at the vigil too.

"When I tell y'all this is the worst pain ever, it's the worst pain, y'all. I don't wish this pain on nobody," Lashana Martin said.
Concerns for sidewalks along Kessler Boulevard North Drive so far have gone unanswered, according to their families. Now they hope the loss of the young lives and so many people turning out for the balloon launch is an attention-getter for their concerns.

The third teenager who died is identified as 15-year-old David Evans. More of his friends joined his family late afternoon on Memorial Day to release even more balloons in his memory. One participant told 13News that Evans is a hero because he died trying to get others out of harm's way.
"It's been dark for years and there's been no sidewalks," said Kashonna. "I thank everyone out here. I didn't think I could make it. But I got up and I said a prayer because I know Kierra would want me to be strong."
Members of IMPD also attended the vigil, including Northwest District Commander Lorenzo Lewis. The longtime law enforcement officer said he is heartbroken about the three young people losing their lives and wanted to show their families his support.
Right after the balloon launch, family and friends crossed Kessler to revisit the actual site where the trio lost their lives.
"They say he was holding the girl's hand when they were hit or tried to help her, push her out of the way or something," said Chris Wilson, talking about his cousin, David Evans.
"He was a 15 year old, like I said, a superhero. His parents taught him well at a very young age how to be a stand-up guy to a female and he died doing just that," said another cousin, Shalinda Hill. "Them kids didn't do anything wrong and they still ended up losing their lives to people that just didn't care about theirs and it's not fair."
David Evans' cousin hopes Evans will be remembered for the way he cared for others, even right up until the end.
"He was a hero. He was a good kid and I just hope he gets justice," said Wilson.
Although the drivers reportedly left the scene after hitting the kids, IMPD spokesperson Sergeant Grace Sibley told 13News they have identified the drivers involved in the deadly incident.
Sibley said that the drivers have submitted to toxicology tests. Marion County Prosecutor Ryan Mears will screen the case following the Memorial Day holiday to decide if the drivers involved will face criminal charges.