Here is Live Doppler 13 for tracking the snow system:
9 a.m. Indiana State police report 73 crashes in the Indianapolis District since the snow started falling Saturday. Statewide, that number is close to 200.
7:30 a.m. Lindsey Monroe's updated forecast is calling for a dusting to several more inches of snow once temperatures cool later today.
6 a.m. Between 4 p.m. and midnight Saturday, Indiana State police reported 55 crashes and 29 slide-offs just around the Indy metro area.
Several dozen central Indiana churches have altered schedules this morning.
5:30 a.m. Snow has switched over to rain in the Indianapolis metro area as temperatures rose above the freezing mark.
Marion County is under a Travel Watch, along with Lake and Newton counties in northwest Indiana. Benton County is the only Indiana county under a Travel Warning currently.
Kelly says some parts of the state could see a transition back to rain soon.
Kelly Greene shares this list of snow totals so far.
It's 4 inches of snow so far near Eagle Creek Park, according to the the official snow meter of Bob Segall, 13News senior investigative reporter.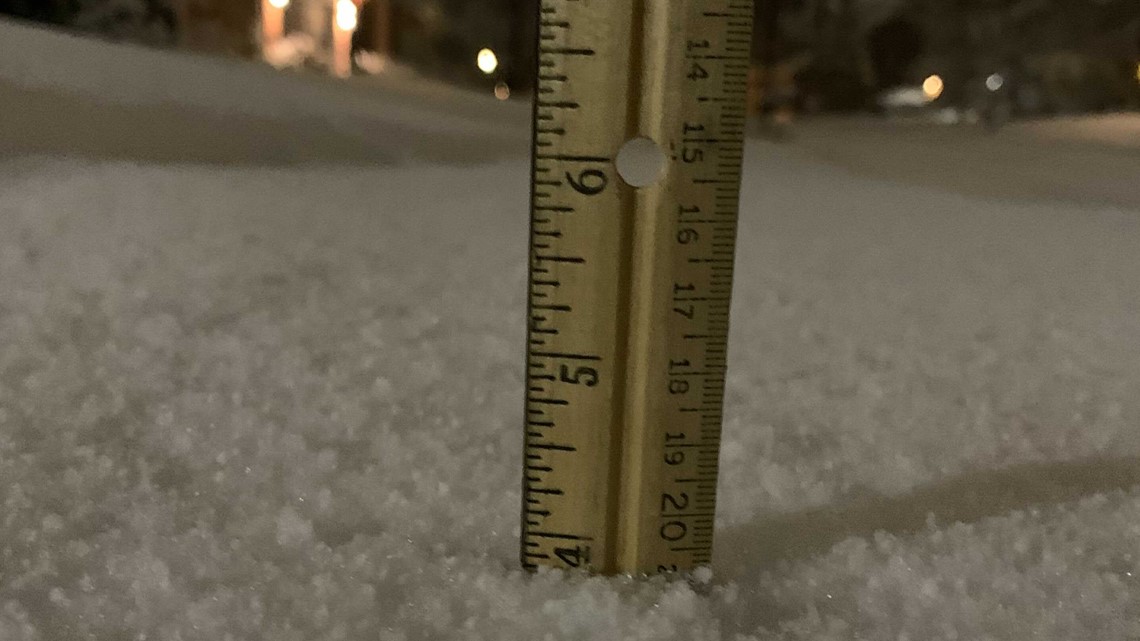 Photojournalist Clint Erbacher captured an impressive time lapse view of the snow in Carmel Saturday.
Anne Marie Tiernon shared these images of snow along 116th Street Satuday evening.
Heavy snow was falling early Saturday evening along Rangeline Road, Carmel.
Meteorologist Sean Ash describes them as 'silver dollar flakes.'
Another reminder to take it easy if you're out on the roadways.
Make sure you're Staying Weather Aware.
The snow is really coming down in Washington Township.
Snow is still falling pretty hard on the southeast side of Indianapolis. This video is from 13News photojournalist Frank Young.
When your job means standing out in the cold and snow...you might as well have some fun with it. Keep smiling Lauren!
Heavier snowfall is still on its way to most of central Indiana.
13News' Karen Campbell sent in a video showing what the snowfall looks like in Avon.
We're getting more reports of crashes on the interstates. INDOT has trucks out working to get the roads clear, but reminds drivers to slow down.
13News reporter Rich Van Wyk said the pavement near 38th and Lafayette are getting snow covered.
13News reporter Allen Carter shared images of snow in the Avon area.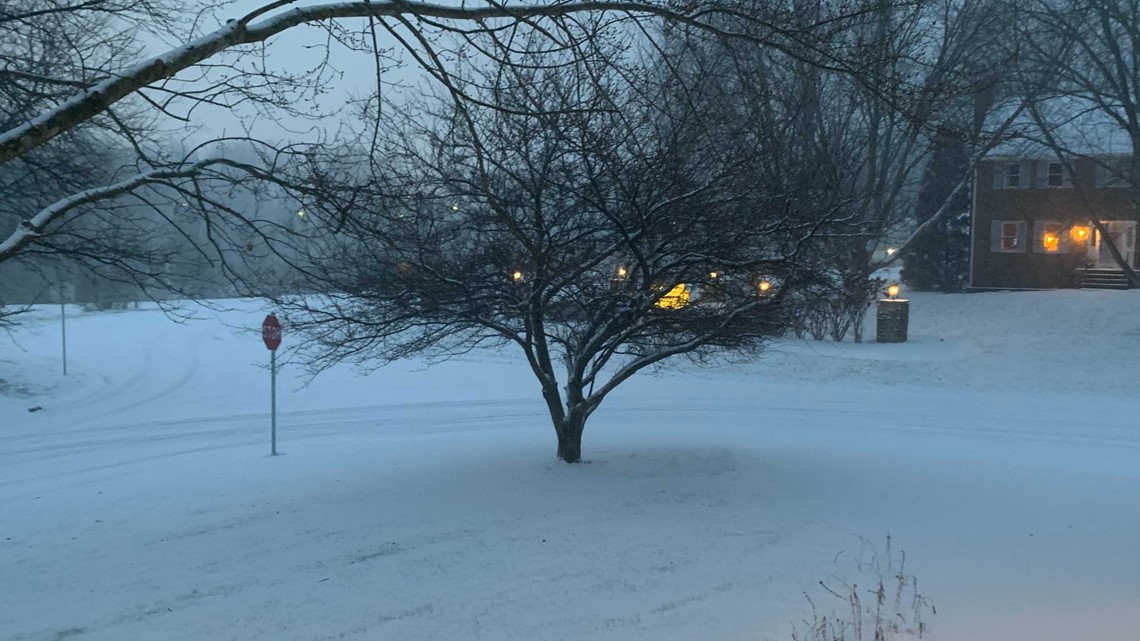 Roads are already snow covered in Perry Township.
And 13News photojournalist Bill Reilly is seeing snow in Lebanon as well.
13News meteorologist Lindsey Monroe is reporting very wet snow in Broad Ripple.
Some streets in downtown Indianapolis are snow covered.
INDOT says a crash has caused the closure of all northbound lanes of I-65 around Worthsville Road in Johnson County.
Many roads in the area are becoming snow-covered and slick.
Snow already covers the ground in a Camby neighborhood.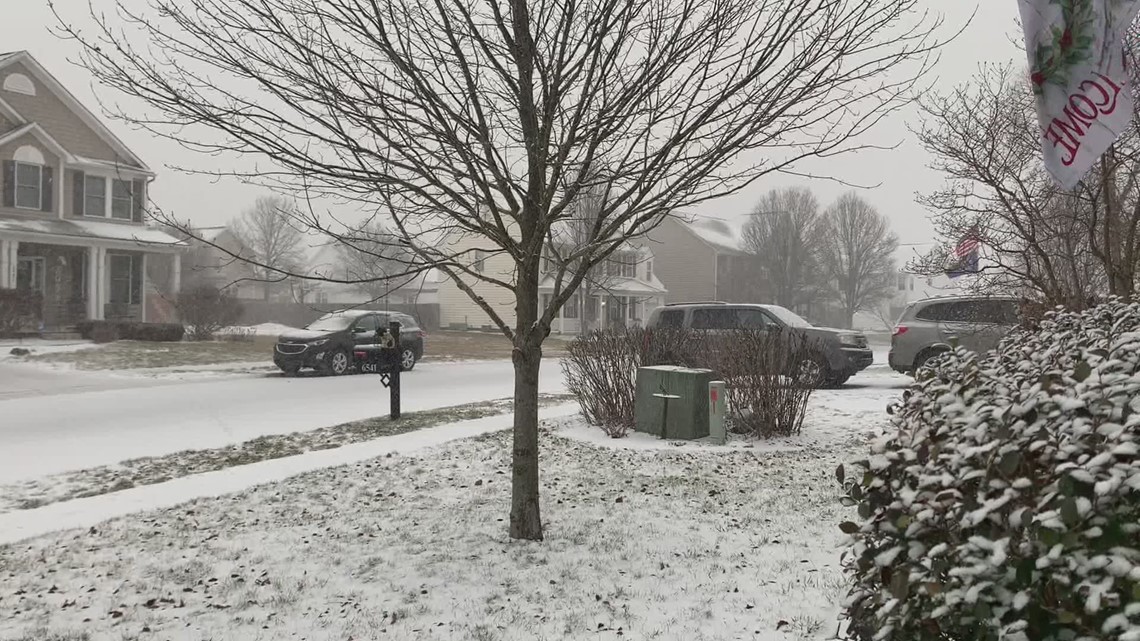 Photojournalist Russ Govert shared video of snow moving in to Indy's northwest side.
13News reporter Lauren Kostiuk found a rain/snow mix near Indianapolis International Airport late Saturday afternoon.
Snow began falling lightly in the Brownsburg area just before 5 p.m. Saturday.
Chuck Lofton says the snow is coming down.
State highway department crews are lined up, prepared to deal with this weekend's storm.
Meteorologist Kelly Greene has just updated the forecast:
INDIANAPOLIS — WINTER STORM WARNING IN EFFECT 4PM-SUNDAY 4PM WITH 4" TO 7" OF SNOW AND A WINTER WEATHER ADVISORY IN EFFECT FROM 4PM-SUNDAY 10AM WITH 2" TO 5" OF SNOW.
A large storm system is moving into central Indiana this afternoon. Rain is pushing into southwest central Indiana, advancing to the northeast. Rain will transition into sleet and eventually into snow. The snow will be widespread by 7pm and it will be falling fast and furious. Accumulations will add up quickly with the very wet snow. North central Indiana will be in the steadiest and heaviest snow band. There will be a sharp cutoff with the bands of snow. Some areas in north central Indiana could receive 6 or more inches of snow. Lafayette, Kokomo, Muncie, Noblesville and Richmond are in the 4" to 6" band of snow accumulation. The I-74 corridor, including Indianapolis, could see the 2" to 4" of snow. South of that area, including most of south central Indiana, will see snow accumulations of a couple of inches of snow or less.
Meteorologist Kelly Green says the changeover from rain to snow is underway in the Montgomery County area.
Need to know the status of a flight arriving or departing Indianapolis International Airport? It's available here.
Meteorologist Kelly Green is keeping an eye on the progress of precipitation moving up from the southwest.
Meteorologist Sean Ash weighs in on weekend snow potential:
The Indianapolis Department of Public Works is calling in a full shift of snow plow drivers Saturday.
Indy Snow Force, with 80 trucks, has been pre-treating roads since late Saturday morning.
Those drivers will remain on duty through Monday morning, according to a DPW spokesperson.
Indy DPW has used more than 15,000 tons of salt this season but still has more than 12,000 tons on hand.
The state highway department is preparing for this weekend's expected storm with a full call-out of staff.
INDOT said Saturday that their central Indiana district had called in all their plow truck operators for the incoming weather.
Drivers began reporting at noon and, by 6 p.m., a total of 60 trucks will be treating the roads.
The Richmond, Kokomo and Muncie areas will each have about 25 trucks at work.
They'll remain on duty throughout the storm. INDOT asks motorists to slow down and give room to the plows.