INDIANAPOLIS (WTHR) – The Indianapolis headquarters of Sky Footwear is a downtown storage unit, 15 by 10 feet containing 15,000 pairs of socks.
"These are very nice socks," said Sky Footwear founder Keaton Hendricks, holding a style the company calls Old Port crew socks. "Very thick and high quality."
Hendricks started the social enterprise two years ago with a mission to donate a pair of socks to a homeless shelter for every pair sold.
"I saw that socks were a huge trend. People were wearing socks with crazy colors, crazy designs. I knew from volunteering at homeless shelters that they're a huge need. So, put the two together with the buy one, give one aspect."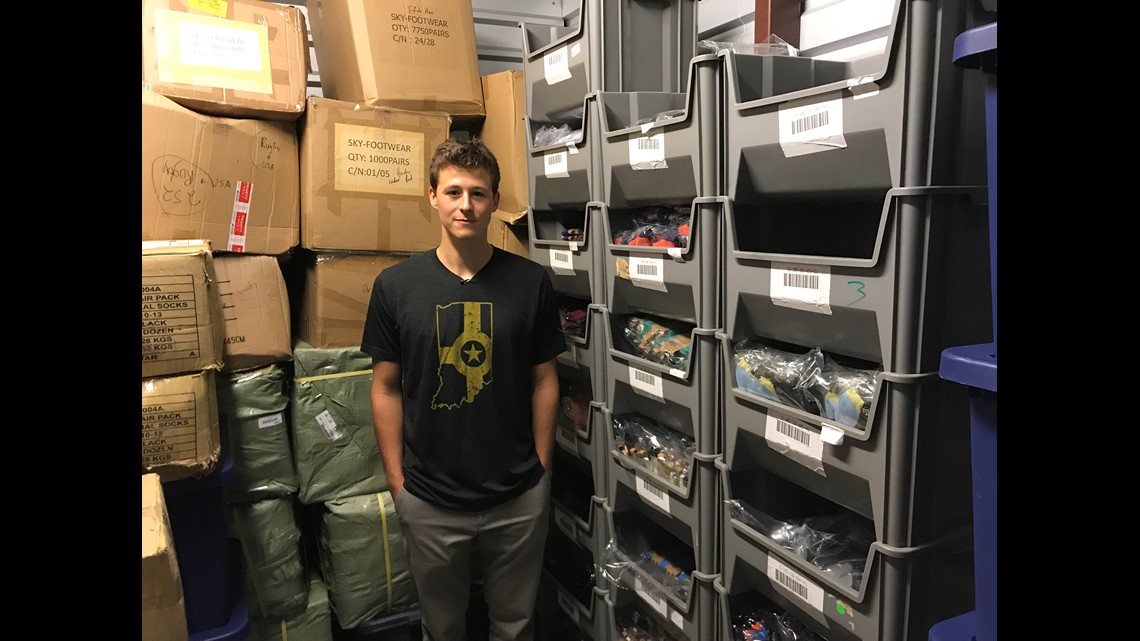 An Eyewitness News story last year showed how Keaton and Taylor University basketball teammate Eric Cellier ran the company from their dorm rooms. Cellier graduated in 2017 and is no longer directly involved in the company.
In May, Keaton decided to make a living with Sky Footwear. He moved to Indianapolis and expanded his inventory.
"I took the leap after graduation to do this full time. There have been certain opportunities and doors that have opened through this that I just felt truly a calling."
Sky Footwear has expanded from 13 original styles to now 35, including several styles of ankle socks. One wall of the storage unit has bins and totes full of socks stacked to the ceiling.
"So, we call these the Morning Commute with the coffee and the donut right there," said Hendricks, pulling a pair of crew socks from a storage bin.
The company has sold over 12,000 pairs of socks, donating the same number of thermal socks like these to 24 homeless shelters, from Washington state to New York City. Sky Footwear will deliver 1,400 pairs to the Greensburg Transitional Living Center Thursday.
"I truly feel like the people closest to the solution are the people closest to the problem," said Hendricks. "That's the homeless shelters themselves. So, by giving them something to use to love those people well, I feel like we're helping the shelters help them."
Hendricks removes another pair of socks from a plastic wrapper. The style is called Cedar Bluff knit sock.
"We got these for the fall, which were a big hit last year."
Sky Footwear wants to donate 10,000 pairs of socks in 2018, tracking progress on its website. As of Tuesday, the company was less than halfway to its goal with less than four months left in the year.
Keaton hopes the warehouse gets busy during the Christmas shopping season.
Sky Footwear socks are available at the company website and in 25 college bookstores. A few local retailers are already or will begin carrying Sky Footwear in October.