INDIANAPOLIS — Even before the mask mandate in Marion County began, Indianapolis was handing out free masks and working on a campaign to encourage locals to where them.
"Through Indy.gov/masks, we've been distributing over 400,000 (masks) at this point," said Indianapolis' Director of Economic Development Scarlett Martin.
The blue cloth masks feature the word "Indy" written in script on the bottom corner.
"So 'Mask Up Indy' was kinda this crazy idea that we had. We have these incredible artists in Indianapolis, incredible local talent," and the city wanted to utilize this talent to help spread a public message, said Martin.
So the city put out a call for local artists through the Arts Council of Indianapolis.
The call was for artists to design posters that would help spread the word about the city's free mask program, encourage residents to wear masks and also celebrate Indy's local talent.
"We have a voice and a platform. It's our responsibility if this is our voice, heck, use it," said artist Mirvia Sol.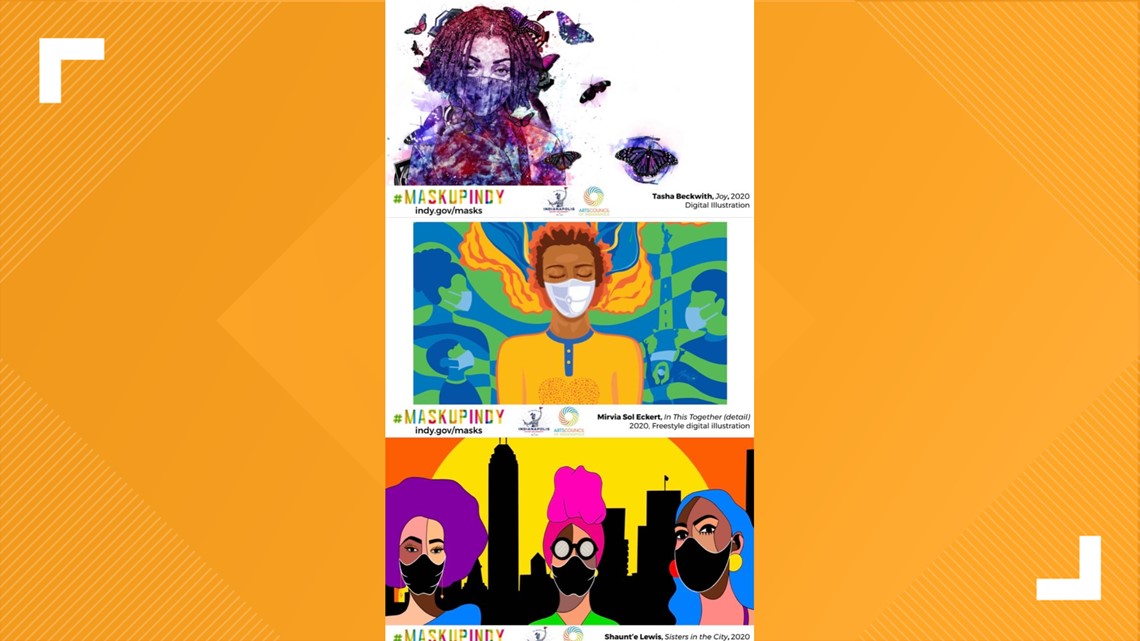 Artist Israel Solomon said as soon as he heard the call he knew that he "immediately" wanted to get involved.
"Not only being an artist, but being a school teacher and a father, I have two children," said Solomon.
The city said it worked with six Indy artists who each created an original piece of art. The artists whose works are featured in the campaign with Sol and Solomon are Tasha Beckwith, Shaunt'e Lewis, William Denton Ray and Aaron Scamihorn.
"I wanted to represent a scene of people enjoying each other and having fun and keeping each other safe in public," said Solomon. "I wanted to take the scene to the canal, it's one of my favorite places in Indianapolis."
He said he chose to depict two people going on a date. Due to the pandemic, he and his wife posed and he had his children help with taking a photo. He then took that photo and brought it to life on his canvas.
Sol said she's known for using symbolism in her artwork. She usually weaves that symbolism into the hair or background of her artwork.
But "this one isn't hair. It's most like energy trying to get people involved, and trying to talk to them and tell them, 'please wear your masks,'" she said, clutching her hands as if she were pleading.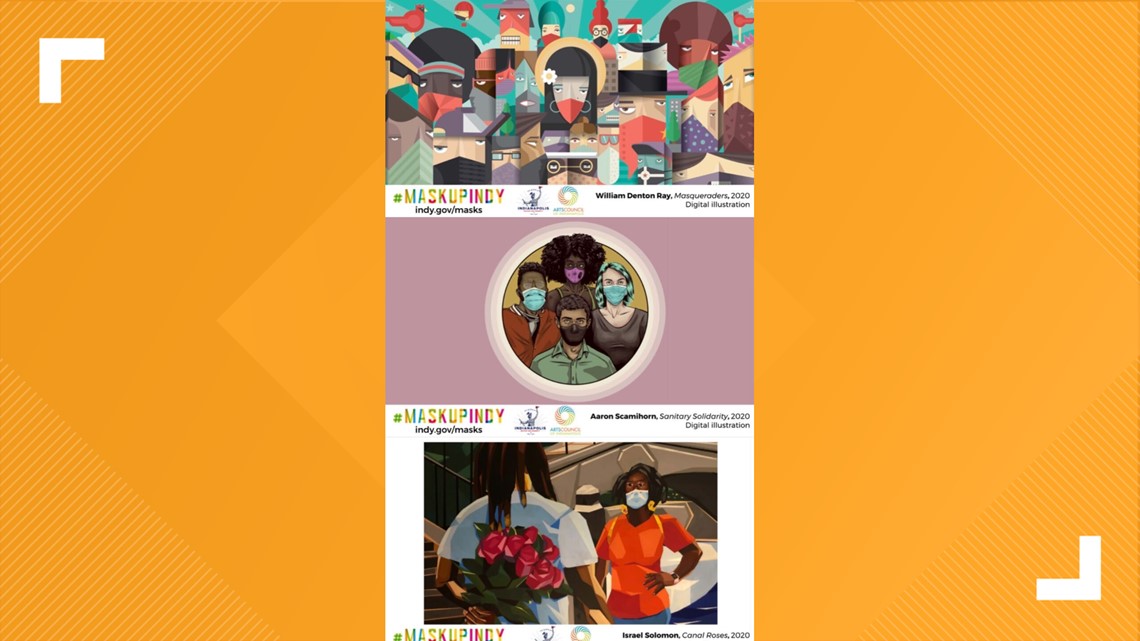 The six works of art have been transformed into free posters for the public, which can be found at the Artsgarden, City Market, City-County Building and the Original Farmers Market or online.
"We're actually going to have large installations throughout the city in different cultural districts," said Martin.
Both Sol and Solomon said masking up is important to them from a personal standpoint.
"I believe in science. It's just for safety, it's just being human. You want to be considerate. I care about my community and I care about my fellow human beings. I don't think that's too much to ask (to wear a mask)," said Sol.
"I wear a mask because I want to keep myself safe and I don't want to bring anything home," said Solomon. "I want to keep my family safe."
The artists said they hope that using their talent and gifts to spread a message and raise awareness will help keep their community safe and slow the spread of the virus that causes COVID-19.