INDIANAPOLIS (WTHR) — Thousands of teachers and their supporters flooded the Indiana Statehouse grounds on Tuesday. The Indiana State Teachers Association estimates around 20,000 people took part.
They came from all over the state fighting for higher pay, reforms to the ILEARN standardized test and a repeal of new regulations to renew their teaching license.
More than 140 schools across Indiana closed Tuesday for the Red for Ed Action Day. That's 55 percent of state enrollment.
The south lawn of the statehouse was wall-to-wall people as ISTA President Ketih Gambill shared opening remarks often drowned out by cheering and applause.
Gambill told the thousands gathered, "on this glorious day you raise your voices to say enough is enough...the children of Indiana are counting on us and we will not let them down."
Becky Pringle, vice president of the National Educators Association, received thunderous applause after saying, "enough of standardized tests" and it's not OK the Hoosier State ranks 51st in teacher pay. That's not okay."
Indiana Superintendent of Public Instruction Jennifer McCormick spoke Tuesday morning in support of the teachers. She said Indiana is 50 out of 50 states in teacher pay increase since 2002.
McCormick also pointed to the state's $400 million budget surplus and the more than $2 billion in the state's reserves. She said any state funding to public schools should be split into three buckets: student learning, operations and school improvements. Currently the state leaves it up to the schools to decide how to divide funding.
"We're in teacher crisis, a teacher shortage and if want to turn indiana around or keep young people here, we need to improve conditions for teachers and public educators. We can't put kids first if we put teachers last," said Carolyn Porcuczek, a 13-year veteran teacher.
"The energy is amazing and it's just so good to see teachers rally for students and education," said teacher Clara Bepe. "We're asking for more funding so we're able to properly educate students with the correct material to do our jobs."
Student Steshia Gary said she came to the rally because "I wanted to show teachers I support them and let them know they deserve more than what they're receiving and to stand up for education."
"I hope someone is listenting. It's going to have to give sometime. It may not be tomorrow, it may not be quite yet, but we're going to keep going with this," said David Lamb, a teacher from Muncie.
[view:swiper_image_slideshow=panel_pane_swiper_image_slideshow=2026615/showcaptions/loopslides]
Eyewitness News looked into the state's funding of schools. According to the Legislative Services Agency, the state will give a 2 percent increase in funding to public schools in 2020 and another 2 percent in 2021. During that same time, Charter schools will get a funding increase of more than 20 percent, Virtual schools will get 14 percent and voucher schools will get about 15 percent.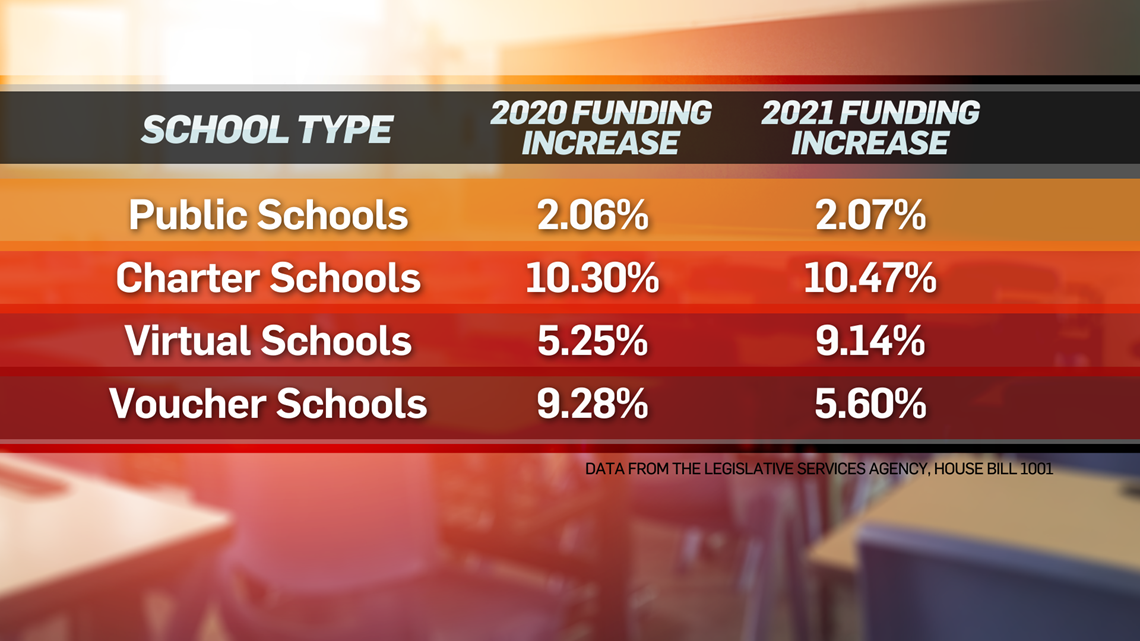 Governor Eric Holcomb had released a statement last week reading in part:
"I remain committed to finding long-term sustainable solutions to increase teacher compensation. That's why I created the Next Level Teacher Compensation Commission and signed our recent two-year budget that included historic levels of increased funding for K-12."
Governor Holcomb was not in Indiana Tuesday and was instead at a governors conference in Florida.
Here is what was behind the effort organized by the Indiana State Teachers Association:
Teacher compensation
ISTA is calling on lawmakers to use some of the state's budget surplus to begin increasing base salary for teachers.
That ranks Indiana as the 37th lowest pay for teachers and lower than the surrounding states of Michigan, Illinois and Kentucky and comparable to Ohio.
Business.org reports teachers in Indiana make about 21 percent less than the average salary in the state.
However, a series of communities have passed referendums that include an increase pay for teachers on the local level. Indianapolis Public Schools' referendum allowed the district to give teachers the largest pay increase in its history.
Resolving issues with ILEARN results
When the results of the first round of ILEARN scores were released, there was a drop in test scores for the majority of Indiana schools.
The affect on a teacher's evaluation could affect a raise and their overall pay.
ISTA is concerned those standardized tests "don't reflect the hard work Hoosier kids and teachers are doing." It wants legislators not to hold teachers accountable until educators and students feel more comfortable with the testing.
Repeal PGP/Externship requirements
This requirement under HEA 1002 requires teachers to complete Professional Growth Plan requirements to renew their license. The requirement also includes a corporate externship.
ISTA feels the requirement places a burden on teachers and wants the language in HEA 1002 repealed.
School districts that closed
As of the afternoon of Nov. 18, the following school districts had reported to ISTA that they would be closing on Tuesday:
Alexandria Community School Corporation
Anderson Community Schools
Bartholomew Consolidated School Corporation
Baugo Community Schools
Beech Grove City Schools
Benton Community School Corporation
Blackford County Schools
Blue River Valley Schools
Carroll Consolidated School Corporation
Center Grove Community School Corp
Centerville-Abington Community Schools
Clark-Pleasant Community School Corporation
Clarksville Community School Corporation
Clinton Central School Corporation
Clinton Prairie School Corporation
Cloverdale Community Schools
Community Schools of Frankfort
Concord Community Schools
Crawford County Community School Corporation
Crothersville Community Schools
Culver Community School Corporation
Daleville Community Schools
Decatur County Community Schools
East Allen County Schools
East Gibson School Corporation
Eastern Pulaski Community School Corporation
Edinburgh Community School Corporation
Elkhart Community School Corporation
Elwood Community School Corporation
Evansville Vanderburgh School Corporation
Fayette County School Corporation
Fort Wayne Community Schools
Franklin County Community School Corporation
Franklin Township Com School Corporation
Gary Community School Corporation
Goshen Community Schools
Greater Clark County Schools
Greencastle Community Schools
Greenfield-Central Community Schools
Griffith Public Schools
Hamilton Heights School Corporation
Hamilton Southeastern Schools
Huntington County Community School Corporation
Indianapolis Public Schools
Jac-Cen-Del Community School Corporation
Jay School Corporation
Jennings County School Corporation
Kankakee Valley School Corporation
Kokomo School Corporation
Lafayette School Corporation
Lake Ridge Schools
Lanesville Community School Corporation
LaPorte Community School Corporation
Lebanon Community School Corporation
Lewis Cass Schools
Liberty-Perry Community School Corporation
Logansport Community School Corporation
Maconaquah School Corporation
Madison Consolidated Schools
Madison-Grant United School Corporation
Marion Community Schools
Michigan City Area Schools
Milan Community Schools
Mill Creek Community School Corporation
Mississinewa Community School Corporation
Monroe-Gregg School District
MSD Boone Township (Hebron)
MSD Lawrence Township
MSD of New Durham Township (Westville)
MSD Pike Township
MSD Warren Township
MSD Washington Township
MSD Wayne Township
Mt Vernon Community School Corporation
Nettle Creek School Corporation
New Albany-Floyd County Consolidated Schools
New Castle Community School Corporation
New Prairie United School Corporation
Noblesville Schools
North Adams Community Schools
North Central Parke Community School Corporation
North Daviess Community Schools
North Gibson School Corporation
North Harrison Community School Corporation
North Judson-San Pierre School Corporation
North Miami Community Schools
North Newton School Corporation
North White School Corporation
Oak Hill United School Corporation
Oregon-Davis School Corporation
Penn-Harris-Madison School Corporation
Peru Community Schools
Pike County School Corporation
Pioneer Regional School Corporation
Plymouth Community School Corporation
Portage Township Schools
Randolph Central School Corporation
Randolph Eastern School Corporation
Rensselaer Central School Corporation
Richland-Bean Blossom C S C
Richmond Community Schools
River Forest Community School Corporation
Rush County Schools
Salem Community Schools
School City of East Chicago
School City of Hammond
School City of Mishawaka
School City of Whiting
School Town of Highland
SENSE Charter School
Shelbyville Central Schools
Shenandoah School Corporation
Sheridan Community Schools
South Bend Community School Corporation
South Central Community School Corporation
South Dearborn Community School Corporation
South Gibson School Corporation
South Harrison Community Schools
South Henry School Corporation
South Newton School Corporation
South Putnam Community Schools
South Vermillion Community School Corporation
Southern Hancock County Community School Corporation
Southwest Parke Community School Corporation
Southwestern-Jefferson County Consolidated Schools
Taylor Community School Corporation
Tippecanoe School Corporation
Tipton Community School Corporation
Tri-Central Community Schools
Tri-County School Corporation
Tri-Creek School Corporation
Tri-Township Consolidated School Corporation
Twin Lakes School Corporation
Union County College Corner School District
Union-North United School Corporation
Vigo County School Corporation
Warrick County School Corporation
Warsaw Community Schools
Washington Community Schools
West Central School Corporation
West Clark Community Schools
West Noble School Corporation
Western School Corporation
Western Wayne Schools
Whitko Community School Corporation
Yorktown Community Schools