DELPHI, Ind. (WTHR) - As investigators continue to search for suspects in the murder of two teenage girls in Carroll County, one man got an unexpected phone call.
Since releasing pictures of a man police call a "subject" walking on the Delphi-area trail where Libby German and Abby Williams were last seen, state police have been inundated with tips.
"Four people walked in and gave us names of who they think it might be," said Indiana State Police Sgt. Kim Riley.
State police believe the man is the only person they haven't identified who was in the area Monday afternoon when the girls disappeared.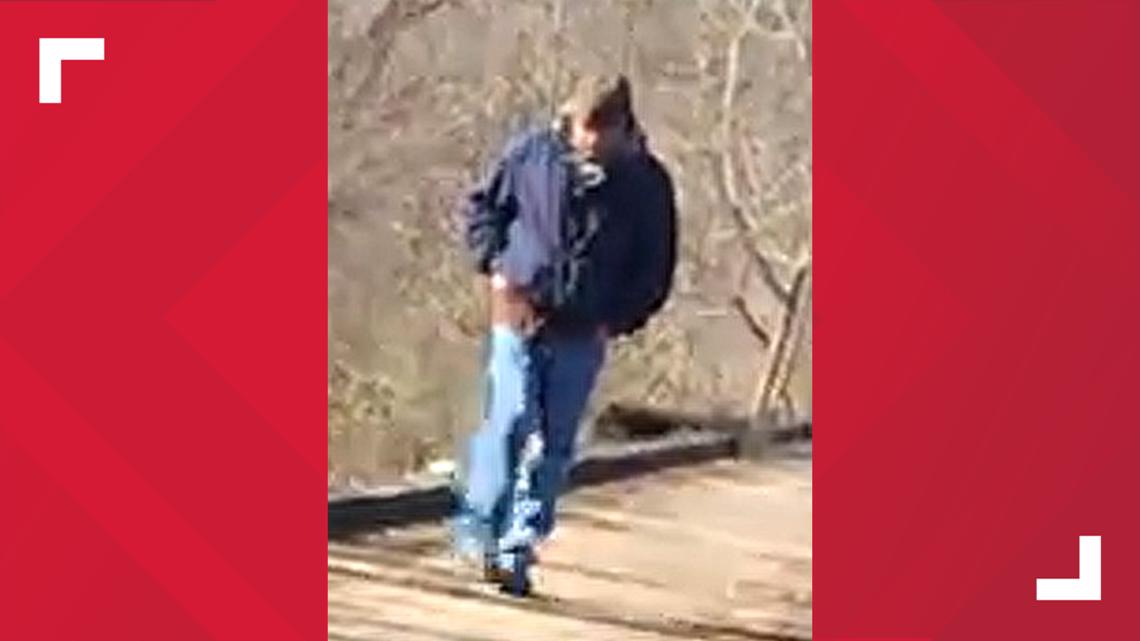 "We been able to identify almost everybody else who has been on the trail. This gentleman has not been identified and we want to know what he saw. What he might've seen on the trail. Did he see what somebody else didn't see?" Indiana State Police Sgt. Kim Riley said.
The sheriff's department says the photos released Wednesday have brought in about 200 tips. They are checking every one of them. Police want to talk to the man because he was on the trail about the same time as the victims.
"I think we feel confident that we are going to get this guy or guys that were involved in this. I think that we feel really confident its going to happen sooner rather than later," Riley said.
James Lucas got a call from police this morning.
"It was scary. I never expected (it)," Lucas said.
He doesn't think he looks like the man on the bridge, but Lucas says he was among the hundreds of volunteers who searched for the girls.
"They looked at my phone. I don't know what all they did with it," Lucas said.
The photo released by police was taken on the same bridge where Libby posted a photo of her friend Abby on Snapchat Monday afternoon.
"If you look closely through the trees, you can see the Monon High Bridge. That's important, because it is the last known whereabouts of the two girls," said Ron Logan, who owns the property where the teens' bodies were found.
The girls were found about a half-mile upstream, in a hard-to-walk area on Logan's land.
"I am not sure I fully comprehend what all has happened yet. Two young kids playing, you know, thinking of having a wonderful day, Valentine's Day, and it ends up one of the larges tragedies in Carroll County history," Logan said.
Investigators spent two days gathering evidence and looking for clues to the killer.
Between the point where the girls were found and the bridge, there is a half-mile of high bluffs, steep embankments and deep ravines. Logan has walked the terrain for 50 years.
"No one carried them here. Too physical. They may have been hiking, checking out the country and someone may have been with them they knew," Logan said.
Whether the girls knew that person or not, it's someone investigators want to talk to.
Logan never thought a place he knows so well he would now know for something so tragic.
"I can't really wrap my emotions around...it's just so mind-boggling, I haven't really...it hasn't really caught up with me yet," Logan said.
His son grew up playing in those trees, up and down the hills around Deer Creek.
"Never in your wildest dreams would you think, when he comes down here to play, he wouldn't come back home," he said.
He and his friends are grieving for the victims.
"This place is never going to be the same. I will never be the same. I mean, everyone will be more vigilant. They will be very vigilant now and here on out when they come down here," Logan said.
Meanwhile, police have set up a new phone number for tips related to the murder investigation. If you have information to share with police, call 844-459-5786. Tipsters can remain anonymous.