CARMEL, Ind. (WTHR) - It is often said you can't judge someone until you have walked a mile in their shoes.
For the Blackmores in Carmel, that phrase has new meaning.
The family lost their son Brooks to childhood cancer last May. But the young boy left something special behind.
In every life, a little rain must fall. Wednesday, a little rain kept the Blackmores inside.
"I always say he reminds me so much of Brooksy looking like that," Tracey Blackmore remarked.
Four months have now passed since six-year-old Brooks Blackmore lost his fight against childhood cancer, but he is still a fixture in his family's home. His pictures are everywhere, his measurements are still on the door jamb in the kitchen, and the family of LEGOs is still comprised of five.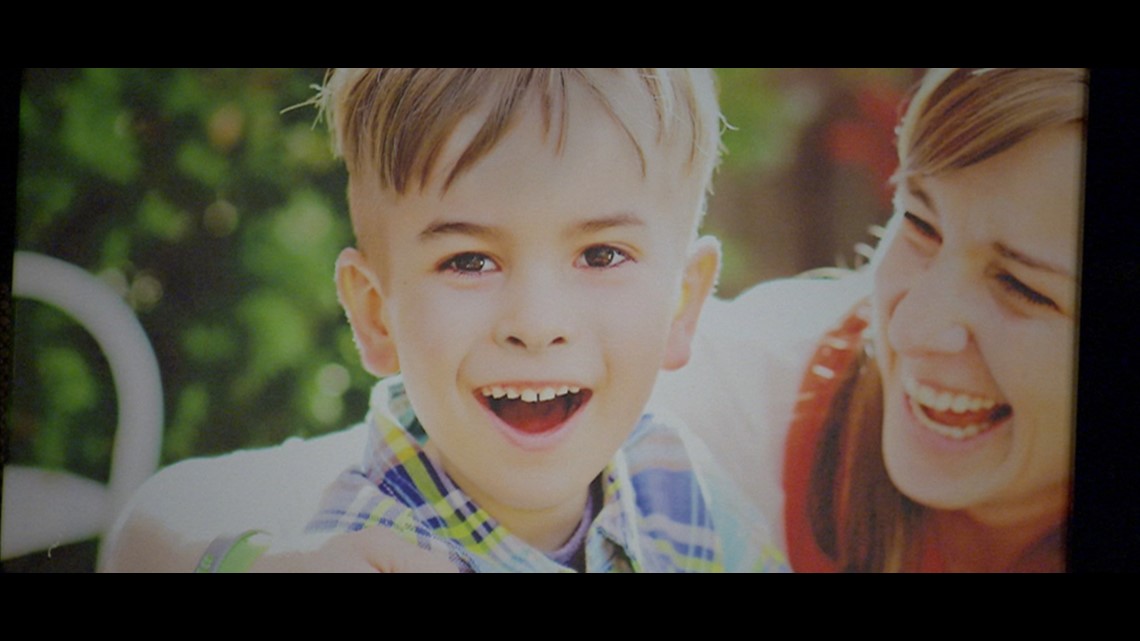 "Even though we have faced the worst thing possible, we still have hope. Still moving on and honoring our boy. We just want to do something for him, you know," Tracey continued.
But who knew that would include something her late son Brooks had actually done for them last December on Tracey's birthday.
"'Will you paint with me mom?' and I said, 'Okay.' Then we are painting and I look over at him and think, 'Oh my gosh! That is how you are supposed to paint.' I put my brush down and let him finish, amazed," she remembered.
Brooks had never shown any interest in painting before.
"I think this was his vision of heaven, I really do. So bright and colorful and swirling colors," Tracey described.
He named his work "Sweet Pea Up in Heaven" after the family bulldog that died the very next day. Five months later, Brooks would join his dog there, but his canvas painting would remain behind, the focus of the family room.
"Each time we look at the painting, we find a new heart in it. It's like he left a message for us," she said as she turned and looked at her husband, Josh.
This story could end here but it doesn't. Tracey heard about a shoe company called Bucketfeet, which uses contributed art designs for their shoes. She took a picture of Brooks' canvas work and sent it in and his design, as of this week, graces the company's new canvas shoe.
"Now all that we know is for two weeks this shoe is available for sale nationwide, worldwide," Dad clarified.
"I'm just so proud they chose Brooks painting for this, because hopefully it will impact other children and parents don't have to go through this and they will find a cure," Tracey continued.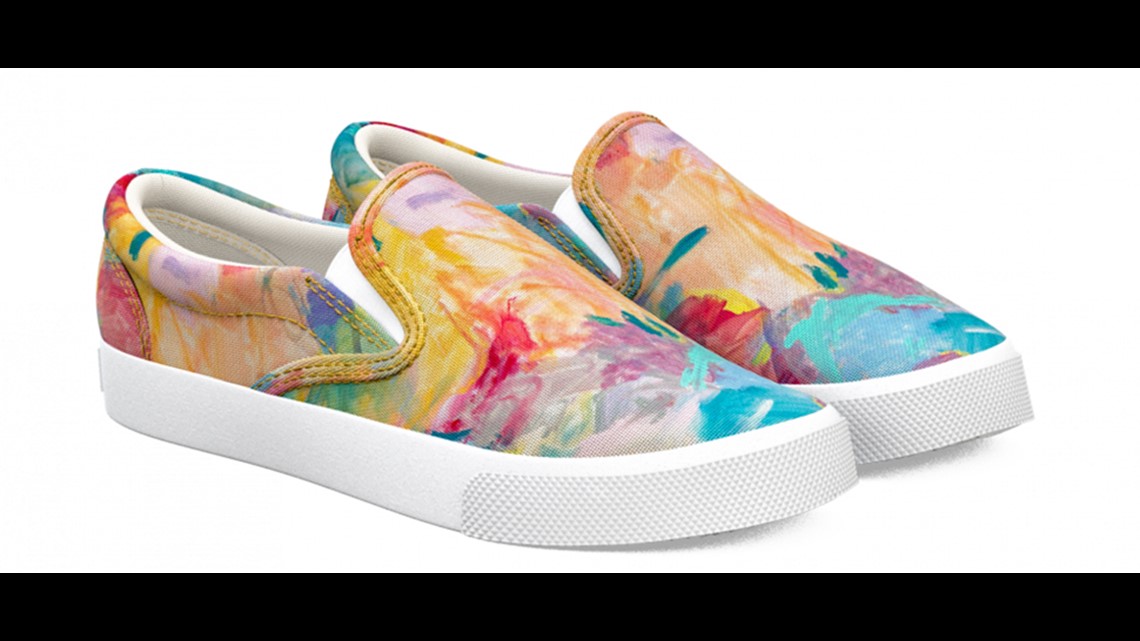 So what does it mean to Brooks family to look at his painting and know it will be worn on shoes worldwide?
"All over the world. To me, it's like part of his heart is walking around with everybody," Tracey said.
It also means a percent of each sale will be donated to the St. Baldrick's Foundation for research to prevent childhood cancer.
"You can see one up here. A heart within a heart and then down here, three hearts. I can do it better when I stand back. There are so many of them," Tracey said as she pointed out all of the hearts she has found in the painting so far.
So now the painting that gives the Blackmores so much hope and joy everyday can also give joy and hope to others.
"Faith over fear. When they are having tough times, they can look down at those shoes and if Brooks did it, I can do it," Tracey said.
The Blackmores plan on ordering shoes that their twins will be able to wear for the rest of their lives.