MARION, Ind. (WTHR) - Carolyn Mottweiler has a title she loves: "Monarch Momma."
We all would like to think we could change the world in some way. Mottweiler is changing the world. She's doing it from her own garage in Marion - one monarch butterfly at a time.
Mottweiler learned the number of monarchs migrating to Mexico was dwindling, so she decided to step in where Mother Nature needed a little help.
"Three hours in the morning and three hours at night," Mottweiler declared, six hours a day, every day, from June through September. "Sometimes at 11 p.m. I am still feeding."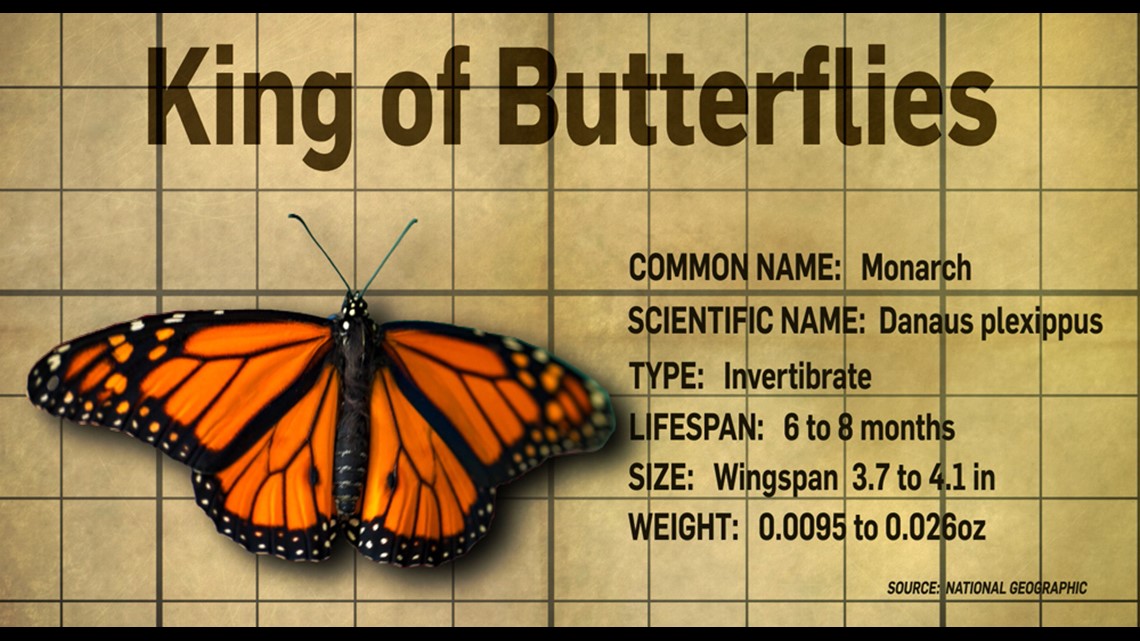 Her 360-square-foot garage is transformed to a maternity ward of sorts. It's where monarch butterflies, bound for Mexico, begin their journey.
"An egg. It starts with a little bitsy pin head egg and then it will hatch," Carolyn explains as she holds up a small milkweed leaf with an small egg on top.
"Joe says 'You're going to be out here all night'," she lightheartedly adds, talking about her husband who can't help but love Carolyn's dedication to the butterflies.

"I said, 'When I'm done, I'll be in!'," she said. "He's my partner in crime."
The couple has been married 14 years.
"They just call me Joe," Joe Mottweiler says softly.
Joe also makes all this happen.
"He gets me my milkweed," his wife exclaims.
That is where they find the eggs. When the egg hatches, the caterpillar will devour that leaf.
"A little hatched caterpillar. He's probably two days old. Yeah, he ate those holes in that leaf. By the end of the day, that leaf will be gone. He will have eaten all of that," she adds.
Which means Joe has to find more milkweed.
"If a baby grew as fast as a monarch, that baby in a month would be the size of a school bus," Carolyn notes as she explains how important Joe's job securing milkweed really is.
"Hope to find it somewhere else so I can eat today," Joe says as he scours the field across the highway from their rural Marion home.
"Twenty-eight to thirty days, all they do is eat and poop," Carolyn says shaking her head in disgust.
And when I ask her about the reward for all this, she simply answers, "When I can tag one and watch it fly away."
The caterpillar is first a chrysalis for about ten days before it makes that miraculous transformation into monarch butterfly.
"Isn't he beautiful?" she says looking at a perfect butterfly, "I want more of them. More of them."
There is a method to this madness. She says the monarch is on the endangered species list.
"I don't want to give it up. I don't want the generation down the road, my grandbabies, to say 'What's a monarch?' when there are no more monarchs," she pleads.
"Wooo! He's showing his stripes!" she laughs as one monarch slowly flaps its wings and sits in her hand.
The Mottweilers estimate they have raised a thousand of them. You can see that parental pride of watching one of God's creations, that you have helped raise, spread its wings and fly for the very first time.
"There he goes. He's gone," she observes. "They are going to Mexico. All of those will go to Mexico."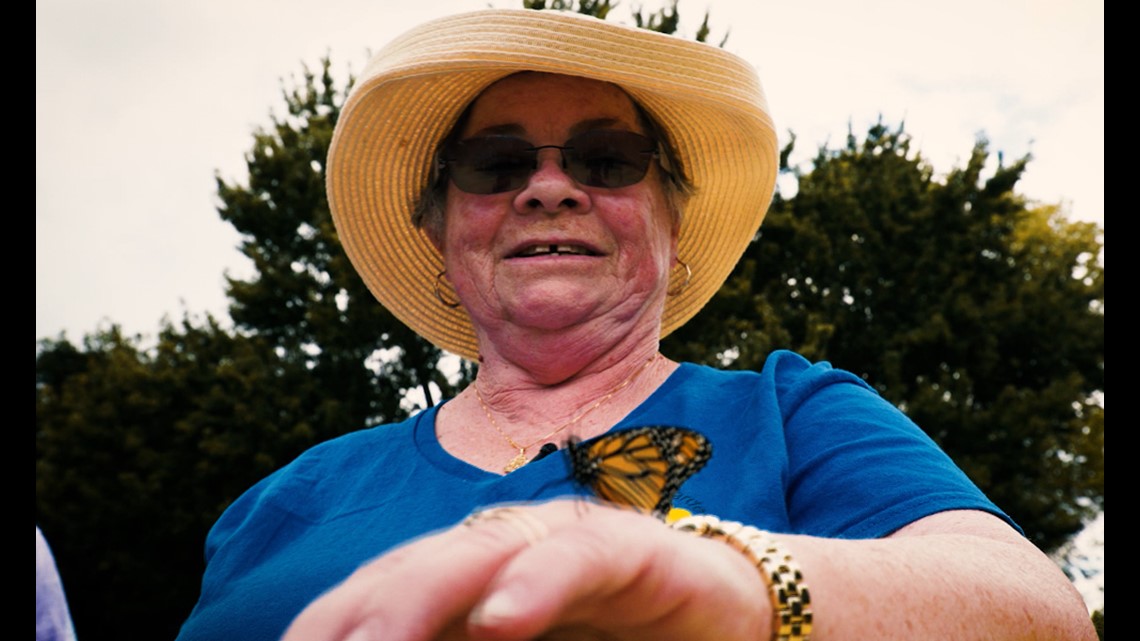 Carolyn and Joe will have make do with Marion, but that doesn't mean they won't spread their wings. In fact, they release monarchs at a Matter Park every week, if the temperature is right.
They want to share their joy with the children and the heavens. And if you talk to others who have gathered at the park for the monarch release, nearly a dozen other women share their names with us. They, too, are "monarch mommas." Carolyn has inspired others, or the beauty of the monarch has inspired them.
When the park butterfly release is over, Carolyn and Joe return home.
"Come on. Do I have to tell you everything Joe?" Carolyn asks as the garage door starts to close.
"Yeah," he deadpans again.
It's back to changing the world. One monarch at a time.