INDIANAPOLIS (WTHR) — Susan Bayh is in the fight of her life. The former first lady of Indiana is fighting glioblastoma, the same kind of brain cancer that claimed the life of Senator John McCain.
"When I first saw the news, I said dear I think maybe we should change the channel and she said 'no that is ok, I think we will be different.'"
Susan is 58 years old and other than this, in very good health. "She also is getting some of the cutting edge treatments that John could not get. So that is why there is more reason to hope in Susan's case, I think," explained her husband, Evan, Indiana's former Senator and Governor.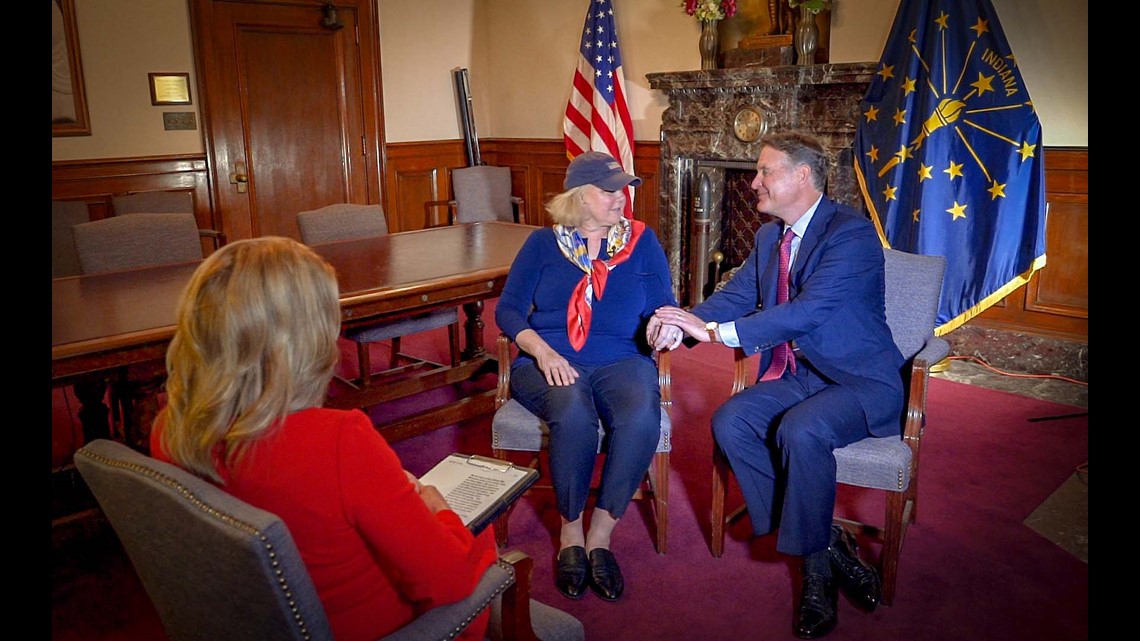 WTHR's Anne Marie Tiernon talked exclusively with the Bayh family as they celebrated twin sons Nick and Beau's commitment to the Army and Marines respectively, at a private enlistee ceremony Saturday at the Indiana War Memorial.
"I am proud of them. They have always been hardworking and honest and all the things you look for in sons. This also tells me that they are selfless, and they want to serve our country and that is pretty special," Evan Bayh said moments before his sons took their oath of office in the Pershing Auditorium.
The ceremony was especially meaningful for the family because after months of aggressive treatment, Susan was well enough to attend.
"I am actually feeling very, very good. I think I am probably way beyond what anybody should be feeling with the diagnosis that I have," Susan said. "Something like this will sneak up on you."
Her family says in late May, Susan had balance issues and headaches. Sensing something was wrong, Evan rushed her to the emergency room where the medical team diagnosed her with a malignant brain tumor.
"It's a glioblastoma, which is a fancy word for brain cancer, and it's one of the tougher cancers to treat and Susan had a fairly advanced case of it." Evan said.
The discovery was made just days before the twins' graduation with distinction from Harvard.
"Our dad called us. We were two or three days out from graduation. It was really... Beau and I were sitting in a classroom by ourselves it was really tough to hear the news. This news came out of nowhere because it is such a fast acting tumor," Nick Bayh said.
Evan and Susan watched a live feed of the graduation ceremony in Cambridge from her hospital room. The Bayhs then decided to seek treatment at Duke Medical Center in Durham, North Carolina. The doctors arranged for immunotherapy, chemotherapy and 33 days of radiation treatments. Every patient is unique and responds differently. Nationwide patients with glioblastoma face one year survival rates near 40 percent and 17 percent at two years.
"Suddenly this disease became front and center," Evan said. "This is her first trip after being pretty much under intensive care for 75 days, and so it feels good to be home."
Indiana is where the glamorous young couple became popular, political powerhouses. Evan served as Indiana governor at the age of 32.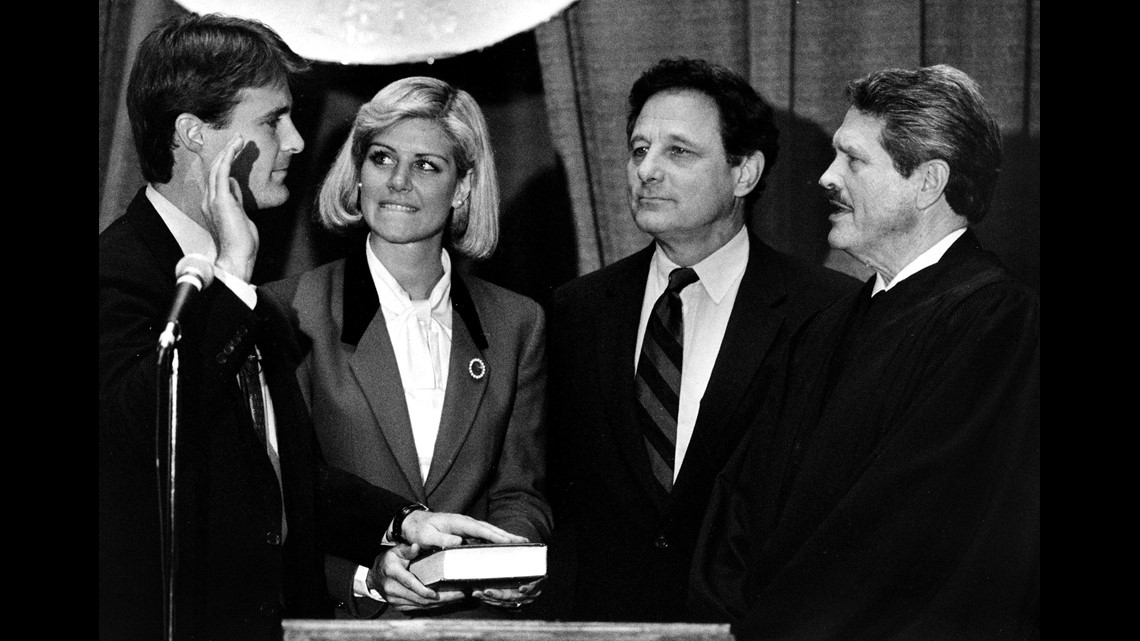 Susan, a beauty queen from California and lawyer from University of South California, delivered the twins at St Vincent in 1995, and took them home to the Governor's mansion.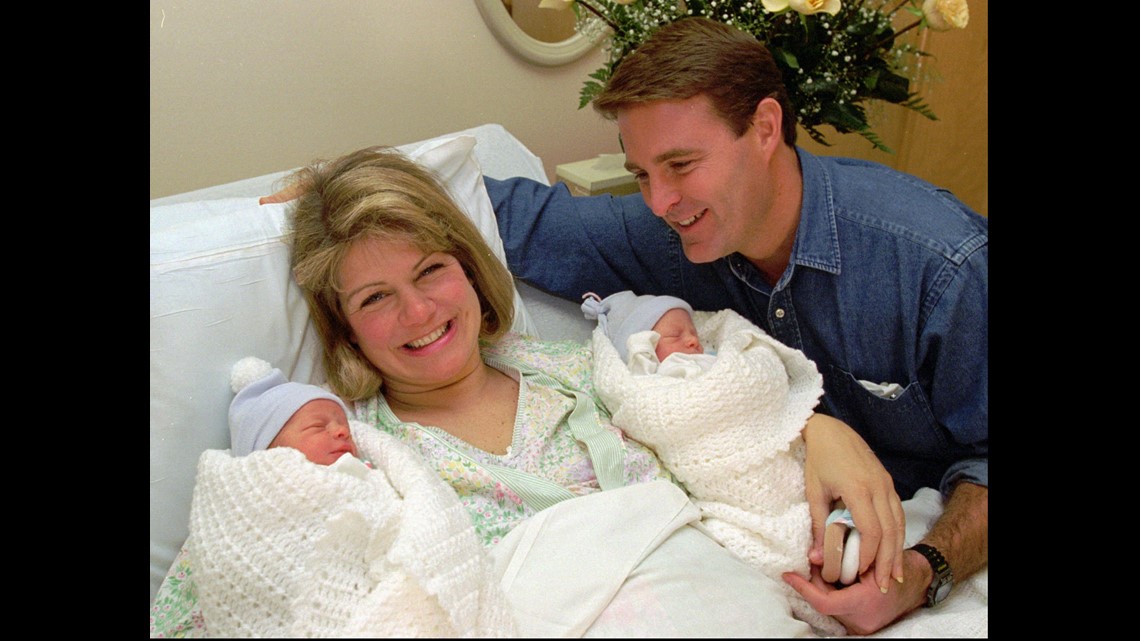 Year after year, Hoosiers watched as the twins came of age in the widely distributed Bayh family Christmas card.
Life's trials were yet to come.
In 2015, Susan was diagnosed with a benign brain tumor. The plum sized growth was surgically removed.
In 2016, Evan, historically a landslide winner, lost his first political race.
And yet the family prevailed. Nick and Beau graduated in 2018, with 3.98 and 3.81 GPA's at Harvard with athletic accomplishments in tennis and lacrosse.
Now as they prepare to leave for basic and boot camp training with the Army and Marines, the brother's worry about their mom.
"Flip of a switch it takes one second to get news like we got and just have your entire world flip upside down" Beau said.
"The silver lining of a pretty dark cloud has been to see how nurturing and tender our sons, these two strapping young men have been with their mother. They have been with her every step of the way," Evan said.
Indiana will be the twins' permanent duty station during their time in the military reserves. Susan, an attorney, professor, board member and former beauty queen, considers them her greatest accomplishment.
"These two boys are the epitome of what I think I've done best in my life… that body of work will live on," Bayh said.
Next week, Susan will have an MRI. The family is hoping the image reveals no tumor re-growth and regression in the area where doctors couldn't operate.
"We are fighting with everything we've got," she said.
[view:swiper_image_slideshow=panel_pane_swiper_image_slideshow=1912436]