INDIANAPOLIS — Indiana Task Force 1 left Indianapolis Wednesday night to help comb through the rubble of the Florida condominium that collapsed, killing at least 18 people and leaving more than 140 missing.
The rescue crew will help other first responders as they search for survivors at the site of the Champlain Towers collapse in Surfside, Florida.
"Some of us experienced Ground Zero," said Indiana Task Force 1 Program Manager Tom Neal.
That's what Neal thinks about when he sees video of last week's collapse in Miami.
"It really put a knot in my stomach, because it reminded me so much of the World Trade Center," Neal said.
Now, like then, Indiana Task Force 1 will be among the crews sifting through the rubble, hoping to find survivors. At this point, the work is still considered a search and rescue mission.
"I think everyone still has hope and we pray that we'll find someone alive, but the other side of it is the human tragedy," Neal explained.
Thursday marks one week since the tower collapsed in the middle of the night.
A total of 80 personnel with Indiana Task Force 1 headed south Wednesday. The team will be taking a full cache of equipment for operations, plus four dogs helping the effort.
"A lot of people look at this situation and say, 'What are the chances of rescuing somebody?' Probably not great," said Jim Albin, who's headed to Miami on his first trip with Indiana Task Force 1.
"But we can bring their loved ones back to them and bringing their loved ones back to them is what's most important," Albin added.
The discovery of the bodies came the morning after Florida authorities asked the federal government for an additional rescue team, a request that underscored the strenuous nature of the open-ended search for survivors in an area prone to tropical weather.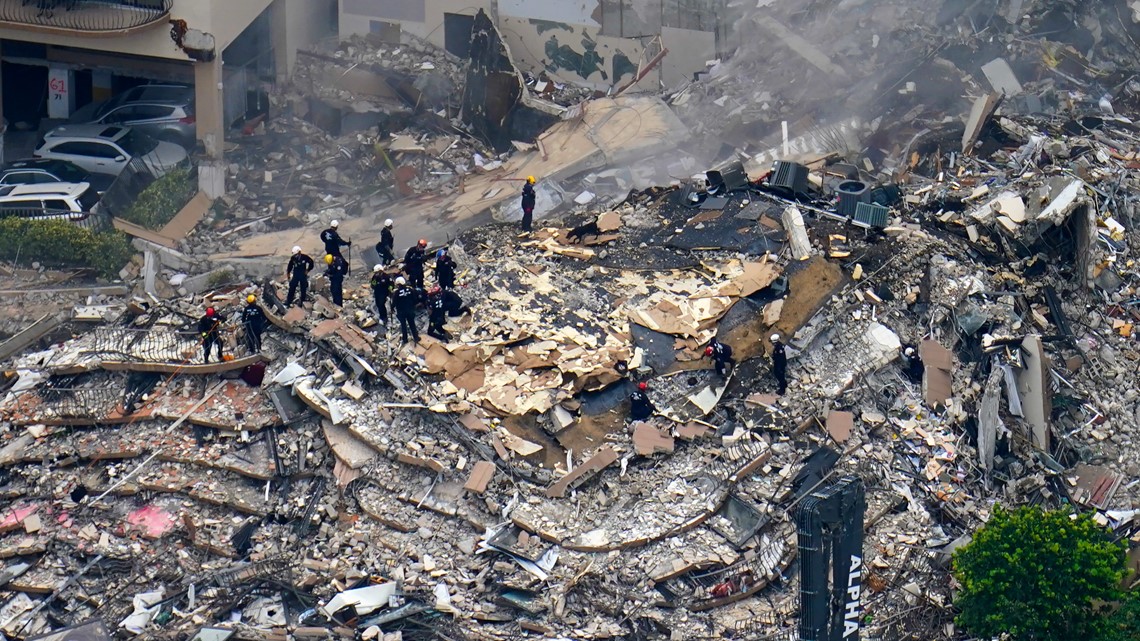 "Everyone's kind of been on edge by nature, that's what these men and women do. We're ready to get out there and get down there to do what we can to help," Albin said.
"With a 13-story building, that rubble pile is 50 to 60 feet tall. It does create challenges when it's a pancake and there's no void spaces," Neal explained.
The possibility that severe weather in coming days could further stretch Florida's search and rescue resources prompted state officials to ask the federal government for the additional team, Kevin Guthrie of the Florida Division of Emergency Management said Tuesday. Already, intermittent bad weather has caused temporary delays in the search.
The new team would be on hand if severe weather hits the area in the coming days and allow crews that have been working at the site for days to rotate out. Authorities said it's still a search-and-rescue operation, but no one has been found alive since hours after the collapse on Thursday.
"That will cause a lot of safety issues for the personnel that are currently working on the pile," Neal said.
How long the work could last is still unknown.
What's not, though, is the knowledge that with every hour that passes, the chance grows greater that this search and rescue mission, will become a recovery mission.
"It's real and when you see the video of that collapse, I mean, you can only hope and pray," said Neal, choking up.