INDIANAPOLIS — Multiple organizations in Indiana are sending help to Florida in anticipation of Hurricane Ian making landfall.
Indiana Task Force 1
Indiana Task Force 1 was activated as Hurricane Ian approached the mainland United States.
In a social media post, Indiana Task Force 1 announced it had been activated at 7 a.m. Wednesday, shortly after Ian made landfall in Cuba.
At 8 a.m. Thursday, 35 additional task force members were activated to depart by bus at noon. They will join the 48 members currently staged in Florida, updating the response from a Type 3 to Type 1 team, IN-TF1 announced.
"The team is prepared to do a wide area search and then conduct water operations in flooded areas. Storm surge usually gets pushed in pretty quick, but it doesn't leave as quick as it comes in," said Tom Neal, program manager for IN-TF1.
The team already in Florida received orders Thursday morning to relocate from northern Florida to the western coast of the state. They had almost arrived to their destination as of 9:45 a.m.
They were then rerouted to central Florida, where they are currently staged as a resource for flash flooding.
The team also has five search dogs with them to help during the deployment.
Red Cross
The Indiana Region of the American Red Cross is deploying more than a dozen volunteers to Florida in anticipation of Hurricane Ian making landfall and to Puerto Rico for disaster relief after Hurricane Fiona.
The volunteers with the Red Cross will help with sheltering needs, mental health services, feeding assistance, deployment support, short-term and long-term recovery efforts and more.
To help from home, visit the Red Cross' website, call 800-RED CROSS or text the word REDCROSS to 90999 to make a $10 donation. Donations enable the Red Cross to prepare for, respond to and help people recover from these disasters. This includes providing food, shelter, relief supplies, emotional support and other assistance.
Eligible blood donors in parts of the country that aren't affected by Hurricane Ian are encouraged to give blood to help ensure a sufficient blood supply.
IBEW
Members of International Brotherhood of Electrical Workers (IBEW) Local 1393 in Indianapolis are already stationed in Georgia, Florida and Puerto Rico ahead of Hurricane Ian's landfall, with many more are already on their way.
A representative for the union told 13News three-quarters of their line workers were preparing or are in position to help after the storm hits.
Indiana Michigan & Power
More than 350 line workers, damage assessors, forestry experts, support staff and business partners with Indiana Michigan Power (I&M) are traveling to Florida and will be in place before Hurricane Ian is expected to make landfall.
These crews will work 16-hour days to restore electricity to those who may lose power in the wake of the storm.
I&M employees from Fort Wayne, South Bend, Elkhart, Marion, Muncie and southwest Michigan will travel to Florida.
On Friday, the crews were working in Plant City near Tampa. They said there is significant flooding, even many miles inland.
The Tampa area has around 300,000 customer outages and last night the team got it down closer to 200,000.
Duke Energy
Duke Energy is calling in crews and resources from across its company to assist in Florida. Line workers, damage assessors and other support personnel from Indiana, Ohio and Kentucky started heading south on Sept. 26, which includes 137 employees from the Indiana service area.
Duke Energy also has contractors it uses heading to Florida. Those include about 280 line workers, vegetation crew members and other support personnel.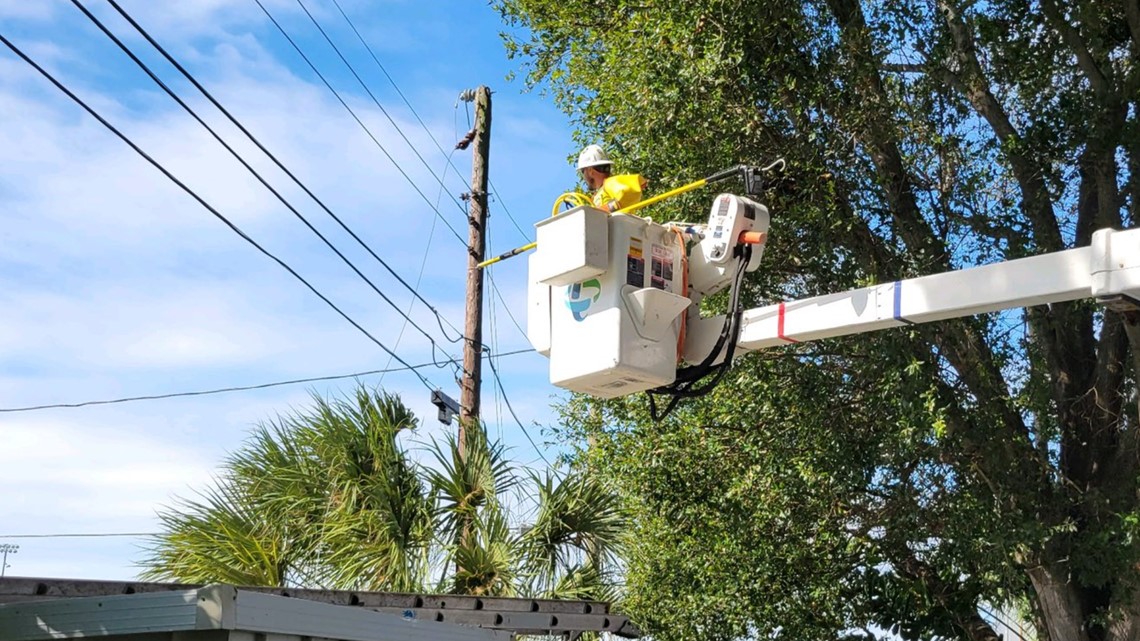 On Friday, some of the crews were in St. Pete Beach as they work to restore power for police departments, fire stations and hospitals. After that they will work in residential areas.
"We are still experiencing a little bit of a breeze so every now and then there is still stuff falling down as you drive down the road. first day or so it was very quiet. People hadn't returned to their homes yet but now everybody is starting to come back to assess damage, so traffic has really picked up," said Jim Foulks, Operation Supervisor for Duke Energy.
AES Indiana
AES Indiana is sending 233 contractor linemen to assist with Hurricane Ian restoration efforts.
It is not yet clear where they will be heading to and what they will be helping with in response to Hurricane Ian's damage.
Indiana National Guard
The Indiana National Guard announced Wednesday it will send more than a dozen soldiers, three flight crews and mechanics, along with two UH-60 Black Hawk helicopters, to help military and other agencies in logistics and rescue missions.
"This is what Hoosiers do, help our neighbors when called upon, whether it's here in Indiana or the Sunshine State," said Lt. Col. Scott Oden, the Indiana National Guard's director of aviation and safety. "The National Guard's unique, dual mission to nation and state allows our soldiers and airmen to help out here at home and across the United States."