THORNTOWN, Ind. (WTHR) - Live Christmas trees from all over the United States are headed to U.S. military families around the world. The Trees for Troops program is in its 13th year in Indiana. Volunteers from Fed Ex and the Indiana National Guard boxed up 250 trees donated by Indiana Christmas Tree growers this week at Dull's Tree Farm in Thorntown. Ornaments and thank you notes were added before being loaded on a Fed Ex trailer. Those trees should be delivered to servicemen and women in Puerto Rico, Guam, and Afghanistan by Thanksgiving.
"A Christmas tree delivered to them I think is just an amazing feeling, because I think it shows hope in the Christmas spirit and just to know that we're all together," said Indiana National Guard Sergeant First Class Joseph Hickman.
"Just the sacrifice that the men and women around the country make every day to give us the opportunity to do something like this, just a very small token of our appreciation," said Fed Ex Vice President Amanda Williams.
"It's a pretty neat program," said Nathan Fridlund, a Dull's Tree Farm employee. "I've been on the other end of this. I actually got to receive a tree. It's nice to know that there are people back at home in the United States when you're away from your friends and family that still think about you and think about you over the holidays and everything."
Fridlund received a tree four years ago while serving in the Indiana National Guard during a tour in Afghanistan.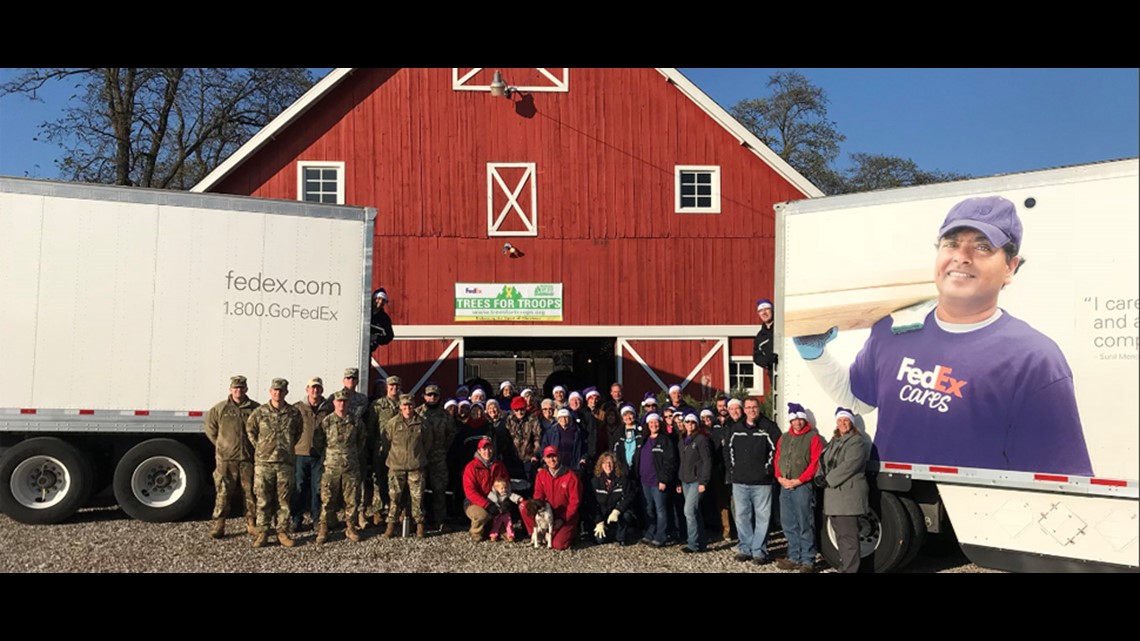 "That experience of opening a box and smelling a live tree, nothing beats that. It brings back all your memories from your childhood and everything like that and just all the time that you spent with your family. It'll brighten their day. Some of these soldiers could have had a pretty rough day on a mission or something like that. When they get back, these trees will be sitting there waiting for them. That will brighten their spirits and lift their hearts up."
When Fridlund returned from Afghanistan, he got married at Dull's Tree Farm and got a job from owner Tom Dull.
"I was never in the military," said Dull. "But the folks that have made that decision to go in and protect the freedoms that we have, I just really appreciate what their sacrifice has been so that I can do what I do."
The 250 trees from Indiana are part of 17,000 live trees that Fed Ex will deliver to military families around the world this Christmas.