INDIANAPOLIS (WTHR) - Parents on the west side of Indianapolis say kids are often walking around the railroad tracks where an 11-year-old girl lost her leg and nearly lost her life.
"Went down the little ravine right there and up to the tracks," said Malissa Mencia.
Neighbors say it's not the first time children went up to play on the railroad tracks, but it was the worst time.
Mencia says the train was moving slowly when Breanna Brooks, a neighbor, "got an idea of trying to jump the train. When she tried to jump the train, I guess she lost traction and a little boy tried to catch her, but couldn't catch her. It happened."
"I saw her caught by the wheel of the train and then she got out and her leg was gone. It was gone up to here," said Alexis Tackett, a school friend, pointing above her left knee.
And Breanna was losing a lot of blood.
"I heard her scream," Mencia said.
People came running, including IMPD Sgt. Matt Morgan.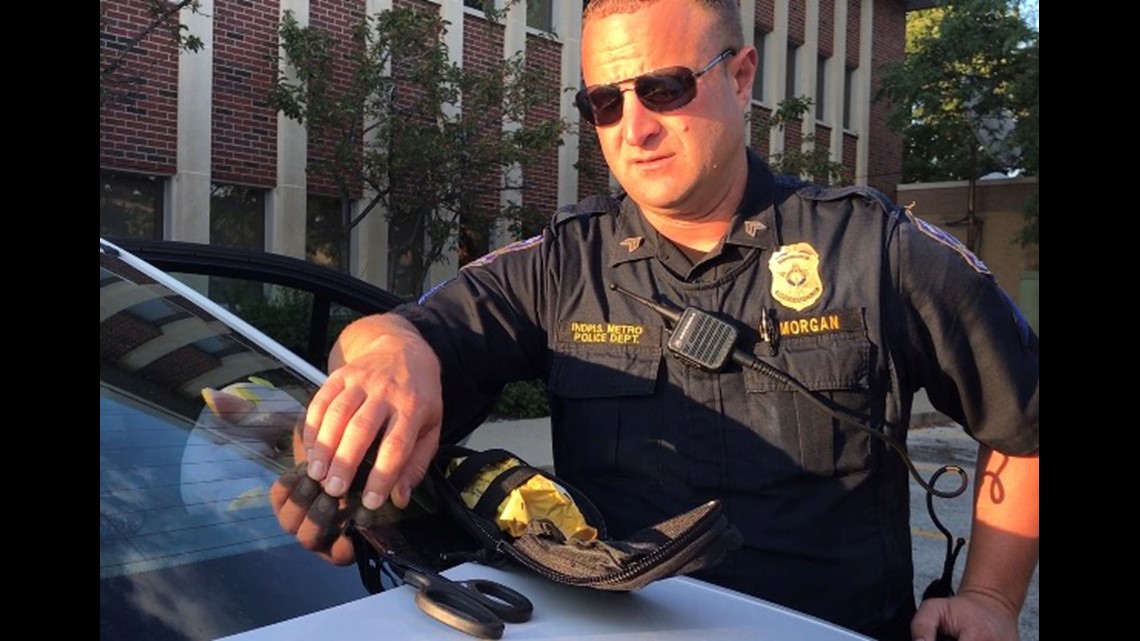 "Hit by a train, I'm thinking either they're in a lot of pain or they're not here anymore," Morgan said.
He found Breanna conscious, but badly hurt. A dad from the neighborhood had already slowed the bleeding with a belt, but it was still critical.
The sergeant grabbed a trauma kit from his car, given to officers by a faith group a couple years ago.
"You carry it around, never think you'll need it. But there it was," Morgan said.
He used the tourniquet to get the bleeding stopped and "did our best to comfort her. Keep her as calm as we could. The girl was a champ. I don't know how she stayed awake."
As a cop and as a dad, Morgan said it was "by far the worst thing I've run into out here since I've been out here."
Outside Riley Children's Hospital Tuesday, Breanna's grandfather Jerry Brooks said, "She's going to make a great recovery. She's young, but she doesn't have a left leg. But this world came a long way and she should be able to live an active life."
Breanna's grandfather says she's had one surgery so far. She'll have another Wednesday. He doesn't know why she was on those tracks.
"She just got grounded last week for being on the railroad tracks and then she went back up there again," he said. "She made a bad choice. And this time it cost her her leg."
Her grandfather is raising Breanna and her brother.
"I don't know what to do. Pray and keep on going. Right now, I've got to keep going for her," Brooks said.
Back at IMPD's Southwest District headquarters, Morgan tells us about a stop by the hospital Tuesday.
"She's waving to me. It kind of took me off-guard," he said.
Morgan visited Breanna at Riley. A visit that helped him feel better.
"Got a hug and a lunch date here later this week," the officer said.
Monday, he brought her a tourniquet. Next time, he'll bring McDonald's.
To help with the medical expenses and care for Breanna's family, donate to the GoFundMe page set up for her recovery.