INDIANAPOLIS (WTHR) — IMPD needs your help to identify a car believed to be connected to gunfire at a northwest Indy mosque.

On Sunday evening seven to eight members of the mosque were forced to take cover when bullets hit the building, damaging the walls, a bookshelf and even a car parked in front of the Lafayette Road location.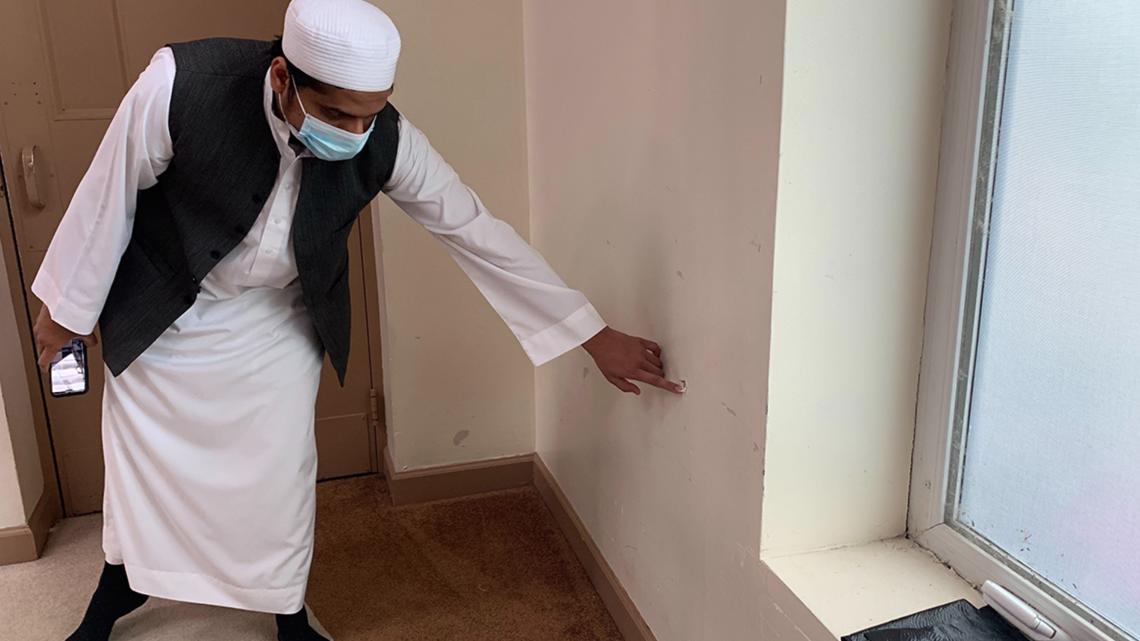 The victims believe someone northbound in a red convertible car fired the gun.
Mosque leaders are meeting with the FBI today, which is assisting IMPD in the investigation.
Muslim Advocates, a national civil rights organization, issued the following statement:
"Since the beginning of the Islamic month of Ramadan just a few weeks ago, we have seen mosques across the nation targeted by arson and vandalism. It is especially hurtful that this potential attack in Indiana happened on Eid-al-Fitr, one of the most important holidays for Muslims. We urge law enforcement to thoroughly investigate this shooting and determine whether it was motivated by anti-Muslim hate." - Madihha Ahussain, Muslim Advocates' special counsel for anti-Muslim bigotry
The eight men inside the mosque had just finished praying, wrapping the month-long Islam celebration of Ramadan.
Mohammed Monair Chughtai, one of the mosque leaders, was inside at the time of the gunfire.
"We were about to leave and we heard about four to five shots and we were shocked, so we ran to the hallway and we hid over there," he said.
A bullet shattered the window on Mohammed's car. The mosque's front door window is broken out from the gunfire. Inside, bullets went through the wall and shattered a bookshelf.
The scariest part of the incident is the fact that normally during Ramadan, the mosque is usually packed with people.
Shamaas Hassan Nyazee serves as the mosque board president. Mosque leaders have purposely gone out of their way develop relationships with nearby churches and businesses to be a good neighbor.
"Had it not been for the corona precautions, the mosque would have been filled to capacity with worshippers, with families and children, there would have been a potluck dinner, activities for children and religious services," he said.
Mosque members also hope security cameras north on Lafayette Road also recorded the suspect's car as they beef up security and receive support from other faith leaders.
There is an alliance of different religions that support each other. Reverend Jerry Zehr of Carmel Christian Church is part of the alliance who attended a Thursday morning news conference about the gunfire.
"What if this had happened at a church on Easter Sunday? We need to support them," Zehr said. "For if it happened to us, we would want others to stand with us in solidarity."
FBI agents met with mosque leaders Thursday afternoon. The FBI told 13News that it will assist metro police in this case. The agencies have a close working relationship and share resources — a collaboration that helps bring those wanted for crimes to justice.
If you can help, call Crime Stoppers anonymously at (317)-262-TIPS.