INDIANAPOLIS (WTHR) – Jake Cochran is a teenager learning to drive this summer. He spent 30 hours in the classroom at Old National Road Driving Institute in Greenfield and another six hours behind the wheel with driving instructor Eric Robertson.
"You have to do the speed limit. It's a testable item, just like parallel parking," Robertson stressed during their final driving lesson.
On the near-south side of Indianapolis, Josiah Atwell works at Poema Entrepreneurship Academy doing website design. He is about to turn 18 and has no interest in getting behind the wheel of a vehicle. He obtained a learning permit just so he would have a state I.D.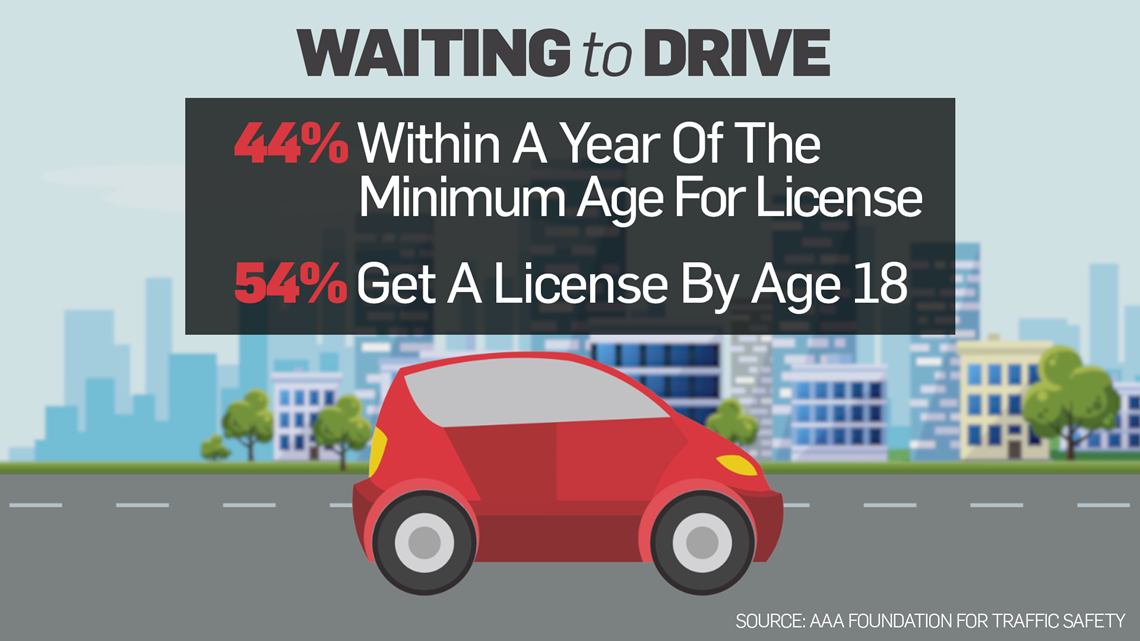 "I just don't like it," said Atwell. "I just don't like driving. It's also a risk versus reward thing. I see my dad avoid accidents all the time that I'm not sure I'd be able to avoid."
Savion Bias, 16, is in no hurry to get his driver's license, either. He sits on a couch in his family room in Carmel playing online videogames on his laptop computer. This scene is symbolic of how teenage social life has changed.
"If you wanted to hang out with friends, per se, you'd have to go and drive to meet with them," Bias said. "But now you can just get on Xbox Live and talk to them from your own home, so it's not as much a need to be able to go somewhere."
Atwell and Bias both have jobs but are among a growing number of teenagers who delay getting a driver's license, like the Brase sisters on the north side of Indianapolis.
"It's not really a sense of urgency with me with biking and everything being so close nearby," 16-year-old Brigitte Brase said. "I can just be, like, 'I want to go get a snack.' Just the other day, [my sister] Grace and I took an Uber to get our nails done and I rode my bike over to Dunkin' Donuts and got breakfast."
Teenagers without a driver's license walk, ride a bike, use public transportation, or even hire an Uber or Lyft driver to get where they want to go. They also depend on rides from friends who have their license or from mom or dad.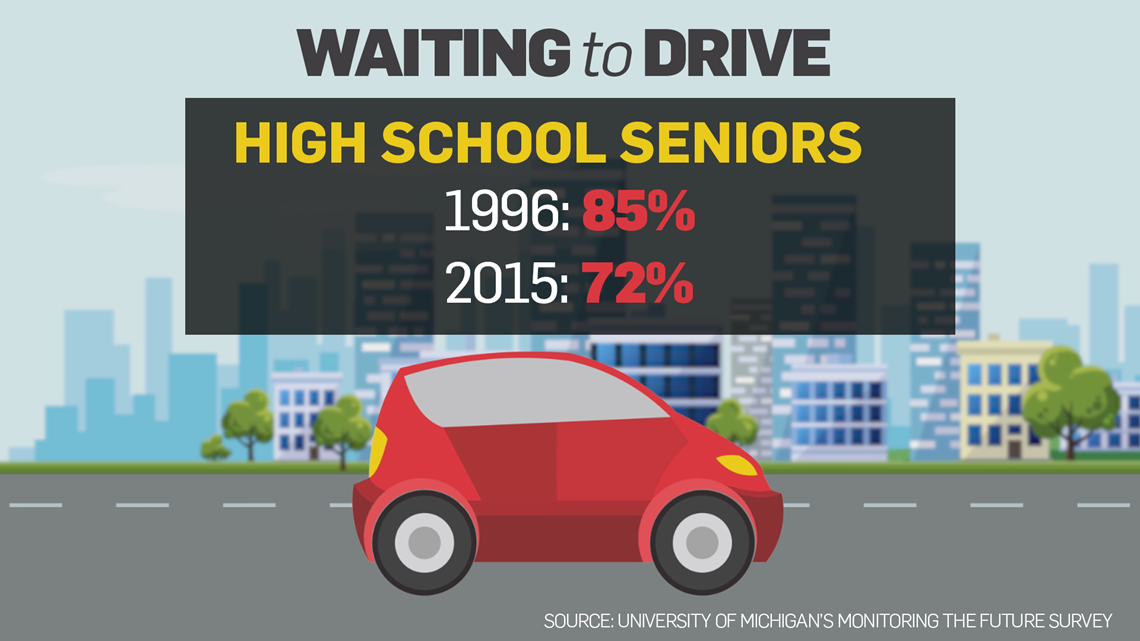 "It makes me feel good to be able to take them around and give them rides and do nice things for them and give their friends rides and all the different things that I do, so it actually makes me feel better about being a dad to give them a ride," said Brian Brase, who said he has never pressured his daughters to get their license, but has not discouraged them from driving, either. The most recent data from AAA shows only 44 percent of teenagers obtain their license within the first year of being eligible. The percentage of high school seniors in the United States with a driver's license dropped from 85 percent in 1996 to a record-low 72 percent in 2015, according to the University of Michigan Monitoring the Future Study.
"I don't want a kid on the road who doesn't want to be on the road, who isn't comfortable," said Bias' mother, Deidre. "It's not that important to me personally for him to drive. But, of course, it's a life skill to have."
Grace Brase admits she's embarrassed to be a 20-year-old Indiana University junior without a driver's license.
"At this point, it's just that I haven't gotten it and it almost feels strange to go out of my way to get it," Grace said. "I just feel like I'm probably going to be a horrible driver now and I'm scared of driving a car at this point."
Grace's fears are warranted. Motor vehicle crashes are the leading cause of death for U.S. teens. The Centers for Disease Control and Prevention reports teenage drivers are almost three times as likely as older drivers to be involved in a fatal crash.
Teenage driving can be deadly. It's undeniably costly.
"It's the leading cause for not driving is the cost," said Chad Beehler, Indiana Farmers Insurance Assistant Vice President for Risk and Actuarial. "Young drivers have accidents two to three times as often as adults, so they have to pay two to three times the amount of insurance. Add in a car. Add in some gas."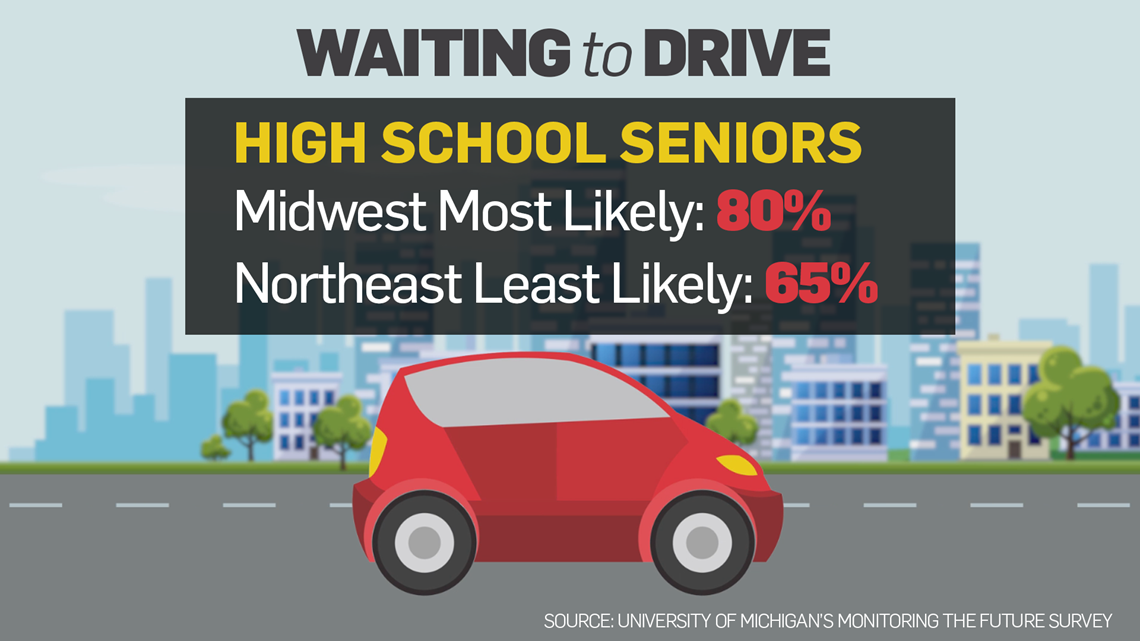 Josiah Atwell's father, Barry, knows his son not driving is big family cost saver. "Just having him as a licensed driver in the house doubles our insurance, doubles it! And that's without even having a vehicle for him to drive. So that's a pretty steep cost."
Cochran is 16 years old and he wants his license. He's taking driving classes now so he can get his license as soon as he's old enough this fall.
"I feel comfortable with it because I started out early with my parents," Cochran said. "They taught me early. I came to a good class with Eric."
Eric Robertson owns Old National Road Driving Institute in Greenfield. He has taught beginning drivers for 20 years.
"If you think your child is ready - because you know your child better than I do, better than anybody else - if you think they're ready to be behind the wheel of a car by themselves, then you make that call," Robertson said. "If they're not, they've already waited 16 years. What's another 6 months?"