INDIANAPOLIS — Everyone celebrates Valentine's Day in different ways, but for one Indianapolis doctor, it's more than a holiday about love.
"He's certainly a favorite on Valentine's Day," said Leesa Hertz.
"I don't think anybody can say his name without a smile," Carrie Davison said.
These registered nurses are talking about Dr. Kevin Valentine, who works in pediatric critical care at Riley Hospital for Children.
"Just like on February 14th," Valentine said.
Believe it or not, it's his real name all year long.
"There's a lot of times when I introduce myself to new families and patients in the ICU and they kind of look at me like, 'Are you making that up? No, I'm not making that up. That's my real name,'" Valentine said.
To make it even better, Valentine not only has a unique last name, but he works in the ICU taking care of young hearts every day.
So when Valentine's Day rolls around, his team has a little fun with it by making heart-shaped signs with his photo attached. Some say, "Happy Valentine's Day" or "Will you be my Valentine?" The team then puts them on hand sanitizer dispensers outside each room.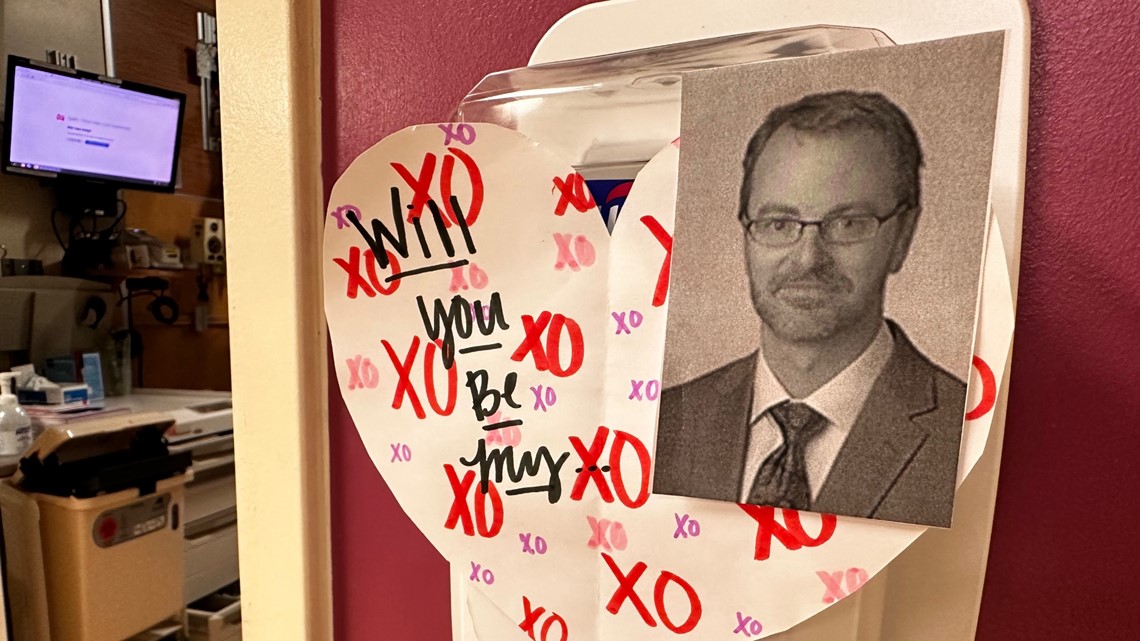 It's a tradition that started a few years ago.
"They keep a file of these things and pull them out every February 13th, 14th," Valentine said.
Surprisingly, the last name Valentine wasn't the inspiration for his line of work.
"I can't imagine working anywhere else at this point. So fate or not, I think it worked out pretty well," Valentine said.
Whether it comes in a card or a doctor in your room, having a valentine on Feb. 14 makes everyone's stay at Riley a little sweeter.
"There really is no one like Dr. Valentine," Hertz said.
"It was meant to be," Gina Madsen said.
The cardiovascular floor at Riley's Heart Center opened in 2014. It's designed for children with congenital heart disease or acquired heart disease. The team provides specialty to about 12 to 20 patients every day. There is a staff of 143 cardiovascular nurses and 26 pediatric cardiologists.
If you would like to donate to Riley Children's Foundation, click here.