More people are turning to alternative diets to stay healthy. So can the same work for our pets? Veterinarians say it's not that simple and can sometimes even be dangerous.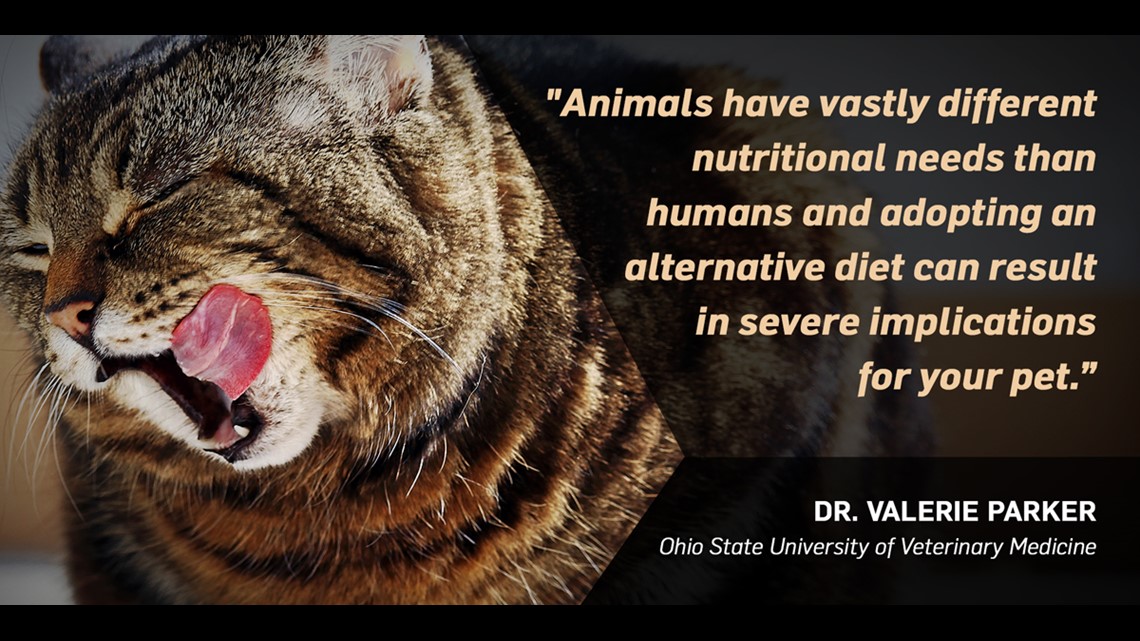 Ohio State University published a report in October that diet trends can "put animals' health at risk."
"People just want to do what's best for their pets, but when they apply human diets to their animals, it doesn't always work out well," said Dr. Valerie Parker, board certified veterinary nutritionist at Ohio State University of Veterinary Medicine. "There's tons of information out there about alternative diets, but it's not all based on scientific information. Animals have vastly different nutritional needs than humans and adopting an alternative diet can result in severe implications for your pet."
We reached out to Purdue University's College of Veterinary Medicine to learn more.
"Nutrition is truly not all in a can or all in a bag and not all cans and bags are created equally," said Dr. Nolie Parnell, Clinical Associate Professor of Small Animal Internal Medicine and Chief of Staff at the Small Animal Hospital at Purdue University.
"Grain-free right now is probably the hottest dietary trend in the pet food industry," she said but added that pets rarely actually have allergies to grains.
Veterinarians also say a grain-free diet can potentially leave your pet lacking enough fiber and carbs.
Parnell said the important thing to look for is "complete and balanced."
"Those two words — complete and balanced — are probably the most important, regardless of whether it's grain-free or with grain," Parnell said.
Same goes for a vegan or vegetarian diet. Experts say plant-based sources don't always have all the amino acids that dogs and cats need.
"There are complete and balanced diets that are available that you can use, but it is a lot harder to meet those needs," said Parnell.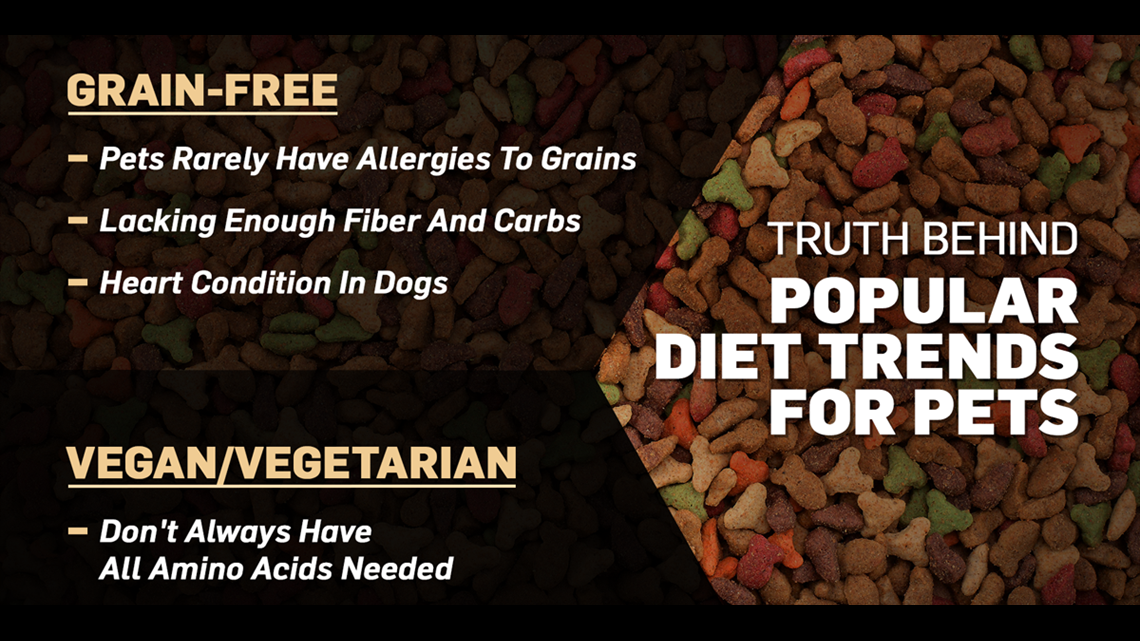 So how do you know?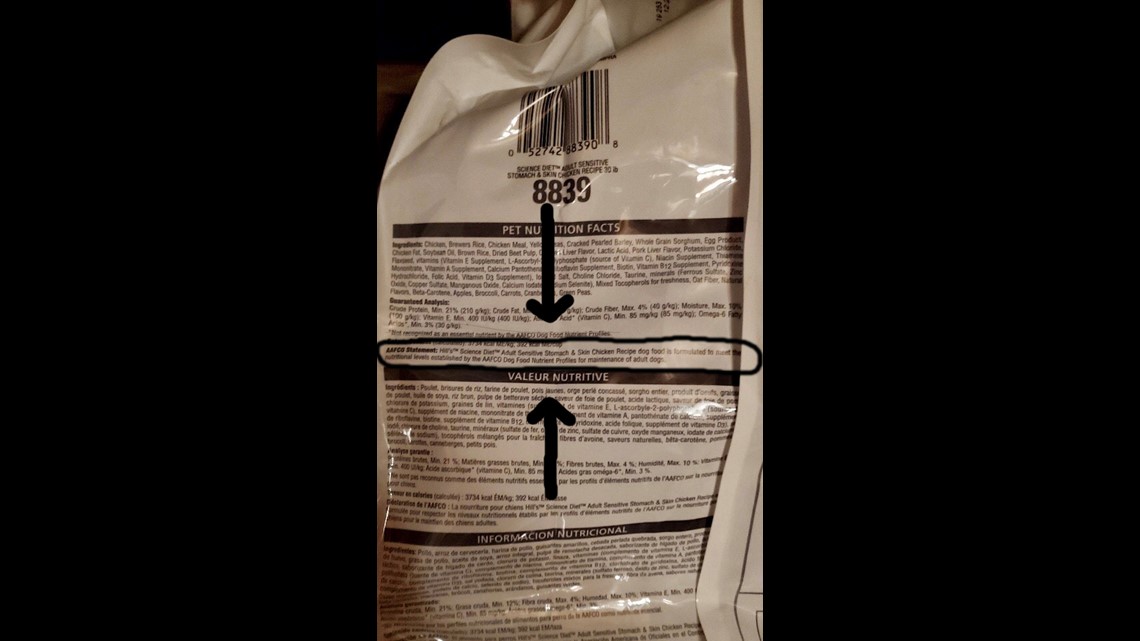 "Most owners look at the front of the can or the front of the bag of food," said Parnell. "But actually, all the information that's important is on the back."
She said to look for "AAFCO" statement, which stands for the Association of American Feed Control Officials.
"If the label states that its complete and balanced for a certain life stage, then the client should have confidence that the food can be fed to their pet."
What about homemade pet food?
"The ingredients are important because it has to be complete and balanced," said Parnell, who said it's critical to come up with a complete and balanced recipe and then stick with it.
"If you go off the recipe, you're no longer confident it's complete and balanced," she said.
Parnell said there are ways we can feed our pets differently and still maintain a healthy pet.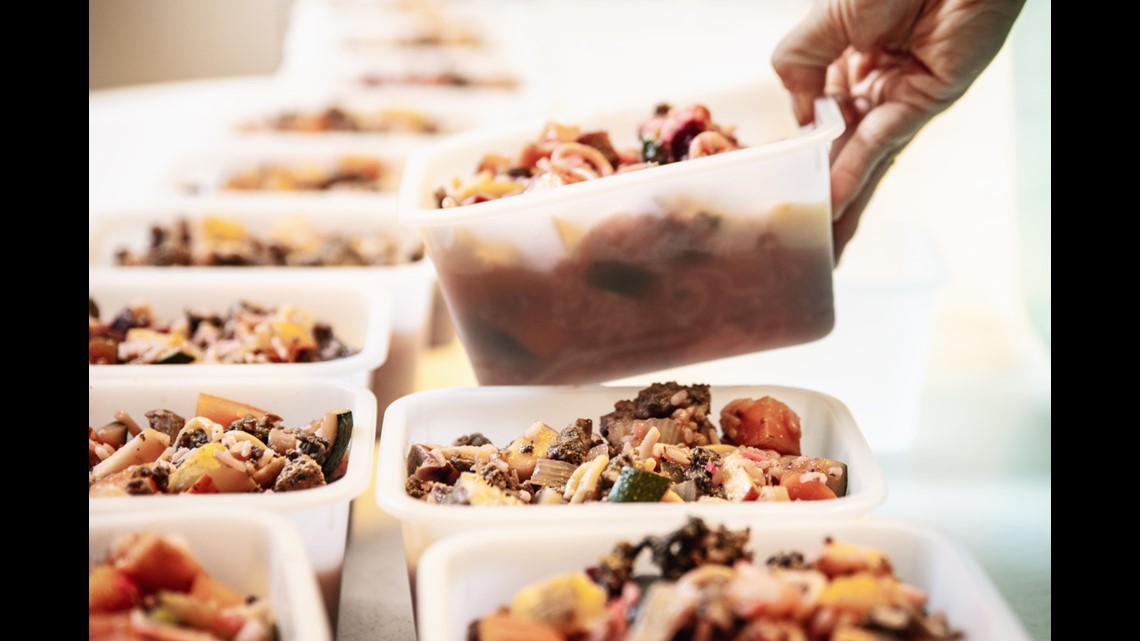 "You just have to be educated," she said.
What about grain-free food and heart disease?
The Food and Drug Administration is investigating reports of a heart condition called canine dilated cardiomyopathy (DCM) in dogs that were also on a grain-free diet. According to the FDA, investigators are still looking into it.
The FDA received 524 reports of DCM between 2014 and April 30, 2019 — 517 which were reported since Jan. 1, 2018.
Of the reported cases, golden retrievers account for nearly 20 percent of dogs with DCM.