CENTRAL INDIANA (WTHR) - School begins this week in several Central Indiana districts, and some of them are still looking for bus drivers. They blame a stronger economy and a low unemployment rate for the shortage.
Warren Township schools is among the districts struggling to hire and train enough drivers before classes start a week from today.
Washington Township, Perry Township and Franklin Community Schools in Johnson County are also advertising for drivers. It is a very competitive job market.
To get drivers, schools are offering incentives:
Franklin schools increased wages from last year and offers signing bonuses.
Warren Township provides free paid training. New drivers earn while they learn.
There are bonuses for perfect attendance, $250 bonuses for existing drivers who sign up new ones. Starting wages are about $16 an hour, plus heath care and other benefits.
Parents who see "Drivers Wanted" signs at their schools shouldn't worry. Transportation administrators WTHR spoke with say even if they are short a few drivers, children will still be picked up and taken home.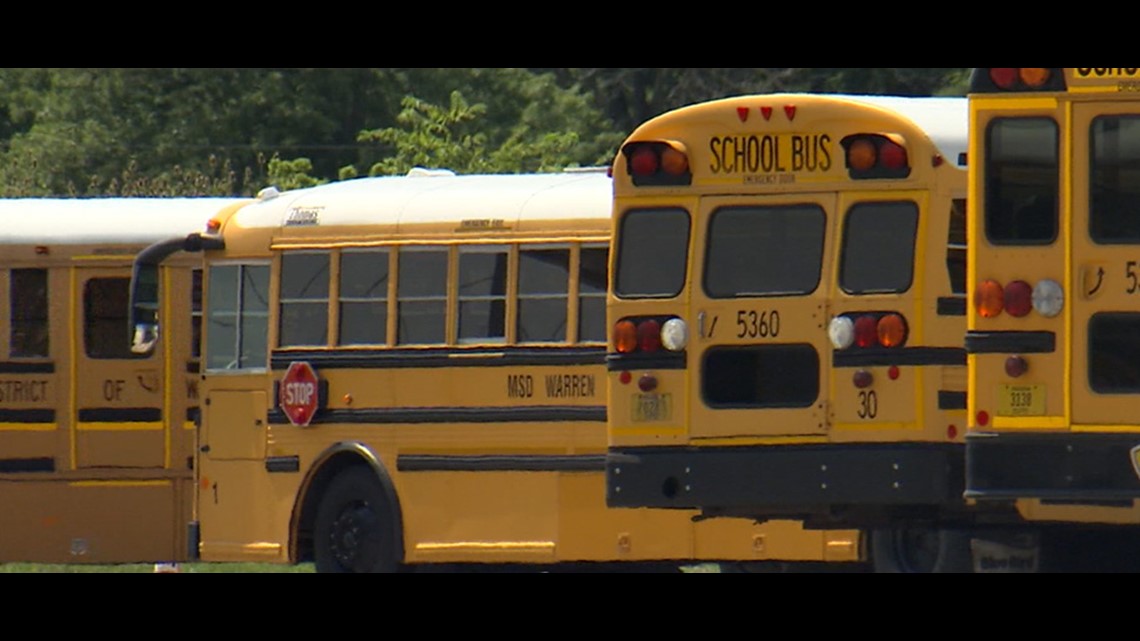 Some routes may have to double up. There may be some delays, but there should be no more than a temporary inconvenience.



Back to school dates:

Wednesday, July 27
Decatur Township
Perry Township
Avon Schools
Clark-Pleasant Schools in Johnson County (Whiteland HS)
Thursday, July 28
Wayne Township
Beech Grove Schools
Brownsburg Schools
Greenwood Schools
Friday, July 29
Mill Creek Schools in Hendricks Co (Cascade HS)
Monday, Aug 1
IPS
Warren Township
Noblesville Schools
Edinburgh Schools in Johnson Co
New Palestine Schools in Hancock Co
Greenfield Schools in Hancock Co
Mt Vernon Schools in Hancock Co
Tuesday, Aug 2
Center Grove schools
Speedway Schools
Plainfield Schools
Ninevah-Hensley-Jackson Schools in Johnson County (Indian Creek HS)
Southwestern Schools in Shelby Co
Northwestern Schools in Shelby Co
Wednesday, Aug 3
Washington Township
Pike Township
Roncalli HS
North West Hendricks Schools (Tri-West HS)
Shelbyville Schools
Anderson Schools
Thursday, Aug 4
Lawrence Township
Eastern Hancock Schools
Mooresville Schools
Monroe-Gregg Schools in Morgan County
Monday, Aug 8
Scecina HS
Zionsville Schools
Martinsville Schools
Tuesday, Aug 9
Carmel schools
Westfield-Washington Schools
Hamilton Heights Schools
Lebanon Schools
Western Boone Schools
South Madison Community Schools
Lutheran HS
Bethesda Christian School
Wednesday, Aug 10
Hamilton SE schools return (Fishers HS and HSE)
Sheridan schools
Danville Schools
Franklin Community Schools
Thursday, Aug 11
Cathedral HS
Bishop Chatard HS
Brebeuf Jesuit HS
Guerin Catholic HS
Monday, Aug 15
Cardinal Ritter HS
Heritage Christian School
Tuesday, Aug 16
Park Tudor HS
COLLEGE WEEK
Monday, Aug 22
IU Bloomington Fall Semester begins
Purdue Fall Semester begins
Ball State Fall Semester begins
IUPUI Fall Semester begins
Marian University Fall Semester begins
Tuesday, Aug 23
Indiana State University Fall Semester begins
Wednesday, Aug 24
Butler University Fall Semester begins

Monday, Aug 29
Franklin Twp (Marion County)
University of Indianapolis Fall Semester begins