INDIANAPOLIS (WTHR) — A man who made history as the first married priest in the Archdiocese of Indianapolis faces six criminal charges tied to an assault last September involving his wife. Court documents state that part of the attack happened in the sanctuary of Holy Rosary Catholic Church where he worked.
According to court documents obtained by 13 Investigates, Father Luke Reese is accused of kidnapping, criminal confinement, battery and intimidation.
Reese is a Parochial Vicar at Holy Rosary Catholic church in Indianapolis, and according to the Archdiocese, has been placed on leave.
The court documents detail an encounter between Reese and his wife on a Sunday afternoon, September 24, when Reese said he found her in the back seat of a car with another man with whom she was having an affair.
The probable cause affidavit states that Reese hit and kicked the man and ordered his wife to leave with him. They left in separate cars and eventually met up together and got into Reese's car. She told investigators he locked the doors and began hitting her while they were driving.
Investigators say Reese eventually drove to Holy Rosary Catholic Church on the near east side of Indianapolis and forced his wife inside to kneel at the altar. She told officers he demanded her cell phone password. She says Reese physically hit her in the church too.
The affidavit then states the two left the church and she gave up her password.
Investigators say they drove to Auburn, Indiana, where his wife was to "confess" about her adultery to her family members including her 90-year-old grandmother.
Reese's wife details in the documents that her husband hit her several more times in the car. The grandmother told investigators that she noticed bruising and swelling around her granddaughter's mouth and eye.
Reese then drove his wife back to Indianapolis, where, according to his wife, he forced her to go to bed while he cut up her clothing. She told officers he viewed her text messages and then sexually assaulted her.
It is WTHR's policy to not name some assault victims.
13 Investigates has obtained a notice Holy Rosary Catholic Church sent to parishioners shortly after the September incident saying he was taking a leave of absence for "some personal and family issues which would require a greater amount of his attention."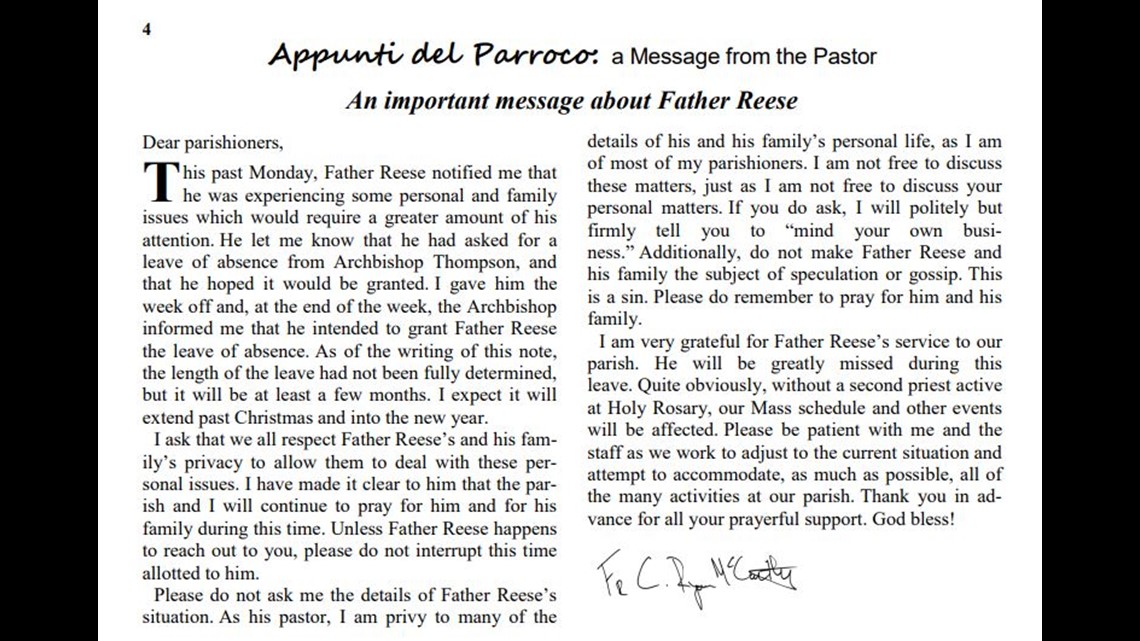 13 Investigates reached out to the wife's attorney. Mary Foley Panszi, sent a statement saying, "Abuse is horrible and cannot be tolerated at any time, but when it is perpetrated by a priest, within a church, it shatters the trust of the community at large who hold their clergy to such high regard and esteem. The fact that a priest could conduct such horrible abusive actions over a more than 24 hour period of time which has led to his arrest on multiple felonies."
Reese became the first married Catholic priest in the state in June of 2016, and he and his wife now have seven children together. According to The Criterion, a publication of the Archdiocese of Indianapolis, Reese was a former Anglican priest, who was part of a group ordained into the Catholic Church. That ceremony happened in Houston.
It has been widely reported that Pope Francis has been exploring the idea of allowing married men into the priesthood.
An attorney for Reese declined to comment on the situation.
13 Investigates is still working on this story and has reached out to the Archdiocese of Indianapolis for comment. WTHR will update this story as information develops.
Late Tuesday, The Personal Ordinariate of the Chair of Saint Peter in Houston, where Reese was ordained provided 13 Investigates the following statement:
"The Ordinariate and the Archdiocese immediately placed Rev. Reese on leave.

Since Sept. 27, he has not had any priestly duties and has been prohibited from exercising any public ministry.

Bishop Steven J. Lopes of the Personal Ordinariate of the Chair of Saint Peter has pledged the diocese's full cooperation with the civil authorities conducting the investigation.

The Ordinariate is committed to collaborating with authorities to ensure justice is provided for all concerned, and affirms the Catholic Church's clear teaching that domestic violence is never justified."