INDIANAPOLIS (WTHR) - Brittany Conrad likes her blade leg even more than her other prosthetic leg that looks more natural. With her blade, she's a runner. Brittany runs a few sprints up and down the sidewalk outside the Hanger Clinic under the observation of prosthetist Dan Hill.
Brittany just finished her first official 5K in the Indianapolis Color Run earlier this month.
"I lost my leg, but I do a lot of athletic and sports events," said Brittany.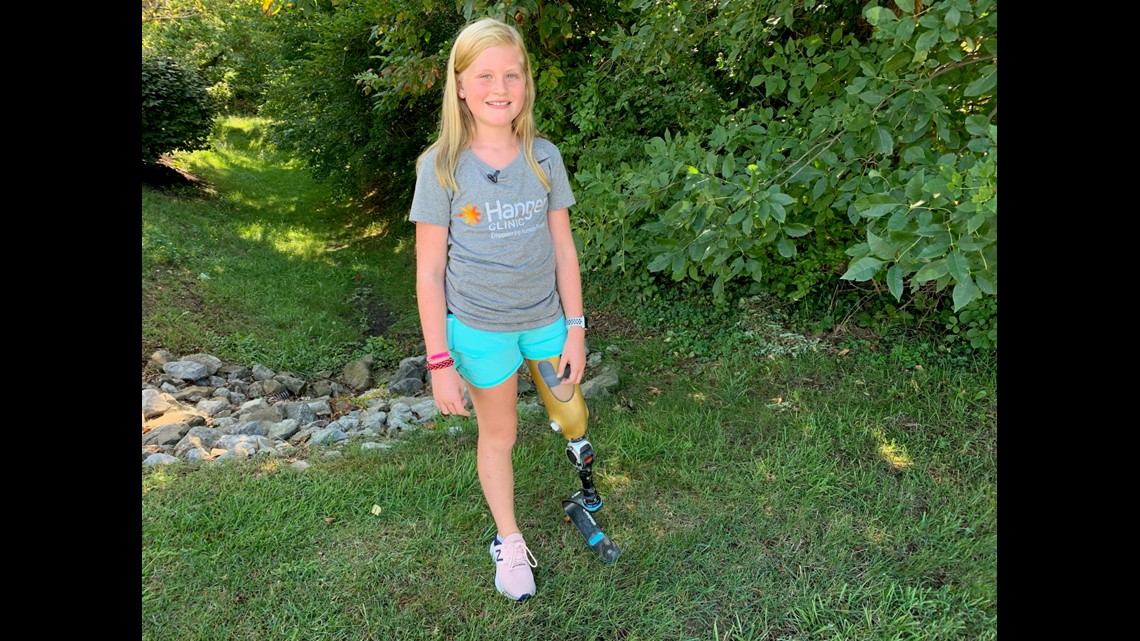 Brittany lost her leg to a lawnmower accident and the resulting infection when she was just four years old. She's nine now, so she doesn't have many memories of having both legs.
"In our darkest days, I tell people that if you would have shown me a snapshot of where she is now - not only from the physical aspect, but from the mental and emotional standpoint - I wouldn't have believed you," said Jen Conrad, Brittany's mother.
Brittany not only survived the amputation of her left leg above the knee, the Zionsville fourth grader is thriving. Brittany competes on a swim team. She runs in the Endeavor Games for people with disabilities. She hiked the Swiss Alps.
"Even if it was hard at first, you still can get through it and do everything that other people can do," said Brittany.
The Hanger Clinic helps Brittany adjust her prosthetics as she grows.
"Especially when I'm working with Brittany or any kid, I kind of see myself a little bit," said Hill. "I was born without my left hand. So, I was in that clinical setting just as they were when I was a kid. I kind of know what it takes to adapt."
"She does get the stares," said Jen. "She gets the questions. She is different. So of course, that's a natural thing. But it's harder for her to blend in."
"I normally just tell them, but I'm still not as used to that," said Brittany. "But I'm used to the staring and stuff."
Sometimes she enjoys the attention. Brittany was excited about getting out of class at Stonegate Elementary for some TV exposure.