And censorship is at the center of the debate.
The battle over books isn't over, even if a popular novel by John Green is now headed back to the teen shelves in Fishers and Noblesville.
Maryann Krutsick, who lives in Fishers, is one of hundreds of people who signed a petition to "Stop censorship at Hamilton East Public Library."
They're asking for an end to an HEPL board policy of reshelving some books for teens.
"For me, it's having watched the library board start to make these decisions that are in a sense censoring books away from the teens because the teens have to go into the adult section, and that shouldn't be happening. That's not what a public library is for. That's what parents are for," Krutsick said. "This is censoring, and that's wrong. It's against the First Amendment. They're not supposed to censor literature, and that's what's happening."
"The Fault in Our Stars" put the board's policy in the international spotlight this past week. The book is now in limbo at the Fishers library — on the "hold" shelf. The popular young adult novel was sent to the adult section for content deemed "not age-appropriate" last month.
But days after criticism from author and Indianapolis native John Green, it's on the move again, back to the teen section.
"Oh, I think John Green's tweet basically had a lot to do with it," Krutsick said. "I'm going to be very honest. The sudden shift is because it's all over social media. And they don't like that, and that's exactly what it comes down to."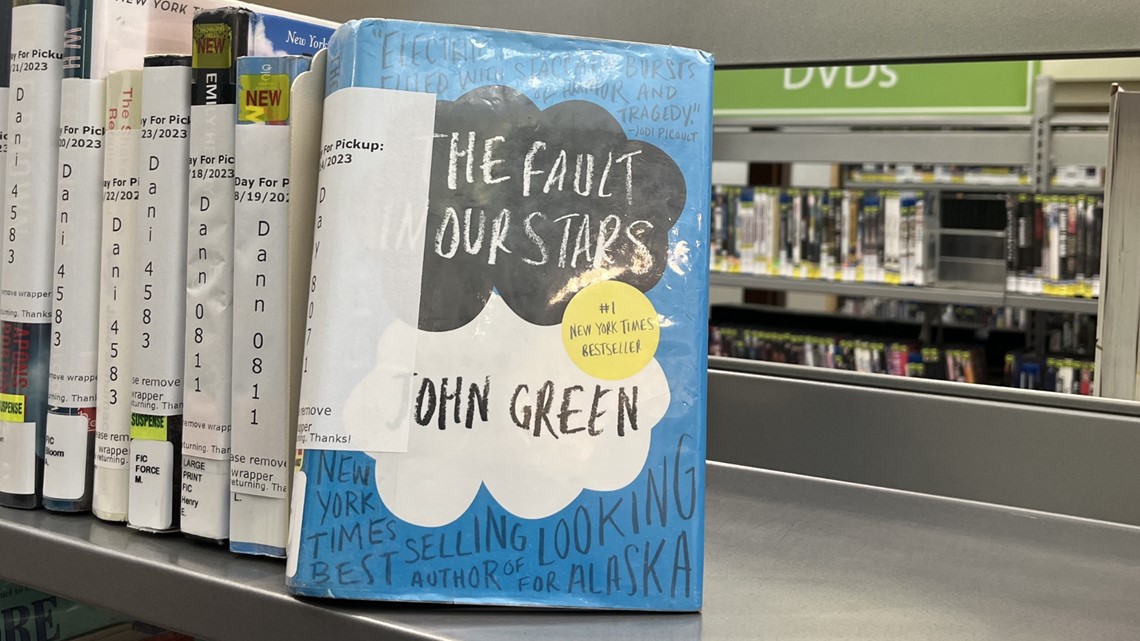 The Hamilton East Library Board president, Laura Alerding, sent out a statement over the weekend, asking the book be put back on the teen shelves immediately. She blamed an "error" by library staff in implementing the board's collection development policy.
That policy, at an estimated cost of hundreds of thousands of dollars, has library staff examining thousands of books for sexual or violent content the board says shouldn't be shown to younger eyes.
According to board documents, at last month's meeting, the board said it has looked at 1,859 physical books so far. Of those, 1,385 of them were moved from the Young Adult section to the Adult or General section.
That's nearly 75% of the books reviewed.
Some say moving this one novel back is not nearly enough.
"No, it's not enough," Krutsick said. "The policy needs to disappear. It needs to go back to the original policy that did protect the teens. They (the board) realize that they've done wrong, and right now, frankly, they're not adult enough to admit they've made the wrong decision, and so they're trying to replace it one by one, and that's not a good thing either."
Green asked on social media Monday, "What about my other books and hundreds of other YA titles? Award-winning classics of YA lit by everyone from Nic Stone to Judy Blume continue to be wrong shelved by a ridiculous policy that embarrasses Central Indiana. Change the policy not just for TFIOS, but for all."
Those who signed the "Stop Censorship" petition agree.
"I hope that they reverse the policy and that they go back to the old original policy like they should have and they stop trying to censor the teens in the library," Krustick said.
13News reached out multiple times Monday with questions for the board president and the communications team for the Hamilton East Public Library.
Alerding didn't respond at all.
The director of marketing and communications would not answer 13News' questions, just referring us to a board meeting that's set for Thursday, Aug. 24 at 6:15 p.m. in Noblesville.
That's where this book review policy will be up for further discussion.