INDIANAPOLIS (WTHR) – Walter Murphy survived the Battle of the Bulge and other bloody engagements of World War II. And, as an Army medic he helped other soldiers survive too.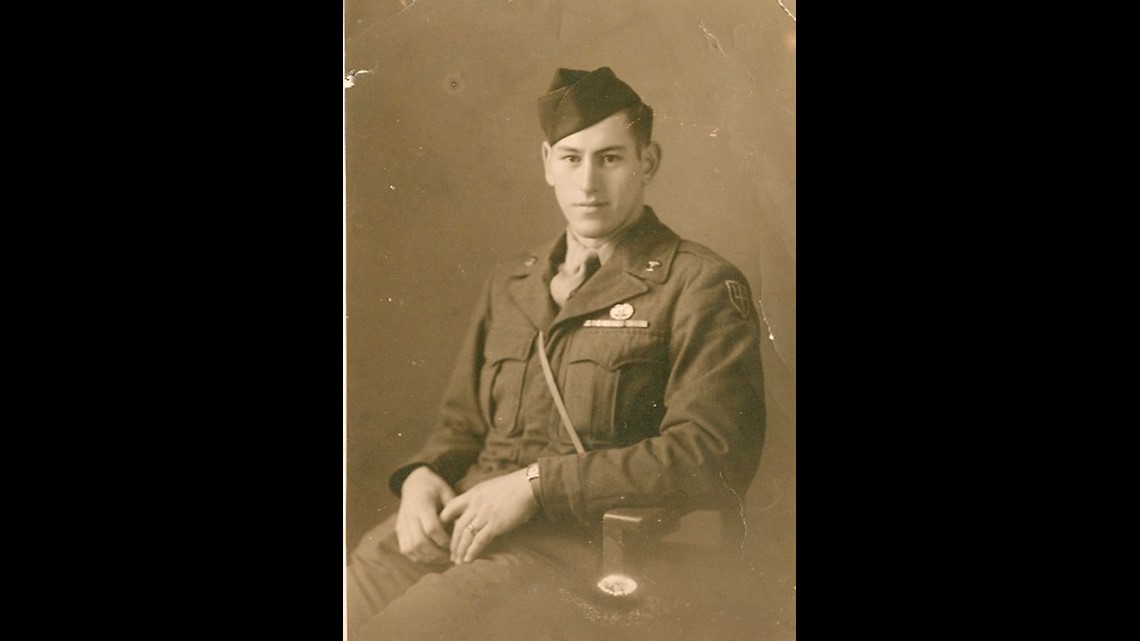 He didn't do it for the medals. He never bragged.

Saturday morning Walter Murphy told Eyewitness News, "you don't talk much about anything like that, you know what I mean."

But a grandson, school teacher William Anders, did get his 93-year-old grandfather to open up about World War II experiences he hadn't shared before.

Anders said, being an Army medic under fire meant "retrieving wounded men from the battlefield."

He says his grandfather told him about the time "there were Germans in boats or ships and they were shooting grenades at the men including my granddad. That was I'm sure a very tense time."
"He talked about how he would drive an ambulance and the groans from the men who were wounded. How they were shot. Or they were stabbed," Anders said.
Anders says his grandfather was made a medic when a commanding officer noticed how he provided first aid to other soldiers with non-combat injuries. He had a knack for it.
But his wartime humanity extended to civilians on the other side of the conflict. His grandson says, after the war, with the U.S. occupation force in Japan, his grandfather shared his own rations with starving Japanese citizens.
Later, as Anders looked for a Christmas gift for his granddad he noticed that he didn't have a World War II hat.
He searched online for the right hat, looking for one with his grandfather's Army unit insignia.
That's when he discovered something. Walter Murphy, who held the Combat Medical Badge, should have also received the Bronze Star. But never did.
"Well it means a lot because I wasn't looking for anything like this you know," said Murphy.
The star is one of the military's highest honors for heroism in a combat zone.
Congresswoman Susan Brooks took up the cause and at the Indiana American Legion conference Saturday morning, Walter Murphy made history.
Brooks pinned the Bronze Star to the retired soldier's lapel.
"It is my high honor to present to Mr. Walter Murphy the bronze star," Brooks told the packed auditorium.
The veterans and their family members jumped to their feet and applauded. They knew they were seeing something special - recognition 75 years late.
Standing straight and tall, the father of eight, part of that greatest generation was also reissued all of his service medals that were lost over the years.
Walter Murphy told the crowd there were "hard times back then but it all come out."
He thanked his family for helping him through everything.
"I'm going to give it back to my son over there," he said, passing the shadow box frame displaying seven medals and numerous other military ribbons.
His grandson, Hamilton Southeastern elementary school teacher William Anders, said this is the time for young people to ask their grandparents for their stories before that resource slips away.
A Saturday for remembering a duty not forgotten.