INDIANAPOLIS — Adrian Jackson left a northwest Indianapolis Walmart with a cart full of a groceries Monday afternoon. He did not mind wearing a mask during his hour-long shop.
"My grandma sent me this mask all the way from Vegas because it's hard for me to find them around here," Jackson told 13News, pointing to the mask he was still wearing in the parking lot. "Whatever it takes to help people be safe. How can you be mad at them for that?"
Wearing a mask is now mandatory for Walmart shoppers after the company implemented a nationwide mask mandate that took effect Monday morning. The nation's largest retailer is certainly not alone. Starting July 20, eight other major corporations – CVS, Walgreens, Kohl's, Lowes, Meijer, Petsmart, Petco and Sam's Club – also imposed new mask rules for customers. Kroger and Home Depot will require all customers to wear masks in their stores starting July 22, followed by ALDI and Target that will impose mask mandates by Aug. 1.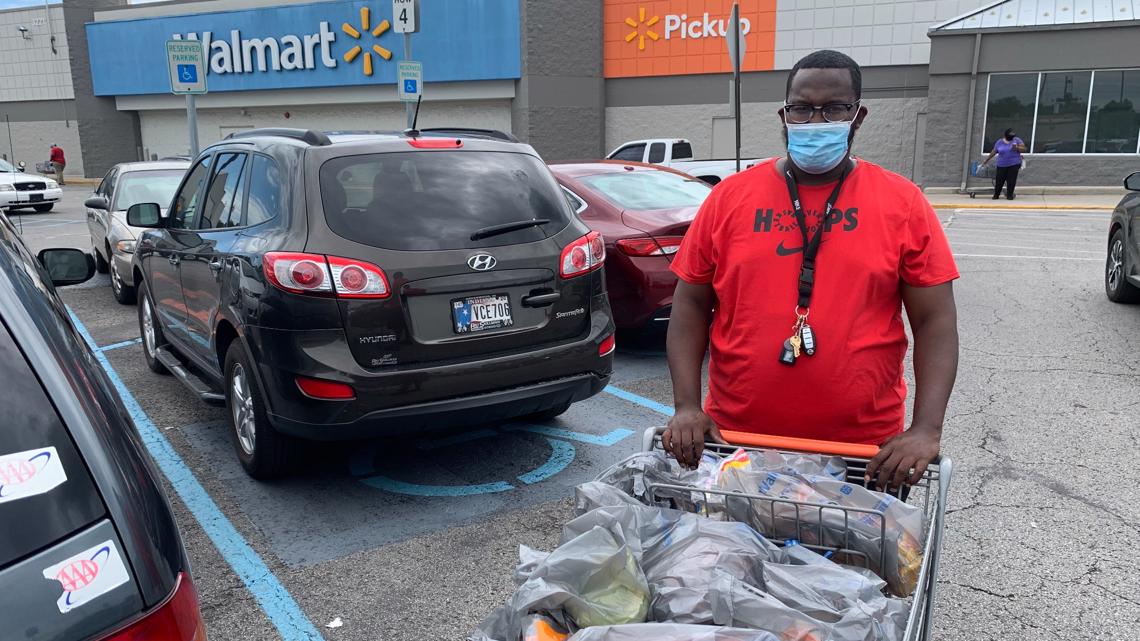 They join other major retailers and restaurants such as Costco, Starbucks, Apple, Best Buy, Whole Foods, Verizon, Menards and Dollar Tree, that implemented face mask requirements weeks ago. (Indianapolis imposed a city-wide mask mandate for all retail establishments earlier this month, but most Indiana municipalities outside of Marion County have not required masks. That decision has been left up to individual businesses.)
The new mandates for shoppers come as the number of COVID-19 cases nationally has jumped sharply. Corporations say they want customers to wear masks (most have required their employees to wear masks for several months) to help reduce the growing number of coronavirus infections that threaten both their workers and shoppers. They also believe the time has come to more fully support the recommendations of local, state and federal health officials, who insist masks are a highly effective way to reduce the spread of COVID-19.
"Masks absolutely work. They're not perfect. They're not the only means you need to take to keep this virus under control. But they're very effective, and they're very simple," said Dr. Christopher Belcher, the infection prevention medical director at Ascension St. Vincent Hospital in Indianapolis.
But how will stores enforce their mask policies – especially in the face of individual and group "anti-mask" protests that have sprouted up across the nation? 13News reached out to more than a dozen corporations that are implementing new mask requirements this week to get more details about their enforcement plans. Not all responded to WTHR's requests, but the companies that did reply say they do not want their front-line employees to act as enforcers when customers choose not to follow the rules.
Walmart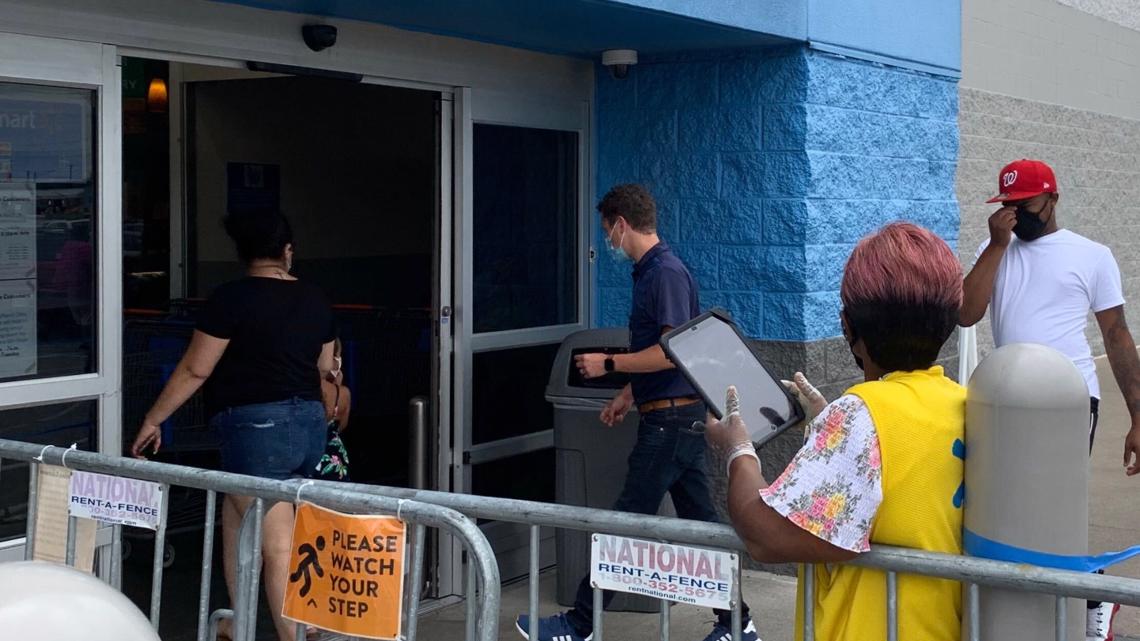 The nation's largest retailer admits enforcing its new customer mask mandate might be challenging.
"It's a touchy subject and it's complicated," Walmart spokeswoman Rebecca Thomason told 13News. "It can be difficult to have associates be the enforcers. Our goal is to keep our associates safe and to keep them out of physical confrontations. We really want them to avoid physical contact of any kind."
Thomason went on to explain that each store will have staff members stationed by the entrance who have been trained on the mask policy. Called health ambassadors, the store employees wearing black polo shirts have been instructed on how to handle customers who do not want to wear a mask while shopping.
"Our health ambassadors have received special de-escalation training to help make the mask mandate process as smooth as possible for customers. They will work with customers who show up without a face covering to try and find a solution. There is not a uniform solution, because there is not a uniform approach to each situation," Thomason said in an email. "Since it may not be possible for all customers to wear masks, our ambassadors are also trained on how to best handle exceptions to reduce friction."
Those customers who are combative and simply want to make a scene will likely be asked to leave the store, the company said.
Sam's Club
Walmart's sister company, Sam's Club, said its staff is also trained to avoid conflict with customers who oppose its mask mandate. Associates will be "politely reminding them of our requirement to wear a face covering when shopping with us. Complimentary masks will be provided if the member doesn't have one," according to a corporate press release.
The company also points out most customers are compliant with the company's policy.
"As we have seen in states and municipalities with mask mandates, virtually everyone either brings a mask or readily complies with the requirement, and we anticipate that to happen in other areas as well," said Sam's Club Chief Operating Officer Lance de la Rosa.
CVS
CVS has already been requiring its employees to wear face coverings and has encouraged its customers to do the same. Starting Monday, that request is now corporate policy.
"With the recent spike in COVID-19 infections, we're joining others in taking the next step and requiring all customers to wear face coverings when entering any of our stores throughout the country effective Monday, July 20," said CVS Chief Operating Officer Jon Roberts. "To be clear, we're not asking our store employees to play the role of enforcer. What we are asking is that customers help protect themselves and those around them by listening to the experts and heeding the call to wear a face covering."
CVS told 13News customers who refuse to wear a mask will not be ordered to leave.
"For safety reasons, we have asked our employees to avoid escalated confrontations with non-compliant customers, and to instead help them complete their purchases as quickly as possible while providing information about other options we have available for their future needs, including free home delivery for prescriptions and our drive-thru window service," CVS communications consultant Charlie Rice-Minoso said.
Kroger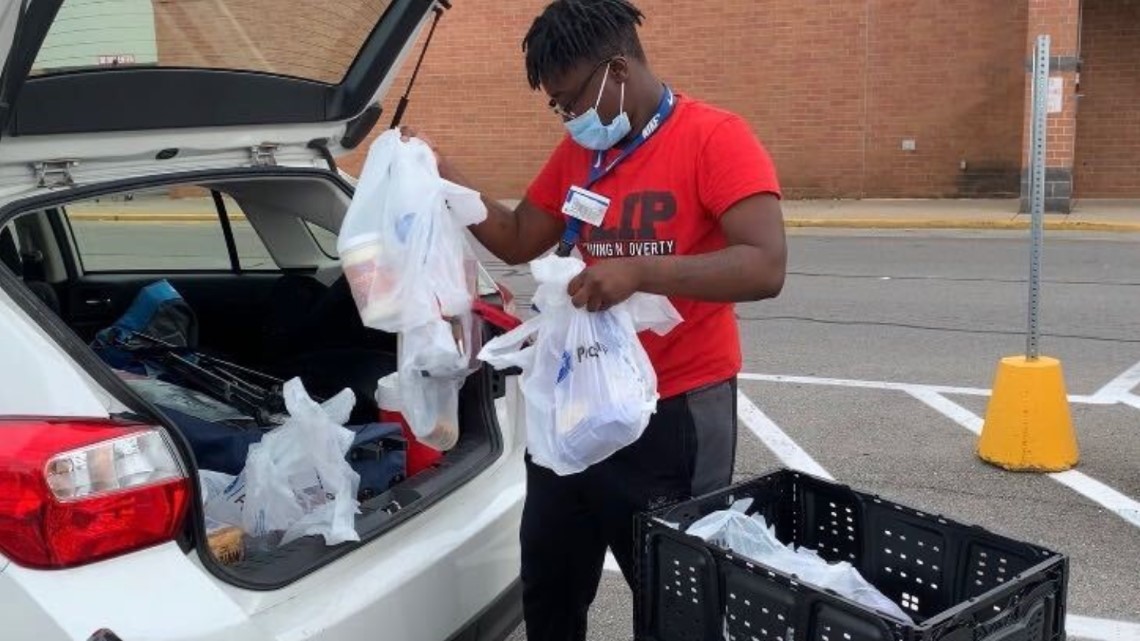 Asked to provide more details about its mask policy and how it will be enforced, a Kroger spokesman said the grocery retailer is still working out details. Kroger's customer mask mandate takes effect on July 22. In the meantime, Kroger provided 13News with a statement.
"We respect and acknowledge that some customers, due to medical reasons, may not be able to wear a mask (small children are exempt). We encourage those customers to consider an alternative option like a face shield or facial covering. If they're unable to wear a mask or an alternative design, we request that they use our ecommerce services like pickup or delivery. To support all households during the COVID-19 pandemic, our grocery pickup service remains free (generally a $4.95 fee)," the Kroger statement said.
Kohls
A Kohls spokeswoman directed 13News to a general statement about its new mask policy, but declined to answer any of WTHR's questions about how the retailer plans to enforce the policy and how it will handle customers who wish not to wear a mask.
Lowe's
Lowe's says it will place the responsibility for compliance with its new mask policy on customers, not store employees.
"Safety has been and continues to be our priority. We will not ask our associates to put their safety at risk by confronting customers about wearing masks, so we are consistently requesting that customers wear masks for the safety of everyone in our stores," explained Lowe's Public Relations Analyst Pedro Chen. "We are adding signage to this effect at all of our entrances, providing free masks at our customer service desks for those who need them and continuing to reinforce social distancing at our stores through overhead announcements, signage and ambassadors."
13News is still waiting for responses from other retailers to explain how they plan to enforce their mask policies. Those responses will be added to this story as we receive them.