UPDATE: In response to WTHR's inquiry and reporting, Alcohol & Tobacco Commission Lindsay Devlin sent WTHR the following statement: "It recently came to our attention that letters were erroneously sent from our office last week. This was an administrative error and these letters should be disregarded," said David Cook, chairman of the Indiana Alcohol and Tobacco Commission. "We apologize for any confusion and we are working to correct the issue."
INDIANAPOLIS (WTHR) — Despite an enforcement moratorium announced last month by the governor, businesses owners across Indiana are now learning the state is issuing them hefty fines for selling CBD oil.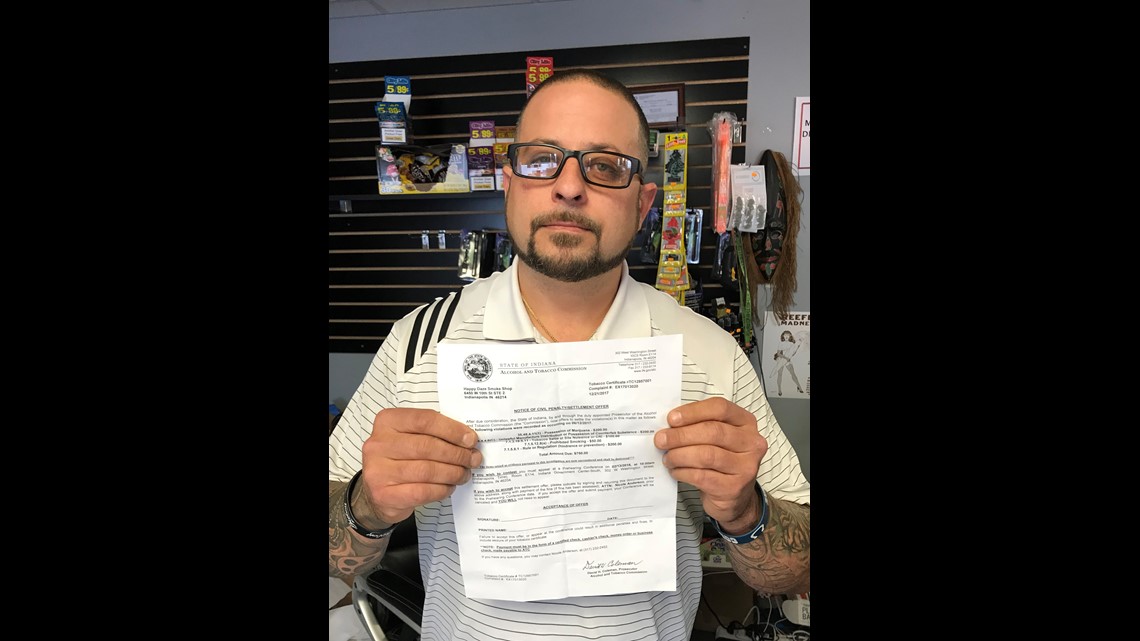 "I opened my letter on Christmas Eve and just couldn't believe it," said James Kinee, owner of Happy Daze smoke shop on the west side of Indianapolis. "It makes no sense at all."
Kinee's business was among dozens of stores that Indiana State Excise Police raided this spring while conducting a surprise crackdown on CBD oil. At the time, excise officers cited Kinee with violations including possession of marijuana; unlawful manufacture, distribution or possession of a counterfeit substance; and hindrance or obstruction of law enforcement officers.
But after an ongoing WTHR investigation showed Indiana Excise Police, the Indiana Alcohol and Tobacco Commission, the Indiana Attorney General's office, Indiana State Police and the governor's office were all confused about the legality of CBD oil in Indiana, Kinee figured the citation would be dropped.
"Nope. Just got the letter, and let me tell you, it's a heck of a Christmas present," he told WTHR.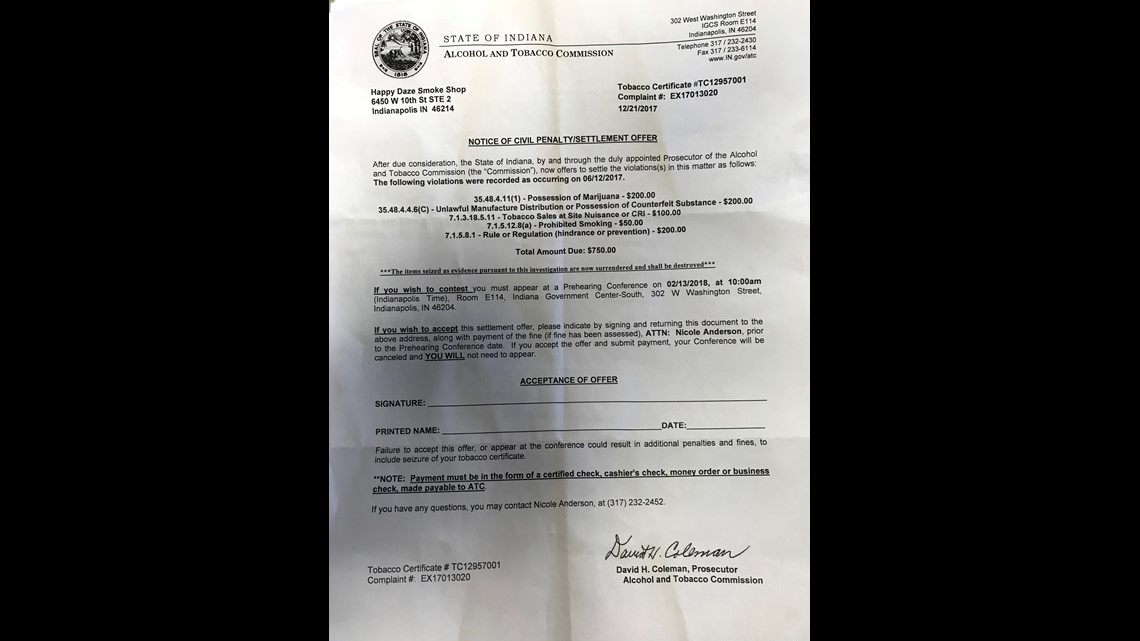 The letter is from ATC prosecutor David Coleman, and it offers to settle the case against Happy Daze for a $750 fine.
Rita Blackburn got a letter last weekend, too. The manager at Karma smoke shop in Indianapolis said her fine is $200.
"Some people might not think $200 is that big of a thing, but when you're family-owned businesses, small businesses, that are just out here trying to survive, $200, that's a lot," she said.
The stores actually stand to lose a lot more than that. The ATC has now notified them that it will not give back the CBD oil products seized earlier in the year.
"The items seized as evidence pursuant to this investigation are now surrendered and shall be destroyed," the ATC prosecutor wrote in the Notice of Civil Violation/Settlement Offer notification letters.
Kinee says excise officers confiscated more than $1,500 worth of CBD oil products from Happy Daze. Blackburn says her shop lost more than $3,000 worth of CBD oil during the raids.
Combined, the two stores would be penalized nearly $5,500 in fines and lost products if they accept the state's settlement offer.
"Are you kidding me?" Blackburn said, pointing to the state's settlement offer. "It's really surprising and disappointing. This hurts."
Not what the governor ordered
The decision by the ATC to fine Indiana businesses caught selling CBD oil seems contradictory to recent orders issued by Gov. Eric Holcomb.
After a lengthy legal analysis by the state, which resulted in attorney general Curtis Hill stating that all CBD oil products are illegal to sell and possess in Indiana, Holcomb ordered the state to back off its CBD crackdown – at least temporarily.
In late November, the governor announced a 60-day moratorium on raids and confiscations. He instructed excise police to educate store owners about CBD oil, and those selling CBD products containing small amounts of THC (the psychoactive compound in marijuana that causes a high) would be granted warnings – not citations or fines. Holcomb hopes the legislature will take action during that time.
The governor also went a step further, stating that CBD oil containing no THC is still legal in Indiana – clearly contradicting the attorney general's legal opinion.
"That's OK, absolutely," the governor told WTHR. "So CBD oil will still be bought and sold in the state of Indiana."
One month later, despite the moratorium, businesses that were busted this spring by the ATC find themselves slapped with fines for selling a product that stores throughout the state are now selling without fear of penalty. Based on the governor's recent declaration, ATC and its excise officers are prohibited from issuing new citations and fines.
It is not clear why the agency is issuing fines for old citations, written at a time when state agencies were still unclear about the legality of CBD oil.
"Bad government"
Defense attorney Jack Crawford is surprised to learn the ATC is now fining businesses that had been raided for selling CBD oil, and he believes the state's position is indefensible.
"This is bad government where the state has a different opinion among their own agencies, and yet the person holding the bag or paying the penalty is the small businesses," Crawford said, after reviewing the settlement offer sent to Happy Daze. "The law is extremely ambiguous, and if the governor and the attorney general can't seem to agree on what's legal and what is legal, how can you expect a business to know?"
His advice to shops that have received fine notices from the state: Wait.
"Wait and see what happens because somebody is going to look at this situation and say this is unfair," he said. "This is just absurd, like something out of Alice in Wonderland… It's just unfair and I think either the legislature or the governor will probably take action to correct this."
Several state lawmakers are planning to introduce bills that would legalize CBD oil in Indiana.
The governor's office has not responded to WTHR's inquiries about the ATC issuing fines during the moratorium period.
An ATC spokeswoman told WTHR she was not aware of the fine notices sent to businesses and would provide a response after learning more details. (See updated statement above.)
Citation records obtained by 13 Investigates show excise officers raided at least 57 Indiana businesses for CBD oil this spring. The ATC has not identified how many of those stores are now being fined.
Shop owners like Kinee say they are going to contest the settlement offers proposed by the state.
"I'm going to fight it," he told WTHR. "What they're doing to small-time shops like ours is just plain wrong."
The ATC has scheduled settlement pre-conference hearings for the business in mid-February.