INDIANAPOLIS (WTHR) — Indiana's Public Access Counselor has ruled Hamilton Southeastern Schools violated state law by repeatedly failing to explain why it suspended one of its high school football coaches.
The May 30th opinion, released earlier this month by Public Access Counselor Luke Britt, comes in response to a formal complaint filed by WTHR. The complaint alleges HSE violated the Indiana Access to Public Records Act by knowingly withholding facts involving a suspension for Fishers High School head football coach Rick Wimmer.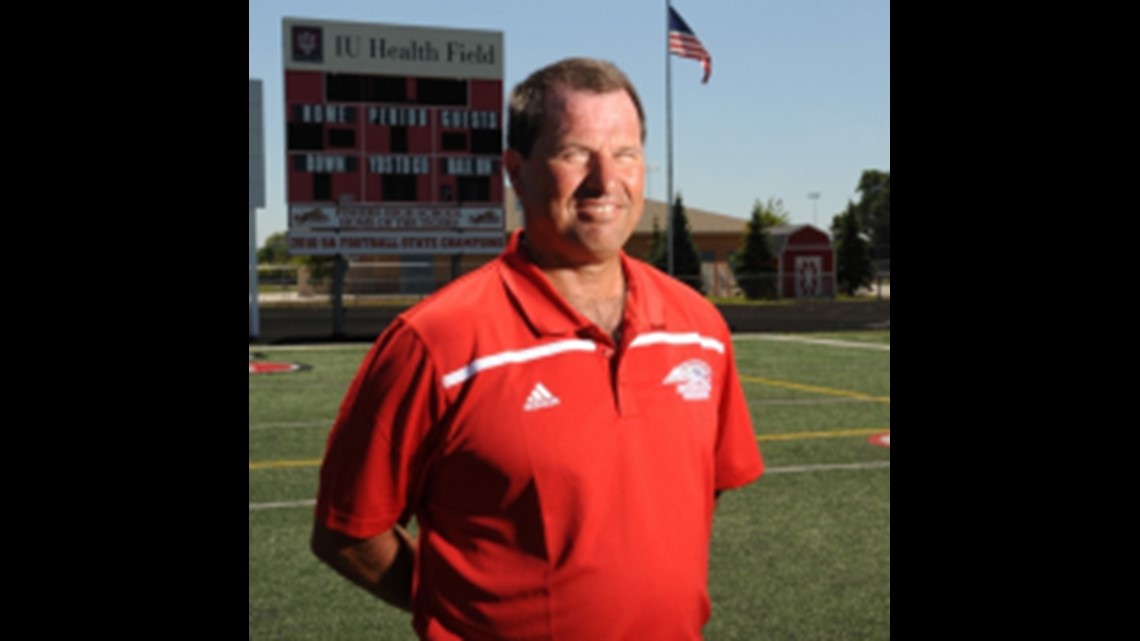 The suspension came three months after Wimmer was placed on administrative leave for a confrontation that occurred between him and a student at Fishers High School. According to a police report, the student arrived late to class and refused instructions to move to the back of the room. Police say that's when Wimmer placed his hands on the student's shoulder and upper chest. Detectives say the entire incident lasted about five seconds — but long enough for both the school district and Fishers Police to investigate.
Police quickly announced there would be no charges, and the school district reinstated the longtime coach after two weeks of paid leave and two missed football games.
It seemed the situation was over. Then the board issued its secretive unpaid suspension in December.
Where are the facts?
Despite repeated questions and requests from Eyewitness News, HSE's superintendent and legal counsel declined to clarify whether the suspension was related to the previous classroom incident or for a situation that occurred later. In several e-mailed responses, HSE said Wimmer was suspended "due to not implementing instructions for classroom management strategies" and "due to not following Board of School Trustees Policy G02.06." Both of those explanations are extremely vague and, in WTHR's opinion, fail to provide facts required by Indiana law.
Indiana's Access to Public Records Act allows public agencies, including school districts, to keep most information in their employees' personnel file confidential. But some limited personnel information must be released, including "the factual basis for a disciplinary action in which final action has been taken and that resulted in the employee being suspended, demoted or discharged."
WTHR filed a complaint with the Public Access Counselor after HSE declined to provide such facts.
"A reader of a factual basis should have some tangible indication as to why a public employee is disciplined," Britt wrote. "Factual basis contemplates at least a fact. I would argue that a fact equates to a detail specific to an incident or set of incidents… I trust HSE will take these considerations under advisement and craft a factual basis which strikes a balance between employee-student privacy expectations and a reasonably transparent description of what actually took place."
The school district chose to ignore the Public Access Counselor's recommendation. Following Britt's opinion, HSE again denied WTHR's request for a factual basis that would better explain Wimmer's week-long, unpaid suspension. So WTHR again appealed to the state for help and, this time, Britt was much more stern in his findings.
School's arguments rejected
Why wouldn't you want the fullest level of transparency?
"Public school employees, including teachers, coaches, administrators, superintendents and school board members work for and on behalf of the public at large. They are servants of the people. Therefore it stands to reason the taxpayers who pay their salaries have the right to know, to a certain extent, when a public employee has misbehaved and how," Britt wrote. "I consider the non-compliance of my recommendation ... to be a violation of the spirit and intent of Indiana Code."
In his opinion, the Public Access Counselor also rejected the school district's argument that it must withhold more information about Wimmer's discipline to protect employee and student privacy.
"I am inclined to agree with [WTHR] that HSE is conveniently using [federal law] to avoid releasing any facts at all surrounding the employee suspension to protect an unrecognized and overprotective notion of public employee privacy," said Britt, who consulted with other state agencies in reaching his decision. "I have discussed this matter with the Indiana Department of Education. While it recognizes the importance of student privacy (as does this Office), it does not consider the release of a factual basis for employee discipline to be a compromise of student privacy if the student is not identified."
WTHR has made no request for HSE to release the name of any student who might have been involved in a situation that resulted in the football coach's suspension.
Government watchdogs say the Public Access Counselor's opinion is a win for Hoosier citizens.
"Clearly, in the broader spirit of the law, this information should be released, so I am pleased to see this opinion favors public access and criticizes Hamilton Southeastern," said Gerry Lanosga, a journalism professor at Indiana University who also serves on the board of the Indiana Coalition for Open Government. Lanosga believes HSE's attempt to hide information about the football coach's discipline should concern not only the Public Access Counselor.
"This is very relevant, very interesting information to people who have children at Hamilton Southeastern Schools, and I think they have a right to know in more detail what the basis of the discipline is," he said. "If you're running a school corporation where parents send their children, where they are interested in their children's education, their children's safety, they want to know about the teachers and employees who are around their children, why wouldn't you want the fullest level of transparency?"
Strong statement sets new standard
A prior opinion released by the Public Access Counselor's office in 2011 stated that a "short, cursory statement" is sufficient when providing a factual basis for a public employee's discipline. The more recent opinions released by Britt reject that position, providing new precedent for state agencies across Indiana.
According to Britt, factual basis "should include actual facts of the misdeeds supporting a policy violation. It does not have to be a detailed narrative or include names of victims or specific summaries, but it should give the reader a reasonable idea of why someone was fired, suspended or demoted."
"There's a very strong statement here from the Public Access Counselor that we need a more detailed factual basis about disciplinary cases," Lanosga said. "This advisory opinion gives guidance to agencies all over the state and it stretches beyond Fishers. Parents, media, citizens across the state can use this opinion to gain access to similar records."
Britt says this latest opinion should send a clear message to schools and government agencies throughout Indiana.
"My hope is the opinion encourages all public agencies to recognize the stewardship owed by public employees to taxpayers. In my experience, secrecy fosters more distrust than plain speaking and transparency," Britt told WTHR.
Based on the new opinion, it is not yet clear if HSE will provide more facts surrounding the suspension of its longtime football coach. Opinions from the Public Access Counselor are advisory and intended to provide guidance. However, if the school district again rejects the findings of the Public Access Counselor, WTHR can now file a lawsuit in an attempt to further compel the release of information and, if successful, can also be awarded attorney's fees associated with the litigation.
Wimmer just finished his eleventh season as the head football coach at Fishers High School. Earlier this year, he told 13 Investigates he does not want to discuss the discipline that the school board issued against him.
"I'd really rather not comment on it. It's kind of a done deal. It's behind us now," the coach told WTHR by phone in January. "They did what they felt they needed to do. They have to put things in public to a degree, but they can also protect people if they choose to. From my perspective, it's over."
WTHR will update this story once we receive a reply from Hamilton Southeastern Schools.
Disclosure: As a journalist, Gerry Lanosga worked as a reporter at the Indianapolis Star and as a producer at WTHR. He left Eyewitness News in 2006 to teach journalism at Ball State University and Indiana University and to continue his advocacy for open government.