INDIANAPOLIS (WTHR) - Alfie Ballew has worked at the Marion County Coroner's office for more than two decades. She sees death every day, but even she is stunned by what's going on right now.
"I've never seen anything like this," said the chief deputy coroner. "This is a disease that is actually causing people to die at a rate that I have never seen in my 20 years of conducting death investigations."
She's talking about a nationwide opioid epidemic that has hit Indiana hard – killing more than 4,000 Hoosiers in the past decade. Last year, at least 277 people died from opioid overdose in Marion County alone.
"I don't see that the numbers are decreasing at all. They're continuously going up," Ballew said, shaking her head. "It is scary."
Across Indiana, other county coroners tell 13 Investigates they are seeing the same thing. The opioid epidemic is placing a strain on local resources – and on the investigators – as the overdoses and the death toll continue to rise.
An hour north of Indianapolis, Tippecanoe County is dealing with opioid overdoses every day, and the county morgue is trying to keep up.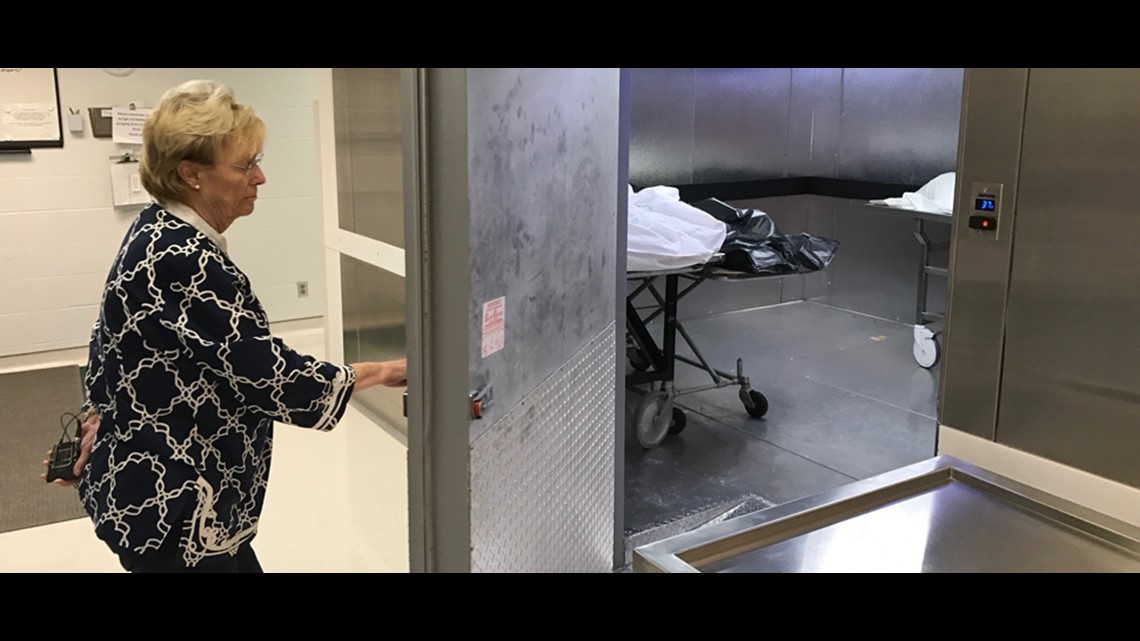 "We have a steady stream of overdoses. We don't want to be as busy as we are," said Donna
Those numbers are consistent with what is happening throughout the state, where 26 counties reported at least five opioid overdose deaths in 2016. Only 10 Indiana counties had that many opioid-related deaths in 2010.
The total numbers of deaths also shows a sharp increase. 279 Hoosiers died from overdosing on opioids such as heroin, fentanyl and oxycodone in 2010. By last year, that number jumped to 757 deaths in a single year – a 271% increase – and the real death toll in Indiana is likely much higher because opioid fatalities are often underreported.
Counties have had to plan for that increase in unexpected ways. As the opioid crisis exploded in 2011 and 2012, Tippecanoe County discovered it didn't have space for all of the victims.
"Our refrigerator unit at that point only held six [bodies]. It was filled. I also had funeral homes holding bodies for me, and there were bodies at the hospitals. There were so many of them … and it was primarily drug overdoses," Avolt told WTHR. "I'm thinking: 'Where can I put some more bodies?'"
Because of those overdoses, Tippecanoe County spent more than $75,000 to buy a new walk-in refrigeration unit that can hold twice as many bodies at the morgue. Last month, on the day WTHR visited the coroner's office, there were three bodies in that large cooler – all victims of opioid overdose.
"It's very common," said Avolt as she walked into the refrigerator. "We have a problem."
That problem could be much worse.
Avolt says the death toll would be much higher if weren't for Narcan, a fast-acting drug that can help reverse the effects of an opioid overdose.
"There was one week where there was five overdoses. Only one made it to this office. Narcan had saved the other four," she said.
Tippecanoe County paramedics administered 372 doses of Narcan through the first nine months of 2017, according to Darrell Clase, the county's EMS director.
"Every year, that number has been rising significantly. If we didn't have Narcan as a front line medication, we would see a lot more deaths that what we're seeing now," Clase told 13 Investigates.
[article_tokens:suggested_links]
But responding to drug overdoses on a daily basis has stretched the county's resources. Clase says the county does not have enough ambulances to adequately respond to the increased number of calls. Tippecanoe County is on track for a record 21,000 emergency response calls in 2017 – in part, because paramedics are responding to save some opioid users multiple times in the same week.
Unfortunately, we are seeing a lot of the individuals on a daily basis. We'll respond to the home in the morning and then again later that same night," he said.
Craig Lutz says the same thing happens in Johnson County. The Johnson County coroner sees it first hand, because he also serves as an EMT for the Franklin Fire Department.
"You get some addresses stuck in your head because we've been there time and time and time again," Lutz said. "There's been some people we've given Narcan seven or eight times, and you'd think they'd learn but they don't."
Despite the record number of overdoses, deaths and bodies, the coroners say the sheer scale of the opioid epidemic has not numbed them to the fact that thousands of families are losing loved ones to this widespread crisis.
"This crosses all socio-economic boundaries, all races, all ages. There is no such thing as a typical person who dies from opioids," said Avolt, adding that more than half of all autopsies performed in Tippecanoe County this year will be for opioid-related deaths.
"Some of the cases we see are teenagers," explained Lutz. "I've got two children myself, so when you're going to these cases, it does hit home."
On a daily basis, Ballew counsels families touched by the opioid epidemic as they come to the morgue to identify their loved ones.
"I understand the pain they're going through. I really do," she said. The deputy coroner in Marion County has not comforted only other families touched by opioids. She has also comforted her own.
"My cousin was found unresponsive and we had no idea he was even using any type of drugs. I was shocked. The whole entire family was shocked," she told WTHR of the heroin overdose that took place in 2014. "I was there at the scene. These drugs, they do not discriminate."
Years later, Ballew wonders what can be done to slow the constant stream of victims that still fill the refrigerators at morgues around the state.
"We know it's a problem. We know it's an issue and we're talking about it, but we're not doing anything about it," she said. "What are we doing? I think we have to be doing more."