INDIANAPOLIS (WTHR) — A state senator has filed a bill that would, for the first time, clearly legalize the sale and possession of CBD oil in Indiana.
Sen. Jim Tomes (R – Wadesville) filed S.B. 214 Wednesday morning in the hopes of making the product readily available throughout the state.
"When we're done, CBD will be as easy to obtain as baby aspirins," he told WTHR, just minutes before filing the bill at the Indiana Statehouse.
The legislation clarifies the term "controlled substance" in Indiana by stating it "does not include CBD oil." Tomes says that minor change would make CBD oil products legal for anyone who wants to use them in Indiana.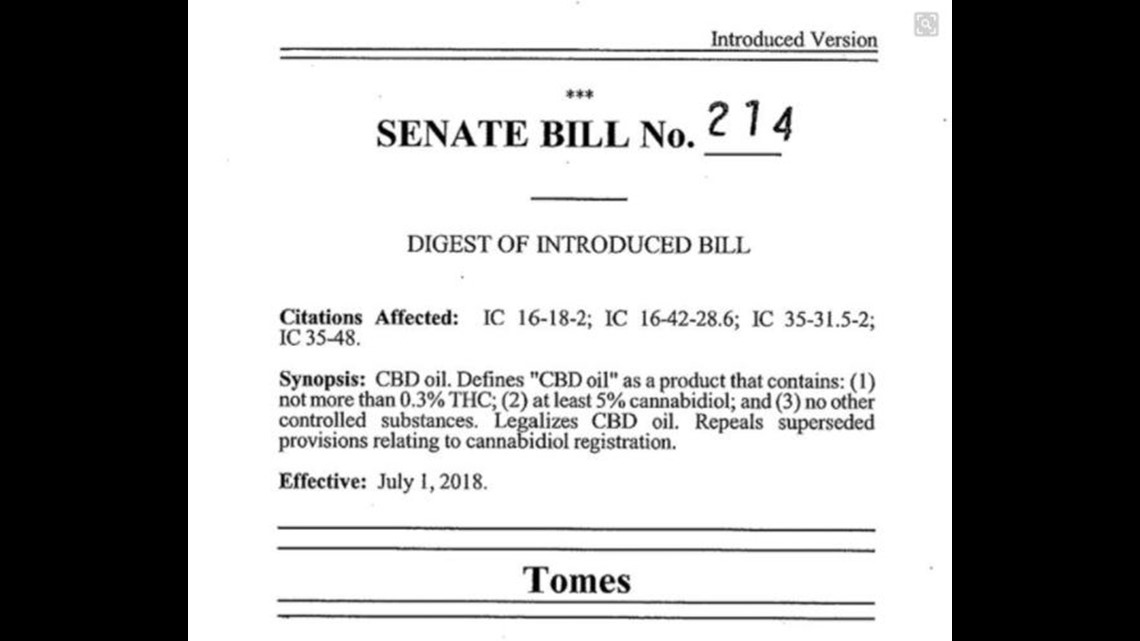 The proposed law comes exactly six months after 13 Investigates exposed a statewide crackdown on the controversial product. WTHR's investigation revealed Indiana State Excise Police – without the knowledge of the governor's office, the attorney general or Indiana State Police – raided dozens of grocery stores, smoke shops and gas stations across Indiana, confiscating their CBD products and citing the businesses with possession of marijuana.
CBD oil, which comes from cannabis plants, does not contain THC and, therefore, does not cause a "high" like marijuana. Nevertheless, attorney general Curtis Hill recently released a legal opinion that CBD oil is not legal under state and federal law.
Across the state, Hoosiers have told WTHR that CBD oil has greatly reduced their pain and improved other medical conditions.
Tomes said he, too, has heard from countless constituents, telling him the same thing: CBD oil has improved their lives without the serious side effects commonly seen with prescription painkillers.
"These are families that have the horror and the anguish of dealing with medical conditions and, if that's not bad enough, now we're in a turmoil of what's going to be legal and what's not," Tomes explained. "I want this bill to just cut to the chase, just get rid of all of this unknown and just make this product legal for them."
Praying for passag
Thousands of Hoosiers will be watching – and hoping – as lawmakers debate the bill next month.
Roger Johnson is one of them. The retired, former state fire marshal now suffers from Parkinson's Disease and degenerative arthritis. He says traditional prescription painkillers make him feel "loopy," so he has turned to CBD oil instead.
He tells WTHR the pain in his ankles, hands, knees and shoulders has dropped tremendously – so much, that he can now walk to his living room nearly pain-free with the help of a walker.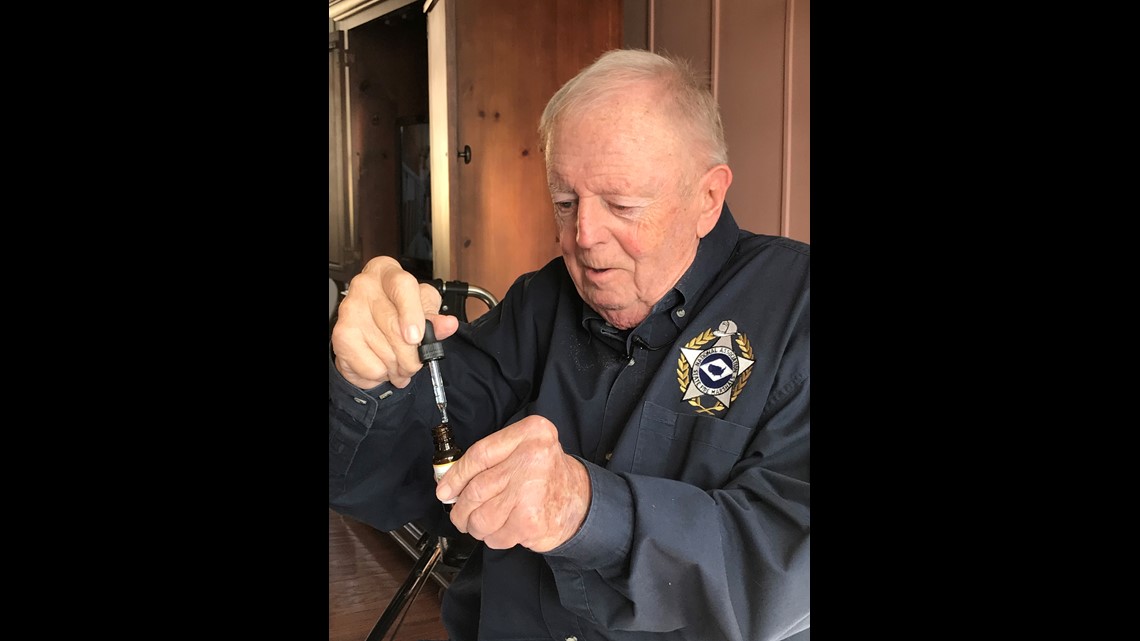 "I take it twice a day and, my goodness, the pain has really lessened," he said. "And it's helped my Parkinson's, too. Just relaxes you, makes you feel comfortable, and the pain goes away. So to the General Assembly I say: they need to resolve the issue once and for all. I would love to see the law changed."
That's what 14-year-old Peyton Allen is hoping for too.
"We're trying everything we can find," he told 13 Investigates. Allen has started taking CBD oil earlier this month to treat a type of epilepsy that, he says, has turned him into a prisoner in his own home.
Sunlight triggers the Greencastle teenager to experience grand mal seizures that are both unpredictable and terrifying.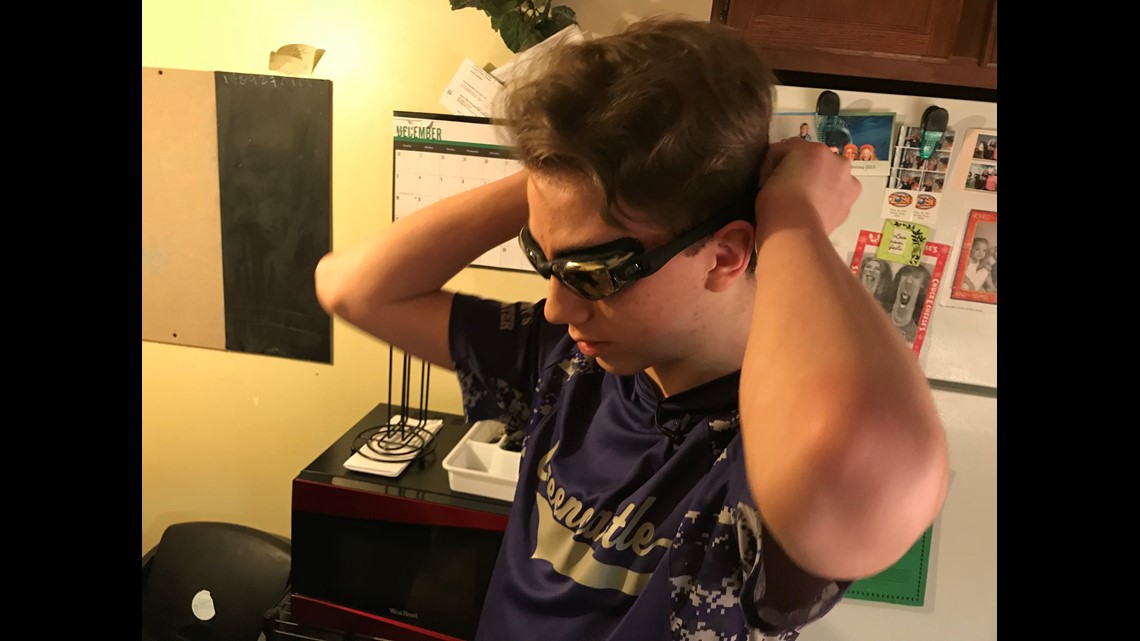 "It feels like something exploded in my head – just dizziness and spots everywhere – and then you don't really remember anything when you wake up, but you know you had a seizure," Allen explained.
"The first time it happened, I'm just shaking like 'What in the world is going on?'" said his mother, Miranda Leonard.
Peyton used to play baseball with his friends. He had to quit last year because of the seizures. He hasn't been able to go to school because walking to the car places him at an increased risk of seizures. Those seizures used to happen only on sunny days, but this year, he suffered a seizure while outside on a cloudy day, too. If he does have to go outdoors, he now wears special goggles to block out the light.
"You hear kids talk about how much they enjoy their childhood and take it for granted. That's not me," he said.
The type of epilepsy Allen has does not qualify him for a new state registry that allows some epilepsy patients to take CBD oil. His family fears without a new law, they'll lose all access to CBD.
"I worry about that constantly, and I pray every day that something will work," his mother told Eyewitness News. "Nothing else is working and it's a last resort."
"End the chaos"
Tomes says that is why he's fighting to pass his bill – not just to give Hoosiers access to CBD oil, but also to give them hope.
"That's my goal," he said. "It's been shown to be able to make life better for so many people."
Rep. Jim Lucas (R – Seymour) plans to introduce another bill next week that would also legalize CBD oil. It would also allow farmers to grow and research industrial hemp (the type of cannabis that produces CBD oil) – something that is now taking place in Kentucky and other several other states through programs that are federally-approved.
"We need to end the chaos we're going through right now with CBD oil in Indiana and end the embarrassment that we've created," he told WTHR. "My bill is going to make it crystal clear what's legal and what's not legal. It's time to do this and I think Indiana is ready."