FISHERS, Ind. (WTHR) — Exactly one year after Hamilton Southeastern Schools quietly suspended Fishers High School football coach Rick Wimmer, the school district is still refusing to release details of the suspension. 13 Investigates has learned Hamilton County taxpayers are unknowingly bearing the expense for HSE to hide those details from the public.
The school district's decision – which appears to be a violation of existing Indiana law – has now captured the attention of Indiana lawmakers. They will soon consider new legislation that would prohibit school districts and other public agencies from hiding details about employee misconduct and rule violations that warrant serious discipline.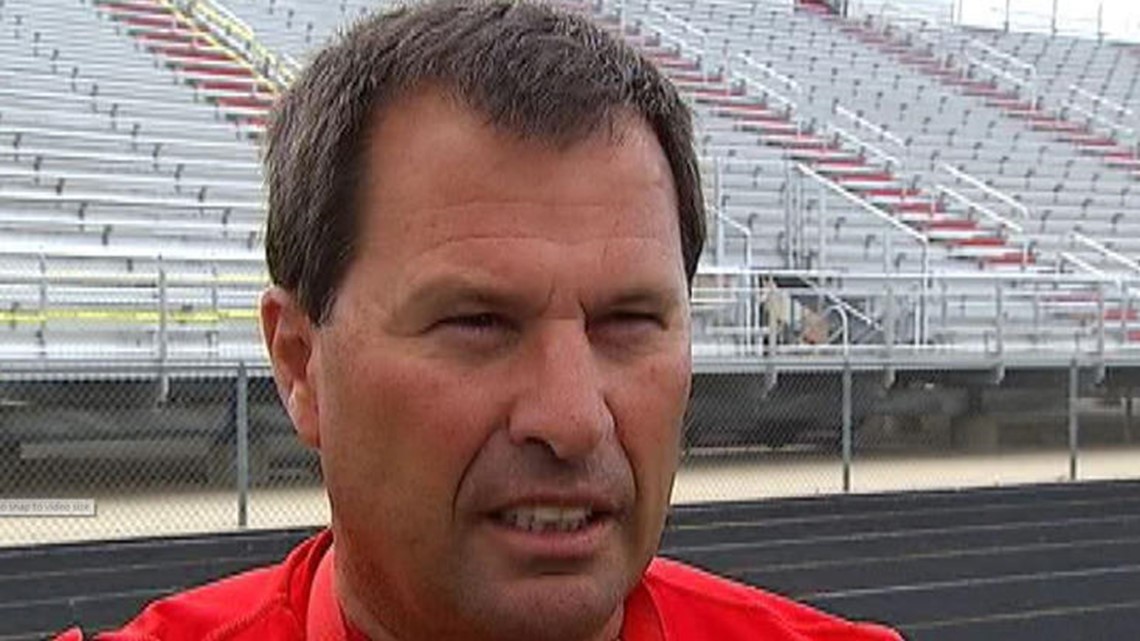 The HSE board of education unanimously voted to suspend Wimmer at its December 14, 2016, board meeting. But the board approved the unpaid 5-day suspension without ever mentioning the coach's name – in fact, the only public record of the discipline shows only Wimmer's employee ID number. (Prior to that meeting, all other HSE staff who received suspensions were listed by name in the board agenda.)
13 Investigates exposed the suspension after multiple inquiries to school administrators, who originally declined to confirm the identity of Employee #10042.
The suspension came three months after Wimmer was placed on administrative leave for a confrontation that occurred between him and a student at Fishers High School. According to a police report, the student arrived late to class and refused instructions to move to the back of the room. Police say that's when Wimmer placed his hands on the student's shoulder and upper chest. Detectives say the entire incident lasted about five seconds -- but long enough for both the school district and Fishers Police to investigate.
Police quickly announced there would be no charges. And the school district reinstated the longtime coach after two weeks of paid leave and two missed football games.
It seemed the situation was over. Then the board issued its secretive unpaid suspension a few months later.
Hiding the details
WTHR requested more information about the suspension, citing Indiana's Access to Public Records Act, which requires school districts to provide a "factual basis" for discipline taken against employees who are demoted, suspended or fired.
Despite repeated questions and requests from Eyewitness News, HSE's superintendent and legal counsel declined to clarify whether the suspension was related to the previous classroom incident or for a situation that occurred later. In several e-mailed responses, HSE said Wimmer was suspended "due to not implementing instructions for classroom management strategies" and "due to not following Board of School Trustees Policy G02.06." Both of those explanations are extremely vague and, in WTHR's opinion, fail to provide facts required by Indiana law. WTHR responded by filing a formal complaint with the Indiana Public Access Counselor, alleging HSE violated the law by knowingly withholding basic information that would establish a factual basis for the suspension.
In his advisory opinion, Britt acknowledged that schools walk a fine line between protecting sensitive employee information and providing information to the public. But the 4-page report was critical of HSE for not providing transparency involving Wimmer's suspension, and Britt said the school district's response to WTHR was "lacking sufficient detail."
"A reader of a factual basis should have some tangible indication as to why a public employee is disciplined," Britt wrote. "Factual basis contemplates at least a fact. I would argue that a fact equates to a detail specific to an incident or set of incidents… I trust HSE will take these considerations under advisement and craft a factual basis which strikes a balance between employee-student privacy expectations and a reasonably transparent description of what actually took place."
HSE chose to ignore the Public Access Counselor's suggestion to provide additional details surrounding the discipline.
In a letter to WTHR, an attorney representing the school district stated releasing more information about Wimmer's suspension would violate a federal law prohibiting school districts from releasing private student records. The attorney did not offer any evidence to show how releasing details about the coach's discipline would jeopardize student privacy.
Violating the law
Eyewitness News responded to the school district's continued denial by filing another complaint with the Indiana Public Access Counselor, asking him once again to find HSE in violation of the Indiana Access to Public Records Act for failing to provide a reasonable "factual basis" as required by law and as recommended by the Public Access Counselor.
Britt filed a second opinion, which was once again critical of HSE and its decision to hide information that parents and taxpayers are entitled to see under Indiana law.
"Public school employees, including teachers, coaches, administrators, superintendents and school board members work for and on behalf of the public at large. They are servants of the people. Therefore it stands to reason the taxpayers who pay their salaries have the right to know, to a certain extent, when a public employee has misbehaved and how," Britt wrote. "I consider the non-compliance of my recommendation ... to be a violation of the spirit and intent of Indiana Code."
In his opinion, the Public Access Counselor also rejected the school district's argument that it must withhold more information about Wimmer's discipline to protect employee and student privacy.
"I am inclined to agree with [WTHR] that HSE is conveniently using [federal law] to avoid releasing any facts at all surrounding the employee suspension to protect an unrecognized and overprotective notion of public employee privacy," said Britt, who consulted with other state agencies in reaching his decision. "I have discussed this matter with the Indiana Department of Education. While it recognizes the importance of student privacy (as does this Office), it does not consider the release of a factual basis for employee discipline to be a compromise of student privacy if the student is not identified."
WTHR has made no request for HSE to release the name of any student who might have been involved in a situation that resulted in the football coach's suspension.
According to Britt, factual basis "should include actual facts of the misdeeds supporting a policy violation. It does not have to be a detailed narrative or include names of victims or specific summaries, but it should give the reader a reasonable idea of why someone was fired, suspended or demoted." He also expressed frustration that HSE continues to keep secrets from parents in the school district.
"When something like this happens, the public has the right to know what happened," he told WTHR this summer.
Taxpayers paying $240 per hour
While HSE is withholding information that would explain why the school board suspended its football coach, taxpayers are footing the bill. 13 Investigates has obtained invoices showing the school district has paid a private law firm more than $6,000 to help it hide information about the coach's discipline.
The bills, which WTHR obtained through the Indiana Access to Public Records Act, list the expenses for attorneys at Church, Church, Hittle & Antrim, a Noblesville law firm hired to provide legal services to the school district. From February through early June, HSE paid the law firm at least $6,263 for legal advice related to Wimmer's suspension, according to redacted invoices that show only expenses related to the coach's disciplinary action.
Those charges include at least 10.5 hours of work by CCH&A attorney Seamus Boyce at a rate of $240 -- $250 per hour. 13 Investigates has not yet received invoices that show related legal costs incurred by HSE since June.
Last month, in response to continued requests by Eyewitness News, HSE provided 13 Investigates with some additional information contained in Wimmer's personnel file. But the school district again declined to provide factual details to clarify what actions prompted his suspension.
Changing state law
As legal costs rise for taxpayers and the school district continues to defy the Indiana Public Access Counselor, a state lawmaker now says enough is enough. Sen. Mike Delph (R – Carmel) wants to change state law to help ensure parents can learn why their kids' teacher was suspended or fired.
"Indiana law should be clarified so there is no ambiguity at all," he told WTHR. "If somebody is sweeping something under the rug because of a popular, well-regarded teacher, perhaps the punishment wasn't as strong as it should have been, and i think the public has a right to know: was the penalty commensurate with the crime?"
Delph, who represents portions of Hamilton and Marion counties, just filed a bill that would prevent school districts and other public agencies from hiding employee misconduct. In cases involving the serious disciplinary action of a public employee, his bill would require school districts to clearly identify the rule or policy violated, as well as a finding of fact that support the suspension, demotion or dismissal. The changes to the Indiana Access to Public Records Act would require public agencies, including school districts, to create and disclose a document detailing the factual basis for discipline if one does not already exist. The law would prevent public agencies from quietly handling serious personnel discipline without creating any paper trail – something that is currently happening, according to Delph.
"The public pays for these employees' salaries with public dollars, so we would require a public agency to disclose basically the who, what, when, where, why and how surrounding the [disciplinary] action. Parents, other teachers and citizens in the community really have a right to know this information," the senator explained. "It's all about accountability. It's about public tax dollars. It's about knowing that public agencies are always acting in the best interest of the public."
National attention
As lawmakers prepare to tackle the transparency issue at the Indiana Statehouse, the HSE case is also gaining some national attention.
"If we get involved in a case, it means we're serious," said Adam Marshall, the Knight Foundation Litigation Attorney at RCFP.
The Reporters Committee for Freedom of the Press is a non-profit journalism advocacy organization based in Washington, D.C. It provides legal assistance to media outlets in their fight to inform the public, and it helps journalists fight for public records that public agencies want to keep secret. Marshall says HSE's decision to withhold facts from parents and taxpayers – despite a law that says those facts must be disclosed – attracted his organization to get involved.
"One of the core goals of the Reporters Committee is ensuring we can help reporters tell the public about what is going in their government, and this case fits exactly into that criteria for us," he said. "This is really important for the public to understand the factual basis behind what happened here."
Wimmer just finished his twelfth season as the head football coach at Fishers High School. Earlier this year, he told 13 Investigates he does not want to discuss the discipline that the school board issued against him.
WTHR is committed to getting facts to help explain what actions prompted the suspension of the Fishers High School football coach, and will post more information as it becomes available.