INDIANAPOLIS (WTHR) — Karen Longére has been using IndyGo's Open Door bus service for nearly two decades.
Because of chronic health conditions that make walking and climbing stairs difficult, she desperately needs the paratransit service to get to her downtown job, medical appointments and grocery stores.
"I'm grateful it's there," Longére told WTHR. "For people like me, it's our only way around."
But she said the transportation system that gives her independence also holds her hostage due to unpredictability and excruciatingly long delays.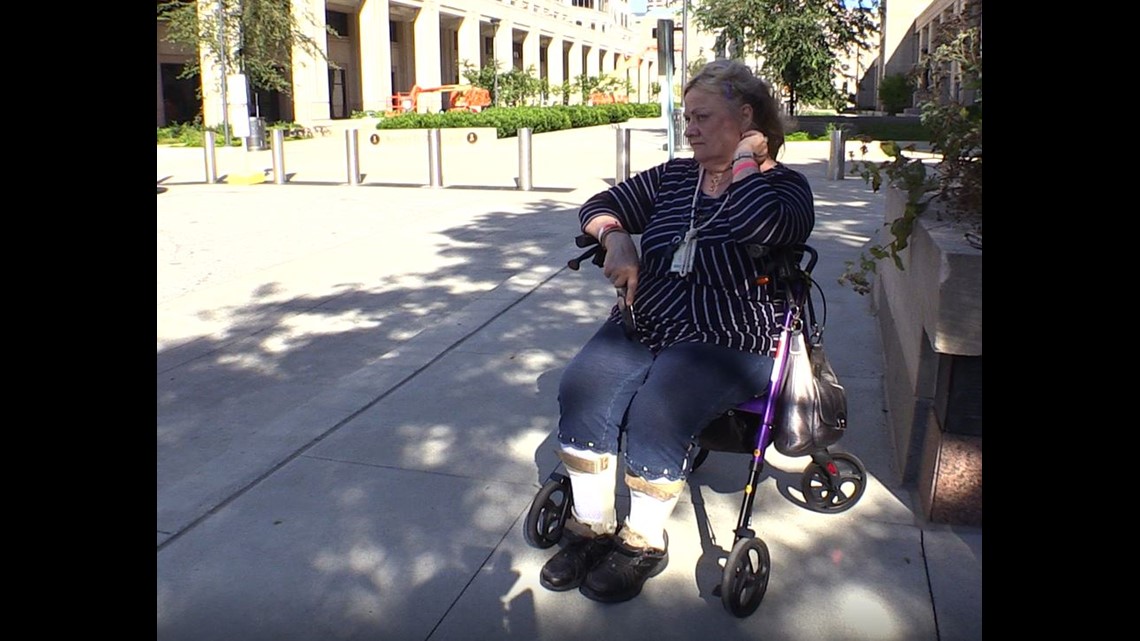 The longtime state staffer said a daily pickup scheduled for 4:45 p.m. to take her home from work usually results in a bus arriving 45 to 60 minutes late. The bus ride that follows often criss-crosses the city to pick up and drop off other disabled riders, meaning it can be 8 p.m. or later before Longére arrives home. That is more than three hours to get from her office to her house – just seven miles away.
"At times, especially at night, it's absolutely horrible," she said. "When people are at home in pajamas getting ready to go to bed, I'm still on the bus. It's just unacceptable to people with disabilities … and it shouldn't be this way."
Months after IndyGo announced dramatic action to help lessen long service delays for thousands of Indianapolis bus riders who have disabilities, it appears the fixes are not working. 13 Investigates has learned IndyGo's Open Door on-time rates are falling while ride times and call wait times are going up – causing continued frustration for both riders and the transit system that has pledged to improve the reliability of its troubled service.
Terrible performance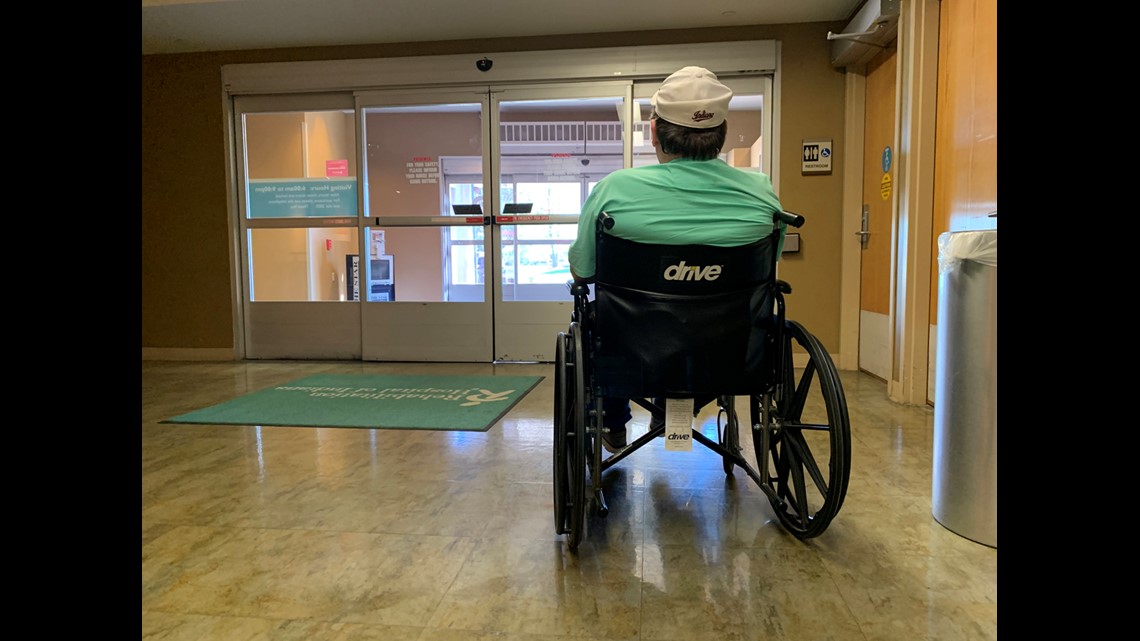 It's been almost a full year since 13 Investigates first exposed embarrassingly low on-time performance levels for IndyGo's paratransit service, resulting in customers missing work and school and being forced to cancel or reschedule critically important medical appointments.
WTHR's investigation showed on-time performance averaged 68 percent in September and 77 percent in October of last year — far below the performance level considered acceptable by IndyGo. Data obtained by 13 Investigates showed on some days, nearly half of all Open Door pick-ups were at least 30 minutes late. Hundreds of paying customers were left waiting for their rides – sometimes for hours – and inefficient route scheduling meant some riders were stuck on buses for two, four, even six hours just to make a trip across town.
"I can't depend on Open Door to do anything I need to do"
One rider told WTHR she was hospitalized after late Open Door buses forced her to miss several dialysis appointments. The family of another rider filed a missing person's report with the Indianapolis Metropolitan Police Department after it took nearly four hours for their son to be transported five miles to his home from Ben Davis High School.
"This problem has actually been going on for years," rider Tony Eckert told WTHR last fall, as he waited for an Open Door bus that was nearly 90 minutes late. "I can't depend on Open Door to do anything I need to do, and it's just gotten to the point where people don't want to go out anymore because they cannot schedule anything. I'm very frustrated."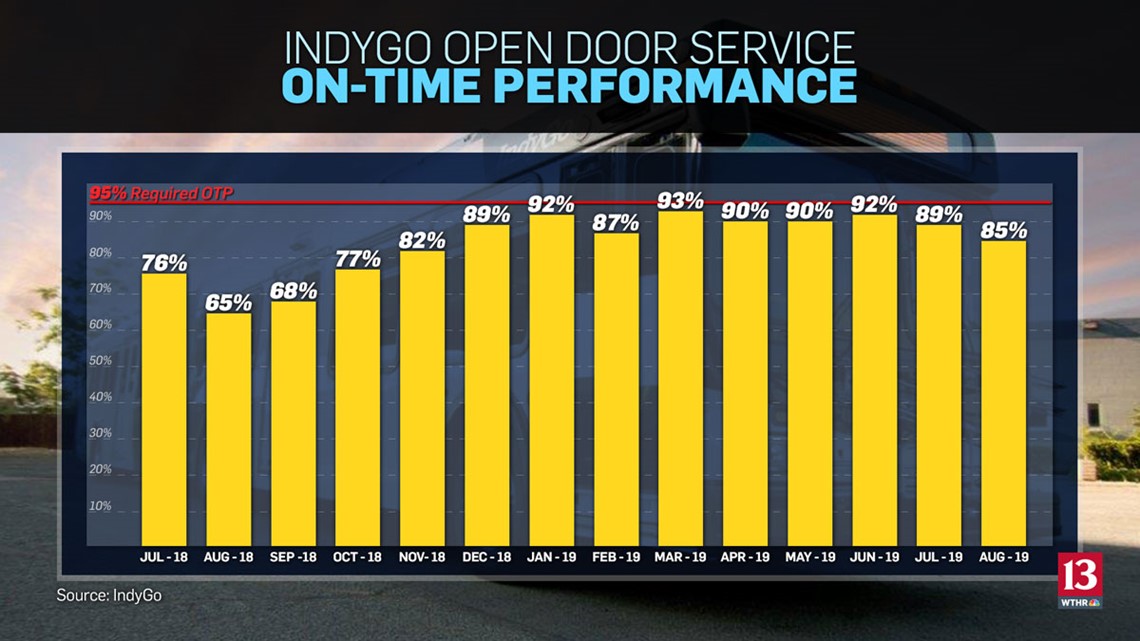 Contractor gets blamed
IndyGo blamed the problem on Transdev, a transportation contractor that took over operations of the Open Door service in April 2018. In its $55 million, 5-year contract with IndyGo, Transdev pledged to maintain a 95 percent on-time performance rate while operating the paratransit bus service. About 4,000 riders who have disabilities in Marion County rely on that service.
Amid chronic scheduling and staffing problems, Transdev struggled to meet its performance benchmarks, triggering outrage by both riders and members of the IndyGo Board of Directors who called the service "ridiculous" and "unacceptable." The board responded by issuing fines and withholding payment from the contractor.
IndyGo started fining Transdev last fall for service deficiencies, an allowable penalty for poor service outlined in the company's contract. To date, Transdev has racked up $586,701 in penalties for low on-time performance, low call answer rates, high complaint volumes, long ride times and missed trips due to late pick-ups. When the fines did not work, IndyGo notified the company it was withholding $960,307 – its entire September 2018 invoice – for its "continuing failure to perform its contractual duties."
At that point, Transdev assigned a new manager to take control of its Indianapolis service center, and on-time rates began to steadily improve.
But that trend reversed in July, and by August the on-time rate for IndyGo's paratransit bus service dropped to 84.6 percent — its lowest on-time performance in nine months. On most Mondays and Tuesdays last month, about one in four Open Door riders experienced significant delays as daily on-time percentages fell as low as 69 percent. Thousands of late rides resulted in many angry customers, who insist IndyGo still has a long way to go to remedy ongoing and systemic problems within its bus service for the disabled.
"There might have been an improvement for a couple weeks, but it's right back to the same thing," Longére told WTHR last week, as she waited for a bus that was already 20 minutes late. "I haven't seen any improvement in the service, so to say it's better is nothing but a lie. In the background, nothing has changed."
Other Open Door riders who spoke with 13 Investigates agree, and they said reform is desperately needed.
More Open Door riders speak out
"They were supposed to pick me up at 7 p.m. - it was about 9:10 p.m. when they got there"
Brad Blaker is a railroad engineer who looks too young to be retired, but medical problems left him no choice. He's been battling widespread nerve damage suffered 12 years ago during a brain operation, as well as a broken foot that required doctors to insert eight screws, two pins and a plate in his right foot last winter. At the same time, Blaker also battles Open Door on a weekly basis as he tries to get to medical appointments across Marion County.
"I have to schedule my pick-ups at least two and half hours early if I want to be on time, and sometimes they just don't show up," he said, adding that his scheduled Open Door rides arrive outside their on-time window about 90 percent of the time. "I don't want to say it wastes your whole day, but it kind of does."
Rana Henry is still irate about a daylong IndyGo experience she had last month. The Open Door bus that was supposed to pick her up at her west-side home was almost an hour late. Henry said the driver then took her to the wrong address because of a dispatch error. Two and a half hours after her scheduled pick-up time, she eventually arrived at her friend's 50th birthday party nearly 90 minutes late. The trip home was even worse.
"They were supposed to pick me up at 7 p.m. It was about 9:10 p.m. when they got there. I'm like, 'Are you kidding me?'" she recalled. "A man was on the bus screaming. He had been on the bus for over three hours, and he was upset because he's diabetic and needed to get home to take his insulin. It was 9:45 before they started to load me on the bus. I got home at 10:10, and I know the other man had to be on the bus more than five hours. At one point, we drove right by his neighborhood."
Henry balks at the idea that the IndyGo paratransit service has improved over the past year since 13 Investigates first reported on its service problems.
"Out of all last year, I probably rode it 20 times and only five were good trips. All the others had a long delay or I was riding the bus for hours," she said. "I wouldn't say they solved much of anything. This year has been horrible. It's gone from bad to worse with this new company."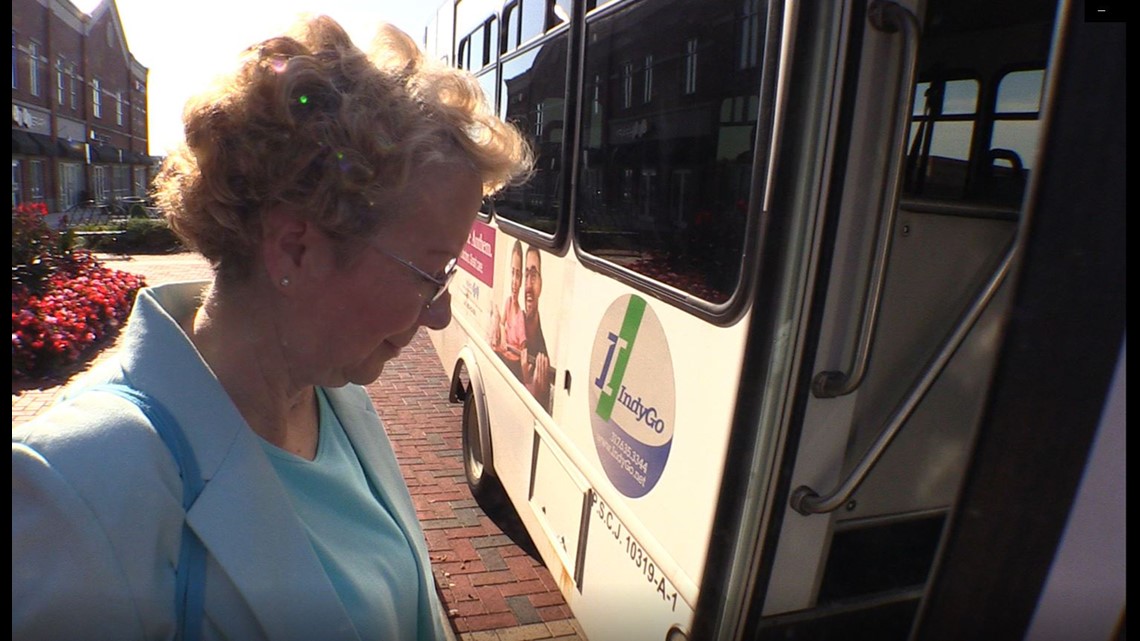 Linda Gosnell contacted WTHR to also challenge claims that the paratransit system dramatically improved earlier this year. "I don't think they're any better at all," she said. "The norm is, more often than not, it's going to be a long wait and a long ride. Twice this summer I didn't get picked up at all. I feel things are at a critical level."
Gosnell, who relies on Open Door service to get to and from her job in Lawrence, schedules each ride three days in advance. Most of her 11:30 scheduled rides arrive before noon, within the 25-minute pick-up window to qualify as on time. But she said her rides home arrive 60 to 90 minutes past her scheduled pick-up time about 60 percent of the time.
She understands Open Door is a ride share service, so she is unlikely to go straight home after her pick-up. She does not, however, understand why the buses often travel back and forth across the city, using inefficient routes to transport riders.
"I live on the south side of Indianapolis and scheduled a ride to pick up my laptop at Best Buy in Greenwood. The bus gets me on the south side and takes me clear to the airport to take a lady to work before I come all the way back down to Greenwood to get my computer. It makes no sense," she told WTHR.
Gosnell described another recent ride in which she and several other customers sat on an Open Door bus from 5:15 p.m. to 6:00 p.m. in a grocery store parking lot while waiting for another rider who had a 6 p.m. pick-up time. That night she spent nearly two and a half hours on the bus, which had no working air conditioning.
"That's happened a lot this summer, and it's really tough on the people who ride these buses," said Gosnell, who estimates that three out of every five rides she's taken on an Open Door bus this summer did not have air conditioning. "You have people with breathing problems, people on dialysis, people like me who went through chemo and radiation, drivers who seem like they are going to pass out at the wheel. It was just terrible."
Frequent Open Door riders tell WTHR they have trouble contacting dispatchers when their scheduled buses are extremely late, with calls being placed on hold or not answered at all.
"The drivers are fabulous. I really think the problem is dispatch. It's terrible," Henry said.
Concern inside IndyGo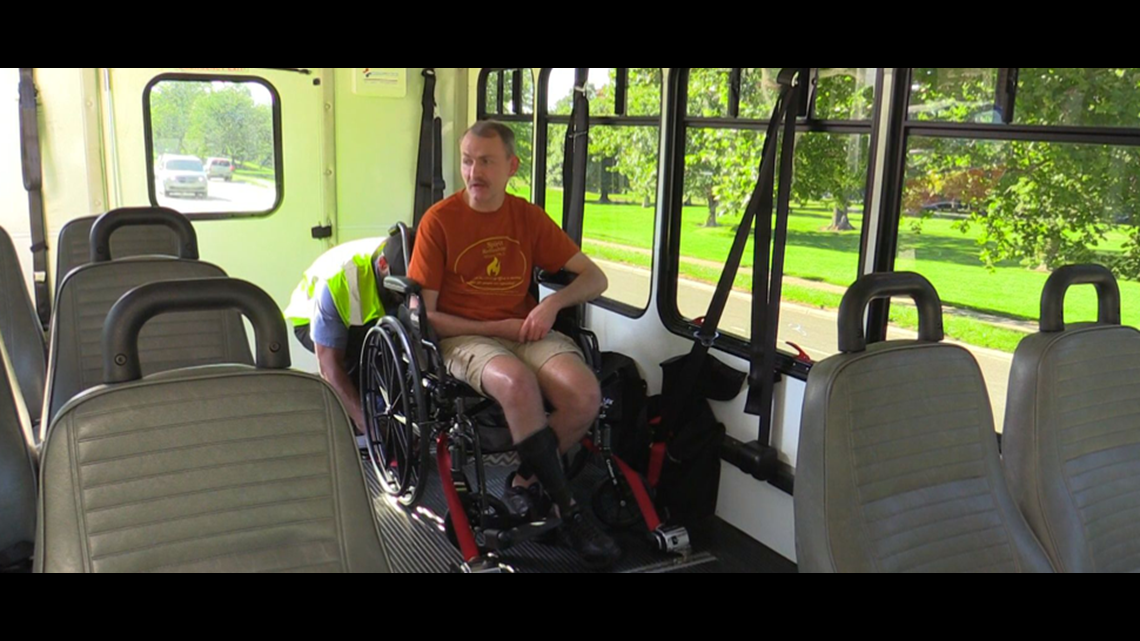 IndyGo leaders are frustrated, too.
At a time when IndyGo chief operating officer Roscoe Brown would like to be celebrating the opening of the transit system's brand new Red Line, he is instead discussing ongoing problems with Open Door. Brown said a sharp drop in on-time performance combined with rapid increases in complaints and ride times is cause for concern.
"It's definitely not a trend we want to see," he told 13 Investigates. "We're concerned because it does tell us that the rider experience is not a good one right now. It's concerning to us that the contractor continues to fail."
Make no mistake: IndyGo leaders see on-time performance rates for Open Door as the ultimate measuring stick for evaluating the performance of Transdev. High on-time performance usually results in fewer complaints and lower ride times.
"There's got to be consistency... I don't understand why that's not happening"
While IndyGo acknowledges the current on-times performance rates are not nearly as bad as they were a year ago, they also point out those rates are not nearly as good as they should be. And they offer several disturbing figures to underscore that point.
The first figure is 0. While Transdev can boast of five months in 2019 in which on-time performance met or exceeded 90 percent — a dramatic improvement from its low on-time rates in 2018 – the company has never come close to meeting the benchmark required in its contract. That contract requires Transdev to meet a 95 percent on-time performance level every month. More than 17 months into the contract, the transportation contractor has not achieved 95 percent on-time performance even once. Put quite simply, Transdev is not meeting IndyGo's expectations.
"To be quite honest, if they're not able to do that, IndyGo is in no other position but to possibly find another contractor to do that work," Brown told WTHR. "There's got to be consistency … and at a time of year like this when we have good weather, I don't understand why that's not happening."
The second notable figure is 848,012. That is the number of dollars IndyGo has invested in taxi vouchers, allowing paratransit customers to ride taxis – rather than its own Open Door buses – to work, school and doctor's offices.
Recognizing that its new contractor was overwhelmed and performing poorly, IndyGo made a bold decision last year to bring in outside help. Through an agreement with local cab companies, IndyGo has provided more than 25,000 taxi vouchers to disabled riders who would otherwise have to endure the long delays of the Transdev-operated bus system. The $848,012 bill (to date) is being offset by the $586,701 that Transdev has paid in fines (to date) for its less than stellar performance. It should be a win-win-win: quicker rides for thousands of disabled riders who get to use a taxi instead of an Open Door bus … resulting in thousands of fewer riders on paratransit buses that, in turn, should reduce wait times and ride times for the people who are on the buses … resulting in increased customer satisfaction and restored credibility for IndyGo.
The plan seemed to be working – until it wasn't. Despite thousands of fewer riders for Transdev to transport each month, on-time performance has again dipped ten points below what is required. IndyGo isn't happy.
"The taxi vouchers are reducing the load on the system, and they're still failing. It's disappointing," said Bryan Luellen, IndyGo's vice president of public affairs and communications. "We are really, really keenly aware that service quality is not what it should be and we're continuing to work with the contractor every day."
What's causing the delays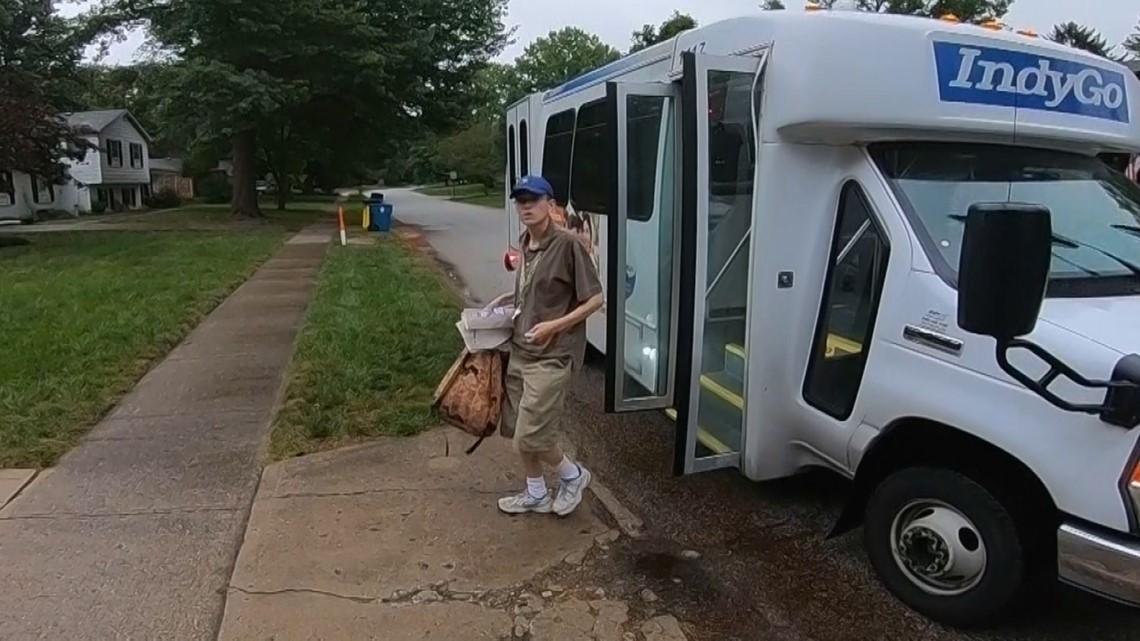 13 Investigates called Transdev's local and national offices to inquire about the recent on-time performance rates and to request an interview for this report. Transdev officials did not respond to any of WTHR's requests.
Brown told WTHR he believes Transdev staffing shortages and employee call offs are largely to blame for the recent decline in service – the same issues that IndyGo said Transdev had aggressively addressed last winter when performance rates improved. He also cited local construction projects, including IndyGo Red Line construction that has clogged city streets, as possible factors in lower on-time rates.
Gosnell doesn't buy that explanation, pointing out that she experienced the same long wait times and long ride times in April and May before the summer construction season kicked in.
"I've heard all the excuses," she said. "They don't have enough buses or buses broke down or they don't have enough drivers. I've heard it's raining out, it's snowing out, it's foggy, there's too much construction. It's just excuse after excuse after excuse, and it's unacceptable. They just need to get it together at IndyGo because this is not fair."
What's happening now
IndyGo is now demanding a corrective action plan – a report that Transdev must submit to IndyGo this week, according to Brown. IndyGo's five-year contract with Transdev allows the transit system to end the contract after only three years. Asked if that is being considered and whether IndyGo is considering taking back operational control of the paratransit bus system to run the Open Door system itself, Luellen told 13 Investigates "all options are on the table and will be evaluated."
IndyGo recently commissioned a comprehensive analysis of the Open Door bus system. Preliminary findings of that analysis are expected to be released later this month.
In the meantime, IndyGo is continuing to provide taxi vouchers to qualified paratransit riders who require dialysis or who are facing extreme delays with their Open Door service. Additional vouchers are also available through a monthly lottery system. The transit system also continues to assess monthly fines against Transdev for continuing service problems.
Open Door bus riders who are experiencing difficulties are encouraged to report problems directly to IndyGo so it can investigate.
"It's important they contact us and let us know. They are our eyes and ears on the street, and if they don't do that, we don't know what's happening," Brown said.
Complaints and compliments about the Open Door system can be submitted online at indygo.net or by calling 317-635-3344.