PENDLETON, Ind. (WTHR) – A Pendleton family watched their house burn to the ground while their 911 call was transferred twice because of where they live.
The home is in the massive Summerlake neighborhood in Green Township in the southwest corner of Madison County, bordering Hancock and Hamilton Counties.
Steve and Erin Simons returned Wednesday to the site of the home they rented the past five years.
They lost virtually all their possessions in a weekend house fire. All that's left of the two-story home is the frame of the ground floor and a deep pile of ashes. Two burned out vehicles sit in the driveway.
"We came out of it with four people and six articles of clothing between us and our bare feet in the snow," said Erin. "So, it's humbling. Our community has been so amazing."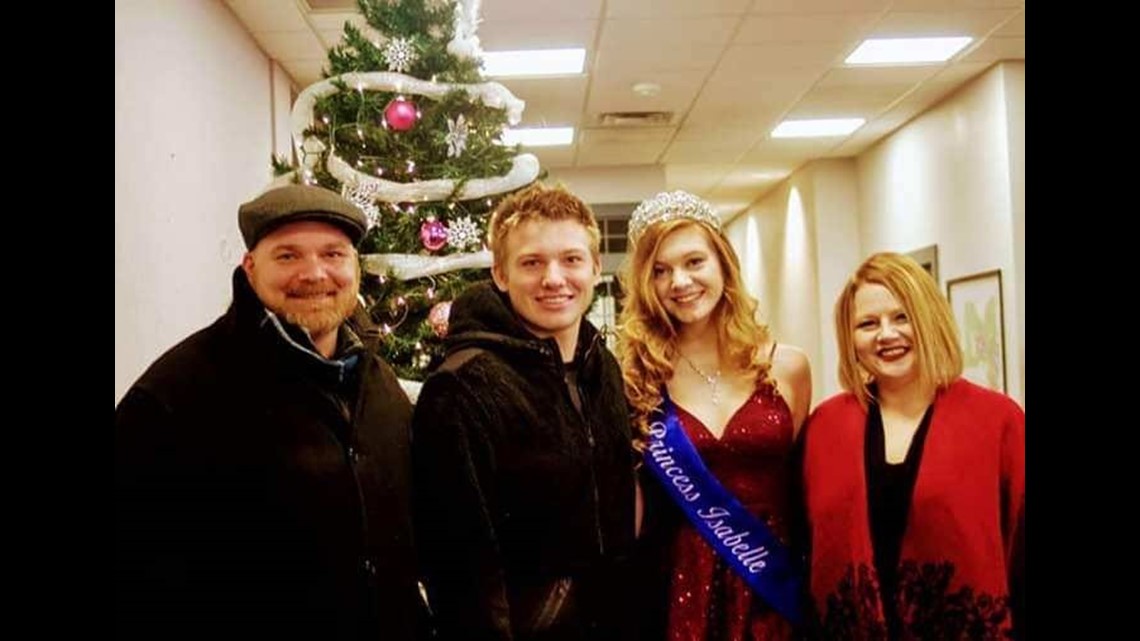 A neighbor dropped off pots and pans, bath towels and other household items as Steve and Erin pulled a china plate from the rubble.
The Simons did not have renters insurance. A GoFundMe account organized to help the family has already raised over $22,000. The family hopes to stay in the area and is looking for temporary housing.
The Simons and their two teenage children were upstairs in their bedrooms around midnight Saturday watching Netflix when their internet went out.
Steve went downstairs to investigate and discovered a fire in the garage.
The family got out of the house, but Steve suffered second degree burns to his right hand, and first degree burns to his right arm, back and head from molten plastic when he tried to throw water on the fire in the garage.
While the fire spread quickly, Erin's 911 call was answered in Hamilton County, then transferred to Madison, then Hancock County.
"In the moment watching your house burn, being like, 'Hold on. This is the wrong county. Let me transfer you.' is the worst thing as a human being you can hear," said Erin. "I heard it twice. Literally by the time I was getting to the right dispatch my daughter's floor had fallen in and we realized the house was a total loss."
Green Township does not have a fire department.
The Vernon Township Fire Department in Hancock County provides emergency services to about a seven-square mile area in Green Township in adjacent Madison County, including 800 homes in the Summerlake neighborhood.
Calls from Summerlake should normally be answered by Madison County, but have to be transferred to Hancock County to dispatch the fire service.
Call logs indicate Erin's 911 call was received in adjacent Hamilton County at 12:13 a.m. transferred to Madison County at 12:14 a.m. then transferred again to Hancock County.
Vernon Township Fire Department says it started an emergency response from Station 3 in Fortville at 12:17 a.m.
But the Simons say no fire trucks arrived for 19 minutes after they called.
"The time it took to get here is the issue, not the service or the quality of work that was done once they were here," said Steve.
Green Township trustee Greg Valentine says property taxes won't support a fire department in the township for at least two more years when additional neighborhoods are developed.
"The best would be if this community were to incorporate and build their own fire department," said Valentine. "But the way the tax structure is, there's no way they can afford career firefighters."
Valentine says response times from a volunteer fire department would not be any quicker than the full time, 24/7 fire and EMS services currently provided by Vernon Township.