INDIANAPOLIS (WTHR) — Some grieving parents are pleading with the nation's largest automaker to follow through on a promise it made nearly two decades ago.
Parents and grandparents of more than 50 children who died or suffered injuries from heat stroke inside hot vehicles have sent a letter to General Motors, urging the company to equip its cars, trucks and SUVs with technology to help prevent similar tragedies.
The letter from victims' families points to a recently re-discovered news release that GM issued in 2001, boasting of "pioneering new technology designed to help prevent children from dying or becoming permanently injured in dangerously hot vehicles." The 18-year-old announcement stated the company was unveiling a low-energy radar sensor that was "so sophisticated that it can detect motion as subtle as the breathing of an infant sleeping in a rear-facing child safety seat." GM executives said the company's plans to install the life-saving sensors was imminent.
"We are targeting a sensor like this for certain vans and full-size utilities; we intend to begin this rollout in the 2004 calendar year," said GM's then-vice chairman Harry Pearce in the April 26, 2001 news release.
But those plans never materialized, and now parents whose kids died in hot cars want to know why.
"Unfortunately, even though GM made a commitment to the public that this technology would be rolled out in 2004, that promise remains unfulfilled. Year after year child deaths have mounted and GM has ignored and failed to act while knowing there are solutions," victims' families wrote in their letter.
A deadly problem
Jenny Stanley is one of parents who signed the letter sent to GM. Her daughter, Sydney, died nine years after the company announced its sensor technology.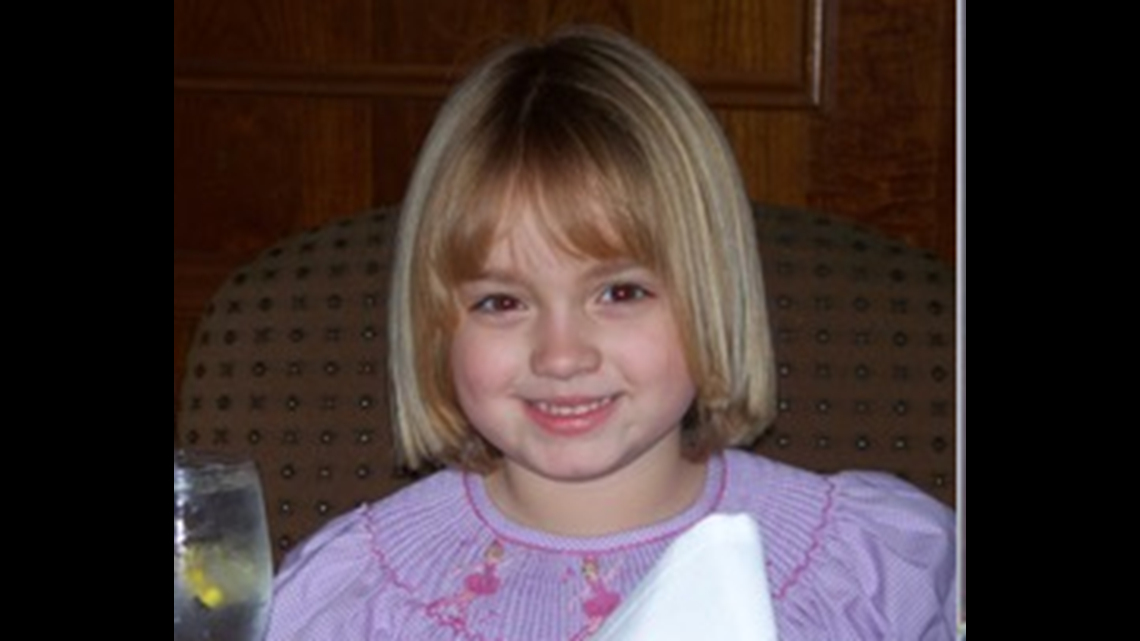 "Sydney passed away in a 2009 Buick Enclave, which is a GM product," Stanley told WTHR. "They said they'd have sensors in their vehicles in 2004 but didn't do that. Why did GM make that promise if they weren't going to follow through?"
The grieving mother believes Sydney climbed into the parked SUV to get a Sunday school art project when the tragedy occurred. Based on what she learned from family members who first discovered Sydney, Stanley thinks the door closed behind her daughter and the girl was then overcome by heat inside the vehicle. The 6-year-old died of heat stroke on a sweltering August day in Georgia.
The tragedy is far too common. So far this year, at least 41 children have died in hot vehicles in the United States. The rising death toll includes 21-month-old Marah Crapo who died last week in Brownsburg and 3-year-old Oliver Dill of Evansville who died in July. Friday afternoon, the Marion County Coroner's office confirmed that 1-year-old Maria Guadalupe Sanchez is also among this year's victims. She died in a hot car in Indianapolis in May, and her cause of death – environmental heat exposure accident – was just released following months of toxicology reports. They are among more than 600 children to die in a hot car since 2004.
"This problem is not going away, and to know there is technology that might have prevented some of these deaths is heartbreaking," said Amber Rollins, director of Kids and Cars, an organization that closely tracks child deaths in hot cars. "Automakers can play a huge role in preventing these deaths, and I think this technology should have been in cars a long time ago."
GM responds
In response to the parents' letter, a GM spokeswoman sent the following statement to WTHR:
"GM is committed to safety and continues to investigate technology for the accurate and reliable detection of children in vehicles … The issue of children left in vehicles is an industry-wide issue and GM supports an industry-wide solution. Systems that accurately and reliably detect children in vehicles have not been widely deployed across the industry due to continued challenges with the accuracy of sensing systems given the broad number of vehicle/seating configurations and the varied positions of children in vehicles," wrote Darri'n Hardy, GM's corporate and public policy communications coordinator.
Asked why the sensor technology announced in 2001 is still not in any GM vehicles today, Hardy did not respond directly. She instead repeated information already provided to 13 Investigates:
"The safety of our customers and delivering the best technologies is our number one priority. We continue to investigate technology for the accurate and reliable detection of children in vehicles. GM supports an industry wide solution to address the tragic issue of children being left in vehicles," she wrote.
"If it wasn't ready to go, it they didn't have they kinks [worked out] and they weren't prepared to do what they said they were going to do, they shouldn't have said it," said Stanley, adding that new safety technology introduced by one automaker often becomes standard equipment offered by others. "They never should have said it if they were not able to deliver. That is completely unacceptable and it's time someone holds them accountable."
Other automakers developing the technology
Sensor technology to help prevent hot car fatalities does exist and a few automakers are now using it. Hyundai, for example, currently offers an "ultrasonic rear occupant alert" system on some of its Santa Fe and Palisade SUVs.
Using three motion sensors, the system is designed to detect any type of movement in the vehicle after a driver exits.
Jim Smith, general manager at Terry Lee Hyundai in Noblesville, demonstrated for 13 Investigates what happens when movement is detected inside what is supposed to be an unoccupied vehicle.
"The first notification is the alarm. The horn will sound, as well as the headlights will flash," he said. "Then the Blue Link telemetrics system will send a text message and an email to the driver to alert them someone is in the vehicle. It can save a child or even a pet left behind."
The backseat sensor system now comes standard on high-end Santa Fe and Palisade vehicles and is available as an upgrade to lower-end models as part of Hyundai's $2,250 "convenience package." The automaker announced it will be expanding the technology to additional Hyundai vehicles as optional equipment by 2022.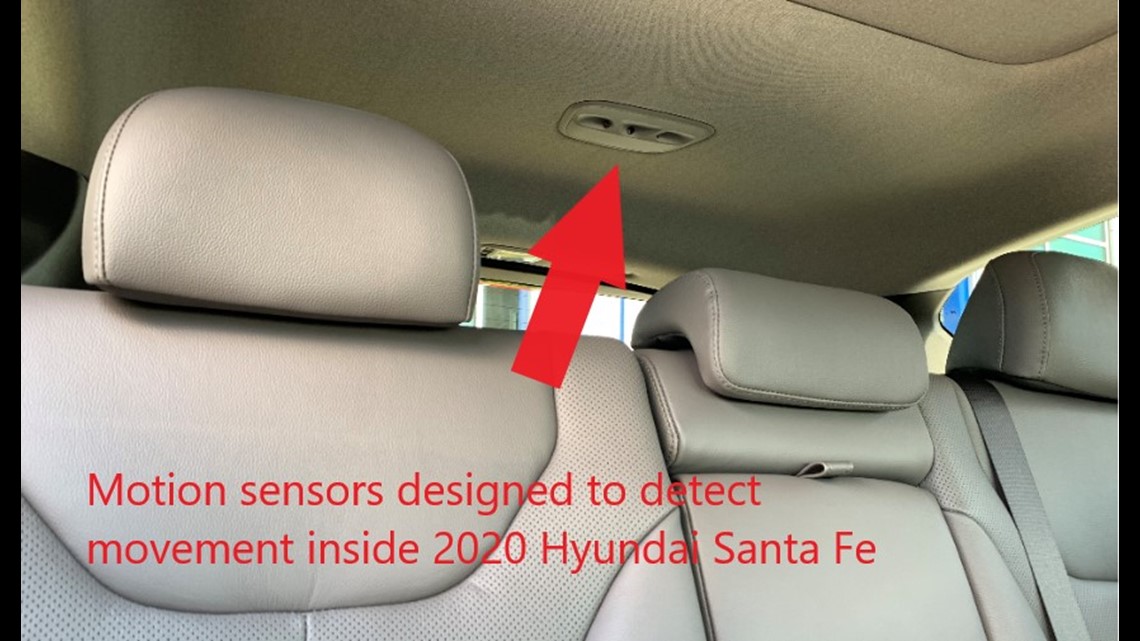 Kia also offers a similar technology in some of its vehicles.
But as GM pointed out in its statement to WTHR, child detection warning systems are not widely available to consumers in 2019.
What safety feature is offered instead
Instead, several automakers including GM are marketing systems that remind drivers to check the back seat before they exit their vehicles.

"GM's industry first Rear Seat Reminder technology was introduced in 2016 as an immediate next step to combat the issue of children left in vehicles," Hardy told WTHR. "Rear Seat Reminder has been standard since 2019 on all of GM's new 4-door sedans, SUVs, pick-ups and crossovers in the US and Canada."
This week, the nation's largest automakers – including GM, Ford, Chrysler, Honda, Toyota and Nissan – announced they will voluntarily install rear seat reminder systems in all new vehicles sold in the United States by 2025. None of those automakers offer rear seat motion sensors in their vehicles.
Kids and Cars says the back seat reminder technology – which is triggered when a rear door is opened within ten minutes of a vehicle's engine being turned on – is not nearly as effective as motion detection systems. The grieving parents who wrote to GM agree.
"The reminder system would not alert the driver at the final destination in a number of very common scenarios, which is deceptively dangerous," victims' parents wrote in their letter. "For example, if the driver stops for gas and the back door is not opened again while stopped, they will not receive the reminder alert when they arrive at the final destination… [F]amilies are given a false sense of security and hope that their child is protected and that this nightmare will not happen to them. Our greatest concern is that the current GM door system will not solve the problem and children will continue to die."
Should it be mandatory?
This week's announcement by automakers is seen as preemptive move as Congress considers whether to pass a law that would make rear seat monitoring technology mandatory.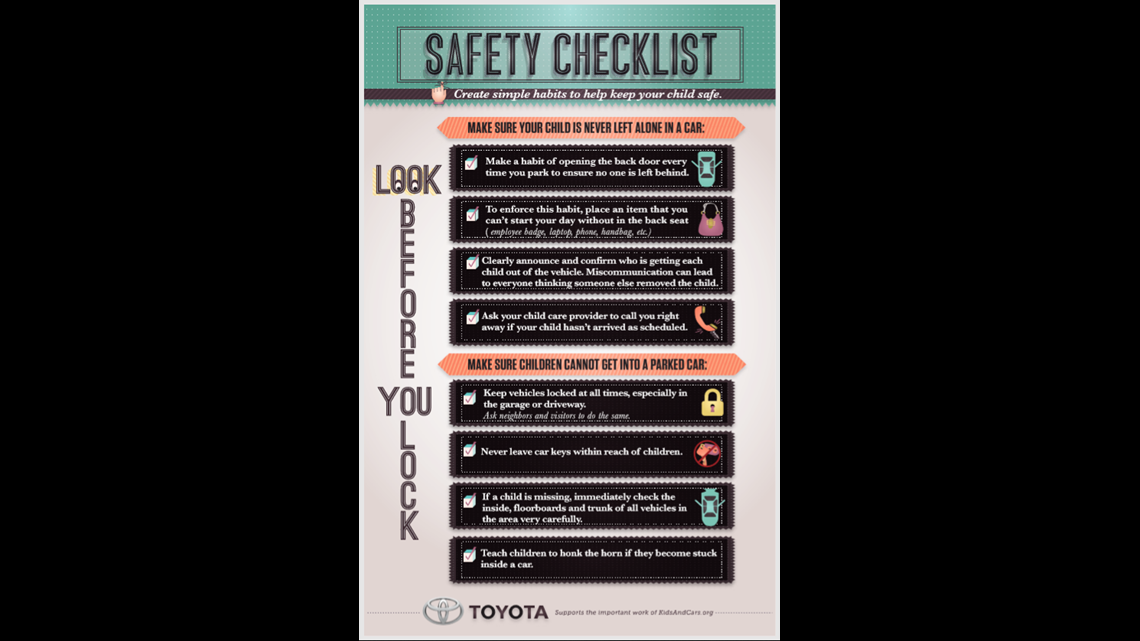 Both the U.S. House and Senate are now considering separate bills to address hot car deaths. The legislation would require the Secretary of Transportation to issue a rule requiring automakers to install a child safety alert system as standard equipment on all new vehicles.
Representatives Tim Ryan (D-OH), Jan Schakowsky (D-IL) and Peter King (R-NY) introduced H.R. 3593, titled the Hot Cars Act, to prevent heatstroke deaths in vehicles. The Senate version, S. 1601, is sponsored by senators Roger Wicker (R-MS), Richard Blumenthal (D-CT), and Maria Cantwell (D-WA).
Several prominent safety organizations and Consumer Reports magazine have endorsed the legislation. "Education and awareness are simply not enough," said Rollins, who's been updating the hot car death toll on a daily basis. "We've been educating and raising awareness for 20 years now and the numbers continue to go up. We need to do more."
Victims' families are encouraging automakers to tackle the issue without waiting for federal legislation, and to install motion detection systems rather than relying solely on back seat reminders.
"We implore GM to offer an effective and comprehensive solution to prevent the tragedy of children dying in your vehicles of heatstroke like the requirement in H.R. 3593 (The Hot Cars Act of 2019), the bi-partisan bill introduced in the U.S. House of Representatives. Detection technology is available and affordable. You can reassert GM's leadership on preventing hot car deaths by honoring GM's 2001 commitment with lifesaving detection technology," they wrote in their letter to General Motors.