INDIANAPOLIS (WTHR) — Despite a statewide moratorium ordered by the governor, 13 Investigates has learned Indiana landlords are continuing to initiate eviction proceedings against their tenants. The attorney general's office warns violating the governor's order could have significant consequences.
"People are not supposed to be filing eviction proceedings right now. That is what the governor put in his order," said Betsy DeNardi, director and chief counsel for the Indiana Attorney General's Consumer Protection office. "I would encourage anyone to follow the law and follow what the governor is asking us all to do."
Indiana Governor Eric Holcomb issued Executive Order 20-06 on March 19. The Order creates a temporary prohibition on evictions and foreclosures due to the number of Hoosiers out of work as a result of the COVID-19 pandemic. It is intended to prevent a large number of renters and homeowners from being forced out of their homes because of sudden layoffs.
But that has not prevented landlords across Indiana from starting the eviction process since the governor announced his Order.
The AG's Consumer Protection office told 13News it has received at least 15 complaints involving evictions in the past four weeks – not including several new cases 13 Investigates has identified in Clinton County involving REW Investments. The company recently filed eviction cases in Clinton County Superior Court against three separate tenants.
The AG's office says it is investigating such actions to determine if they violate the state's Deceptive Consumer Sales Act. Violations could result in a warning, a cease-and-desist letter, or much more serious penalties.
"We're really looking at whether a landlord did initiate an eviction proceeding and whether that action that violates the Executive Order is an unfair or unconscionable business practice in the state of Indiana," DeNardi told 13 Investigates. "And if we file a lawsuit for violating the Act, the potential remedies would be restitution for the consumer and penalties for the defendant or landlord. Those penalties can be up to $5,000 per violation and an injunction to prevent them from taking those actions in the future."
The attorney general is encouraging Hoosiers who receive notices of eviction during the COVID-19 crisis to file a complaint against their landlords, and it has a complaint form that tenants can complete online. The governor's Executive Order prohibiting the initiation of evictions has been extended to May 5, but it could be extended further depending on the state's pandemic response.
Good Samaritans rush to help
13News viewers responded in a big way to Monday's report about T.J. Shuck, an Army veteran who recently received an eviction notice from his landlord.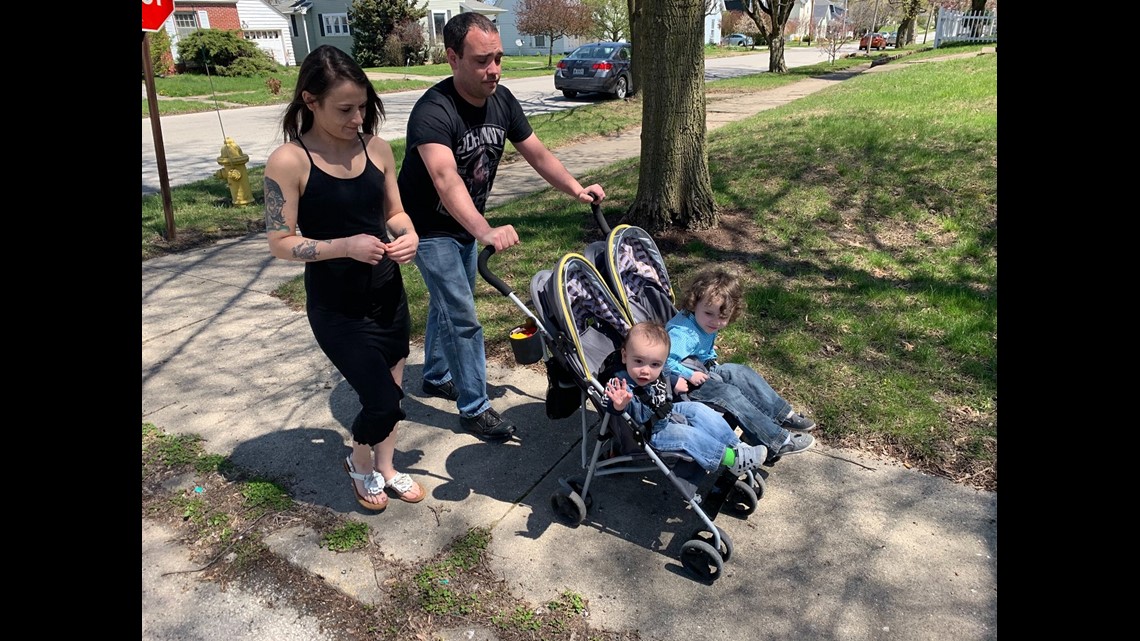 Shuck, a bartender and server at an Applebee's restaurant in Frankfort, Ind., recently had his full-time hours cut to just a few hours each week due to the coronavirus pandemic that has hit restaurant employees especially hard.
After falling behind on three weeks of rent payments, he received threatening texts from his landlord demanding payments. When Shuck still could not come up with the rent money, REW Investments filed an eviction lawsuit in Clinton County Superior Court on April 17. The reason for the eviction is handwritten on the legal notice that the company texted to Shuck: "behind on rent" in the amount of $440.
After learning the veteran, his wife and two young children were facing eviction, 13News viewers sent dozens of e-mails offering financial assistance to prevent the family from having to move out.
"I saw your story about TJ Shuck getting evicted. I would like to help pay his rent … how can I make this happen?" wrote viewer Dana Craig.
Many other people who watched the 13News report extended similar offers. Shuck told 13 Investigates he was anxious about accepting offers for personal assistance because he does not like asking for hand-outs.
"That's the reasons I didn't even apply for unemployment right away. I don't want to be a burden," he said.
Shuck said he eventually agreed to accept an offer from a local church and from a 13News viewer to pay his overdue rent as well as next month's rent, too.
"It's just amazing. The offers were so generous and so kind. It really shows people care," Shuck told 13News.
But he still worries about the future, because REW Investments has not yet withdrawn its lawsuit and has indicated it will be charging Shuck late fees as well as legal fees associated with the lawsuit.
Special COVID-19 assistance for veterans
For veterans facing financial hardships due to the pandemic, the state of Indiana has launched a new program to provide assistance quickly. The Indiana Department of Veterans Affairs is now utilizing its Military Family Relief Fund to establish COVID-19 relief for the state's 400,000 veterans.
"The Military Family Relief Fund can help pay their bills. That's what it's there for," said IDVA director Dannis Wimer. "It exists to help veterans who do not have the money to pay their bills, and because of COVID-19, we can offer the funds to veterans who are need."
Wimer said the COVID-19 program is intended for military families needing food, rent assistance, funding to pay for internet access for their children's education, and other urgent expenses. For those who qualify – priority is given to veterans who have the greatest need – applications are being processed and funds distributed in about seven to ten days. The program is funded, in part, by the sale of military license plates in Indiana. IDVA welcomes the public's help in supporting the Military Family Relief Fund by making an online donation.
"Check on that link right up at the top that says 'donate' and help us help more veterans across the state," Wimer said, urging Hoosiers to make a donation.
More evictions filed
Across Indiana, many Hoosiers who did not serve in the military are also looking for help as they face the threat of eviction.
Johnathan Fouse lives about a mile away from Shuck. They used to work together at the same restaurant. Both men got an eviction letter from the same landlord on the same day.
"I'm not trying to get out of paying. I just need more time because I can't help what's going on right now."
Fouse admits he has fallen behind on his rent occasionally but always catches up quickly.
"I've been working two jobs to pay my rent and my child support. I'm not anybody special but I work hard. I pay my taxes. I do my part in the community," he said. "I signed an agreement to pay my rent weekly and I'm bound by that. I'm not trying to get out of paying. I just need more time because I can't help what's going on right now."
Fouse said his financial picture changed quickly when the coronavirus pandemic hit Indiana. His full-time construction job that pays $18 per hour is on hold because the construction site he's working on has shut down until social distancing requirements are lifted. That has left Fouse with only his part-time second job at the Frankfort McDonald's, a night-shift position that pays him $9.50 per hour.
"I had to go from two incomes to one income and I'm waiting on unemployment," Fouse told 13News. "It's not about not wanting to pay. I'm doing the best I can."
The eviction lawsuit filed against Fouse claims he owes $555 to his landlord – less than a single month of rent. Fouse says he just paid his landlord part of that overdue amount, but late fees and legal fees added by REW Investments continue to mount, making it more difficult to fully catch up.
The single father says he is struggling to get by and also struggling to understand why his landlord is able to file eviction proceedings against him while the governor has implemented an eviction moratorium.
"We've been told this can't be done. We've been told we're safe, not to worry about losing our homes but every step of the way, after we're told that, they take another step forward in getting us out," Fouse said, holding a court notice in his hand. "I want people to know these things are happening. There's people here in small towns like this, in small apartments like this, that are still struggling and trying to make ends meet. And regardless of what our president and our governor are saying, we have people that are still trying to get us pushed out of our homes even with everything going on. I think it's ridiculous."
Where to get or give help
Many communities have local programs to assist renters facing eviction, including emergency rental assistance from Township Trustee offices.
Indiana's Hardest Hit Fund provides mortgage payment assistance up to $30,000 to qualifying applicants, and free foreclosure prevention counseling to any Indiana homeowner who needs it.
Indiana Legal Services offers free legal assistance to low-income Hoosiers and can help provide legal counseling to families at risk of eviction and foreclosure. The non-profit organization has provided the following list of resources to assist tenants during the COVID-19 crisis:
Indiana Legal Services website is being constantly updated with the latest news and legal resources for not only evictions, but also for foreclosures, consumer issues (fraud/scams), and benefits
Indiana Attorney General

If a landlord attempts to file or threaten a tenant with eviction during the Governor's moratorium, Hoosiers are encouraged to file a consumer complaint
Other COVID-19 resources can be found by clicking here.
Indianapolis Tenant Hotline (Marion County residents only)

This new tenant initiative provides legal information about tenant's rights, and makes referrals to legal aid, when appropriate: (317) 327-2228 (2ACT)
Fair Housing Center of Central Indiana

If tenants in Central Indiana believe they are being discriminated against based on protected class status (e.g., race, gender, etc.): www.fhcci.org

Indiana Housing and Community Development Authority (IHCDA)

This agency administers some federally subsidized properties throughout Indiana (including many properties covered under the CARES Act eviction moratorium)