INDIANAPOLIS — Initial tests to determine whether the Wabash River can support an ambitious pipeline project that would supply water to Boone County have shown promising results, according to a water expert hired by the state of Indiana to oversee the testing program.
"Preliminary data shows a large, deep aquifer … and it also suggests the aquifer and the river are large relative to the need," hydrologist Jack Wittman told 13 Investigates. "There's no particular information that came out of any of the testing or drilling that was done that makes us think that this [project] isn't anything other than a very good idea for a place or method for getting water supplies."
Wittman spoke to 13News Thursday morning at the Indiana Water Summit, an annual symposium hosted by White River Alliance to examine issues impacting Indiana's water supply. Moments earlier, he addressed more than 70 attendees at the downtown Indianapolis symposium, where discussion of the state's controversial Wabash River pipeline project was billed as a keynote address.
"We're really confident that this is the right approach: using data to inform decisions about these types of plans and development," said Wittman, a vice president at engineering firm Intera, before providing additional details of the testing.
New testing details released
The water expert announced the state has drilled at least 19 separate wells along the banks of the Wabash River this summer. Those wells are designed to analyze an aquifer that runs under the river and whether that aquifer can provide enough water to support a huge business district the state is now developing in Boone County.
Wittman said two of the wells were used to conduct 72-hour pumping tests in late July, and those tests are now helping scientists understand the potential yields and impact of pumping large amounts of water from under the river.
The other 17 wells provided information about the density and depth of the aquifer's various layers, and they are now being used as monitoring sites.
With the help of a helicopter towing special equipment, the state also conducted electromagnetic mapping to more precisely detail the size of the aquifer and its various layers.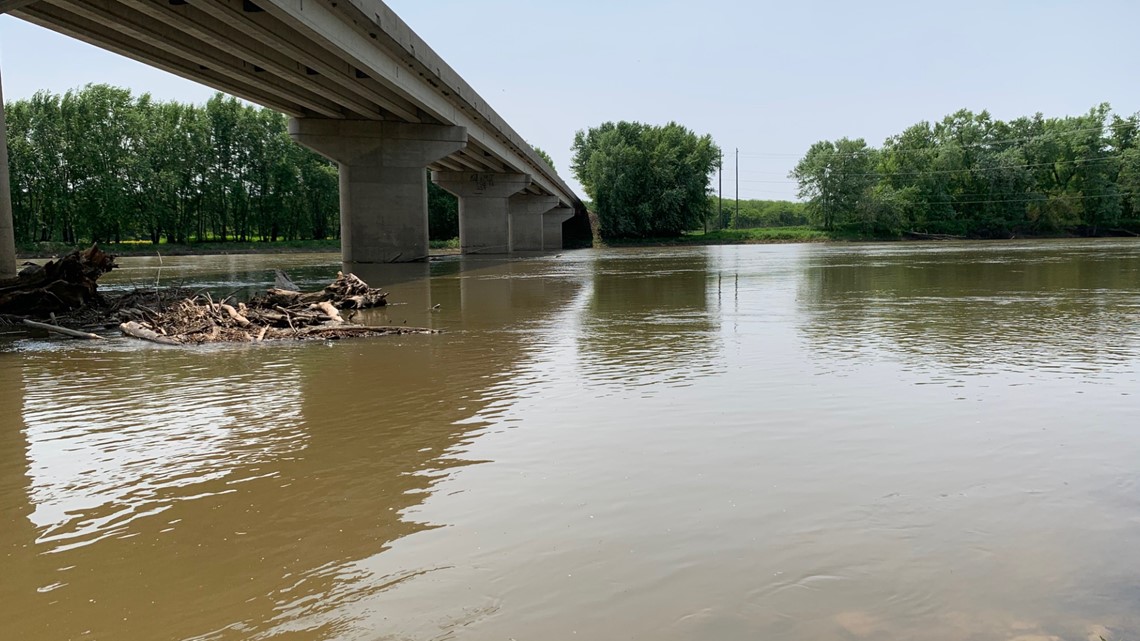 Wittman said the first set of tests are now complete, and he described the initial results as "very exciting."
Asked whether the Wabash River's Alluvial aquifer can provide the 100 million gallons of water that the Boone County business project may require daily without depleting needed water resources from the cities of Lafayette and West Lafayette, Wittman responded: "Nothing suggests that we can't achieve high yields. I just don't know yet what those yields will be without additional testing."
He told 13News the Indiana Economic Development Corporation is lining up agreements with property owners to drill more wells and conduct more testing. Wittman said at least three or four additional test sites in a different area along the river are needed.
"That will happen over the next few months, and then we'll have all that information to build models and to make further conclusions," he said, adding that the data, models and conclusions will then be released publicly.
"We think our work will be released by the end of the year. In the end, this is all going to be public. It really needs to be. We need trust because trust is important to the whole effort, the whole endeavor, and for people to be excited and not concerned," Wittman said.
Concerns about the state's pipeline plan
But trust has not been high when it comes to the pipeline project — largely because some residents, community leaders and state lawmakers say the IEDC has not been transparent about its plans.
The IEDC, which designed the massive economic development district in Boone County, has already committed more than $10 million on pipeline engineering, design and testing — despite telling officials in Tippecanoe County that the agency would not proceed with a pipeline before first conducting studies to ensure that diverting billions of gallons of water annually from under the Wabash River would not have an adverse impact on Lafayette, West Lafayette and other Tippecanoe County communities.
The $10.2 million engineering contract obtained by 13 Investigates states the IEDC is planning a 35-mile pipeline from Lafayette to Lebanon.
"The Program will convey raw water from a series of collector wells and pump stations located adjacent to the Wabash River for conveyance, treatment, and storage at the LEAP District," the contract states.
The LEAP District includes up to 9,000 acres along I-65 in Boone County, and it's designed to attract high-tech industry and thousands of jobs to central Indiana, according to the IEDC. It already includes a $3.7 billion manufacturing campus for Eli Lilly, which is now under construction.
But Boone County does not have enough water to support the state's LEAP District plans.
"There's just not enough water in the Indianapolis area to support this," Lebanon mayor Matt Gentry told 13News in late March, just a few weeks before Eli Lilly broke ground on its new facility. "Water here in Boone County is a challenge. We have to find some solution to bring additional water to central Indiana."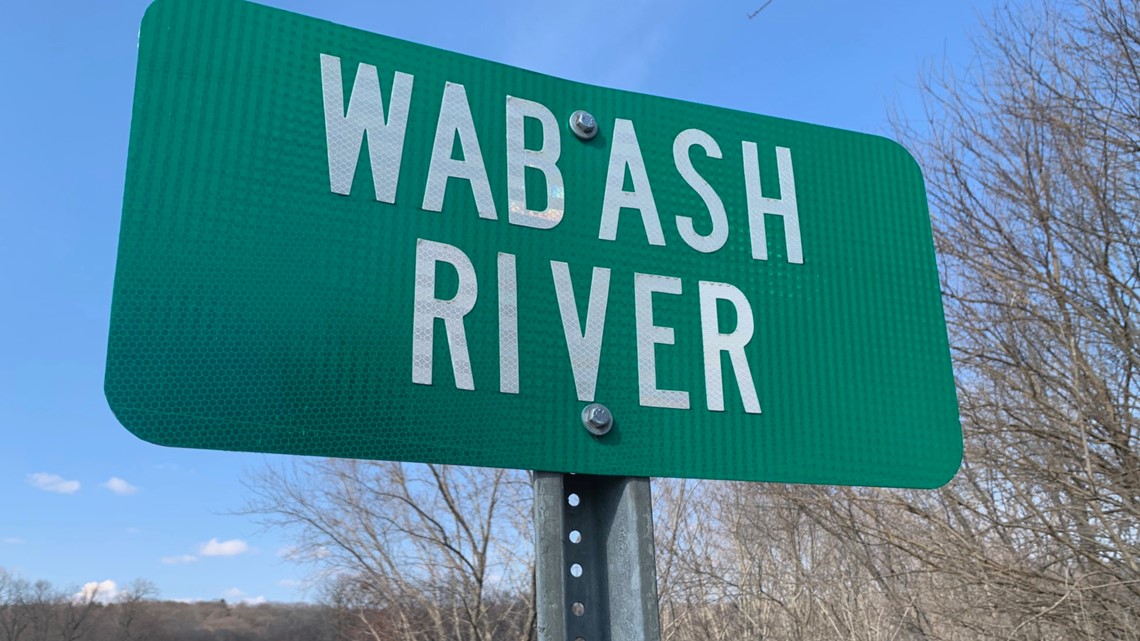 A Wabash River pipeline is IEDC's proposed solution. Local leaders say it could cost taxpayers billions of dollars to complete while diverting billions of gallons of water annually from their local watershed.
"That sounds to us like a significant amount of water, and we need to determine if that would be potentially harmful," Lafayette Mayor Tony Roswarski told 13News earlier this year. "We all know water is an important commodity, so we have questions… I know Purdue is very concerned. We have business and industries that are significant water users that are concerned also, and we have a right to be concerned."
Tippecanoe County Commissioner Tom Murtaugh also expressed apprehension about the state's pipeline plan.
"We want to make sure that we have the water we need for our growing community and the needs for generations to come in this area, so to draw a significant amount of water from the aquifer here is concerning," Murtaugh said. "We want to have great assurances that it's not going to have a negative impact on this region."
Several state lawmakers have asked for more information about the LEAP project, while also proposing legislation that would increase oversight over projects that divert large amounts of water from public waterways.
Over the past six months, IEDC has repeatedly declined to meet with 13News to discuss the pipeline, and the agency did not show up for a recent community meeting in Tippecanoe County.
IEDC talks, but offers few details
An IEDC representative did attend Thursday's water summit and joined Wittman on stage to talk about the proposed Wabash River pipeline.
"We are in the preliminary engineering phase to essentially prove out the hypothesis of the plan," said Kurt Fullbeck, IEDC's vice president of development strategies. "What we are actually doing is collecting the information to be able to make a recommendation up the chain to how we would proceed forward with the project." The IEDC official said the agency has not yet reached any conclusions or offered any recommendations based on preliminary testing.
Asked about the potential consequences of tapping into large amounts of water from under the river, Fullbeck responded: "We have to go through the engineering process that we are going through currently. We can't quantify or qualify any of that until we get to the point of getting the engineering studies back that would dictate that." He also said he could offer no specific timeline for conclusions or recommendations or releasing study results.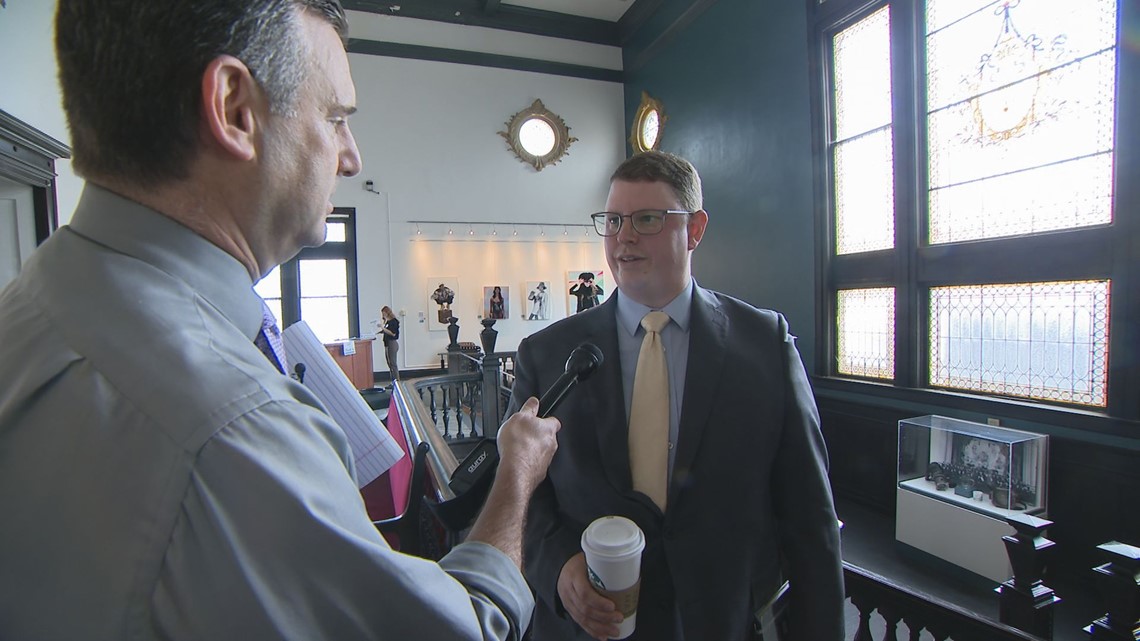 Many the project's timelines are spelled out in documents that 13 Investigates obtained through a public records request to the IEDC. But while the state agency released the documents, it also redacted much of the information, blacking out many key tasks that engineers and project planners are working on and the deadlines they are required to meet.
An IEDC attorney told 13News the information was kept hidden from the public because it is considered deliberative and will be used for the purpose of decision making.
Thursday morning as Fullbeck was leaving the water summit, 13 Investigates tried to ask him about those redacted tasks and other questions related to the proposed pipeline.
13News: I'd like to ask you about the pipeline.
Fullbeck: I apologize. I have to run for a meeting, but if you call [IEDC vice president of external communications] Erin Sweitzer, she can coordinate an interview.
13News: We've attempted to do that for months, and that hasn't happened.
Fullbeck: I would contact Erin Sweitzer and try to coordinate an interview.
13News: So you are willing to sit down and talk with us about this?
Fullbeck: Contact Erin Sweitzer, and we can coordinate an interview.
13 Investigates has contacted Sweitzer by email and phone at least six times over the past six months to request an interview with Fullbeck or another IEDC representative. All of the requests have been denied.
In one of her most recent responses, Sweitzer responded, "I will let you know when we are ready for an interview." That was three months ago.
13News contacted the IEDC public relations representative again Thursday afternoon — as Fullbeck suggested — to coordinate an interview. Sweitzer responded with an email Thursday night.
"Happy to arrange an interview when the timing is right. For right now, we're too early in the process to provide detailed information since the studies aren't complete," she wrote.
In the meantime, 13 Investigates has requested more information from the IEDC and submitted more open records requests about the LEAP pipeline project. 13News will publish more details as we obtain them from the state agency.