MARION, Ind. (WTHR) — Data from the Indiana Department of Labor shows it's been a deadly year for Indiana employees killed on the job. Eight Hoosier workers died between September 30, 2016 and April 30, 2017.
13 Investigates uncovered a fact about workplace accidents you might not know about: Even if your employer puts you in danger, you can't sue for workplace injuries or even death.
One Indiana widow is now struggling to make sense of a law that protects employers.
Worker Falls To His Death
The indoor pool is an advertised feature at the Marion Hampton Inn.
When chips of ceiling debris started falling into the water in April 2016, management wanted a quick fix.
Myron Fischer, the hotel's maintenance man, was told to take care of it.
According to the Indiana Department of Labor, the 68-year old was working along, trying to hang a tarp above the drained pool to catch the debris.
He was using a "un-extended 12 foot section" of a 24-foot aluminum ladder when he fell into the empty pool below.
Hours later, he was found dead.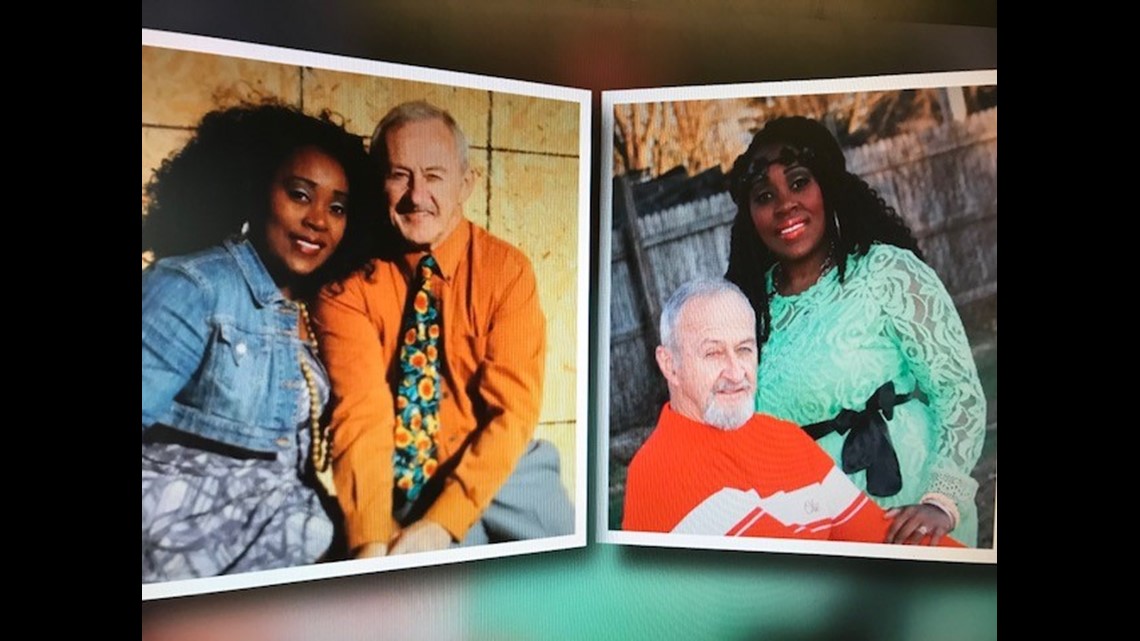 Now his wife, Jolda Fischer, is left with the devastating impact of his dangerous workplace assignment.
"It makes me angry," said Fischer's widow from her home in Jonesboro.
"I cry all the time, especially when I think of him falling and him being in there by himself," she said as started to sob.
Jolda Fischer says no one from the Hampton Inn or its parent company U.S. Hospitality LLC apologized or explained what happened.
"I mean he died. It's not like he's hurt and he's still here. He's dead you know," she said emphasizing the finality of the situation. "How can that be ok? It's not right."
Violation of Safety Rules
The Indiana Occupational Health and Safety Administration investigated Fischer's death. IOSHA cited and fined the hotel for three safety violations.
Inspectors with the agency cited U.S. Hospitality with one serious violation because they failed to "establish and maintain conditions of work which were reasonably safe and healthful for employees, and free from recognized hazards that were causing or likely to cause death or serious physical harm."
Specifically, the company exposed workers to fall hazards with no ladder safety training.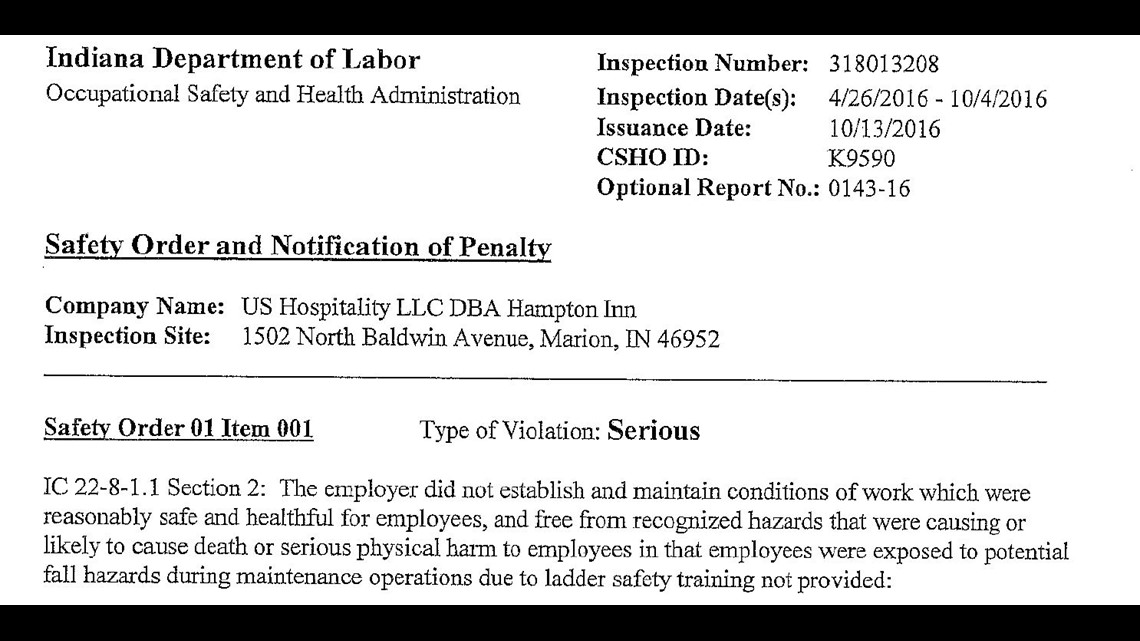 "There's no way around it, it's just negligence on their part. And I feel they need to pay for it," said Jolda Fischer.
But there's just one catch.
In Indiana, employers cannot be sued for "on the job" injuries - even a worker's death - no matter how egregious or negligent the company's actions. Employers are protected by the Workers Comp Exclusivity Remedy.
Businesses Protected by Workers Comp Law
Stephen Wagner, a personal injury attorney experienced in workers compensation, says clients and attorneys come to him shocked to learn about Indiana's law.
He says the exclusivity remedy means widows like Jolda will get only burial costs, final medical bills paid and two thirds of their spouses wages for 10-years.
"You know this is for the rest of my life that he's not here. And they, to me, just get off scot-free, not having to do anything about his death," Jolda explained.
The couple had been married for 18-years. She says it's a struggle to try to maintain the mortgage to their home and make ends meet.
Additional Laws Favor Business
"We've made a policy decision in this state to favor business over individuals and individuals' safety"
Wagner told 13 Investigates he understands the frustration.
"Indiana is among the worst in the country for work comp benefits. Across the board it's stacked in the employer's favor. We've made a policy decision in this state to favor business over individuals and individuals' safety," he added.
Wagner said under the system, there's no real motivation for trouble-ridden companies to change. The fines issued by IOSHA are often negotiated down.
In Myron Fischer's death, the initial fines totaled $4,800. But 13 Investigates discovered U.S. Hospitality ended up only paying $2,400, just half of the original fine amount.
"That was my husband and he means so much to me and I still can't get over it. I just can't let it go. I just want to fight until something gets resolved," said Jolda Fischer.
The hotel manager at the Hampton Inn would not speak on camera, but told us the case was thoroughly investigated. The Department of Labor file was closed and there are no violations at this time.
Looking for Options
Still, Jolda Fischer is trying to find a loophole. The only option in many cases is to sue a third party for faulty products or equipment involved in the accident that resulted in the injury or death. In many cases, a third party does not exist.
Wagner believes Indiana's statute is stacked in favor of business because employers get to pick the doctors who treat injured employees. He says the payouts in Indiana are less other states and that Indiana does not recognize permanent partial disability.
Wagner says worker's compensation is considered a tradeoff. The payout is given no matter who is at fault. If an employee is injured or dies, the same worker's comp benefits are paid out to the employee or the employee's family - even if the incident was a result of the worker's own negligence or mistake.